"I want to become a journalist."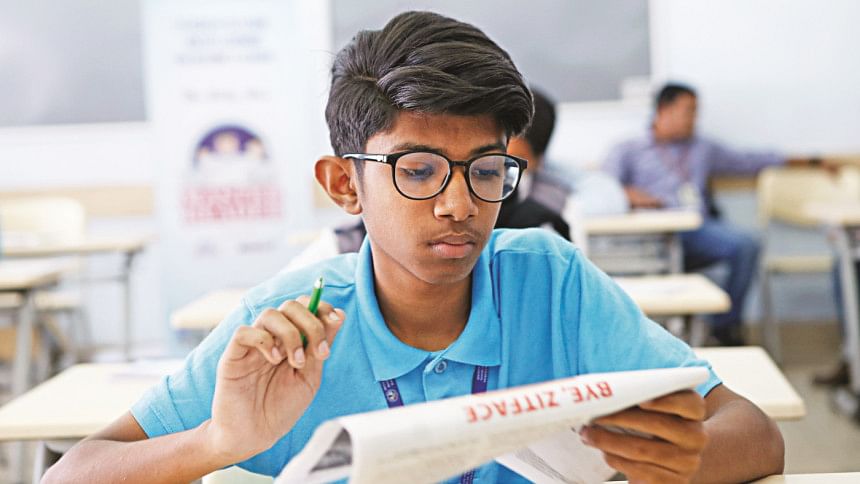 Master Reader, an initiative by The Daily Star in association with Igloo Ice Cream, took the competition to the Dhaka branch of International Hope School Bangladesh (IHSB) on November 2, 2019, at Uttara.
The competition, which aims to encourage students to read and to enrich their English language skills, welcomed around 40 students from Classes 5 to 8 to participate in the school round.
The day began with the Group 1 students of Classes 5 and 6 gathering together in a classroom. They simultaneously took part in two segments: a reading competition that judged their speed, diction and engagement, and a crossword puzzle game that tested their vocabulary.
The article they read was selected from the most recent issue of SHOUT. They were also asked questions about what they had just read. Most of the students spoke with great confidence. For the puzzle, each student was asked to find words taken from the issue of SHOUT. The students thoroughly enjoyed this segment, citing that many of them play word puzzles in their spare time.
The winner from Group 1 was Fabiha Anbar from Class 5, who scored the highest mark in both the reading competition as well as the word game.
The second half of the day was spent with students from Classes 7 and 8 who comprised of Group 2. These slightly senior students showed great enthusiasm and vigour throughout the competition.
First, they were asked to prepare a speech based on the topic "My favourite fictional female character" with reference from a pre-selected article on SHOUT. They were given a total of 10 minutes to prepare their speech, where they were to be judged on their content, performance and engagement. After that, this group also took part in a similar word puzzle game; each student was called to the next room to present their speech in front of judges during the course of the game.
Tharindi Prabashi, from Class 7 received the highest total score from Group 2 and was announced the winner.
All the students from IHSB showed great interest in writing and many talked about their dreams of becoming writers and journalists.
Both the winners will get the chance to represent their school in the final round of the competition where they will battle it out with students from other schools for the winner's title of Master Reader.