BYLC hosts 6th Youth Leadership Summit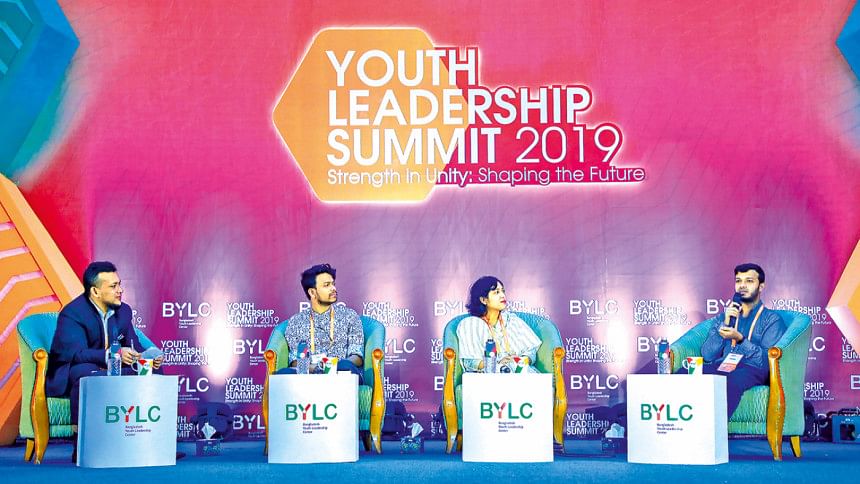 On July 11, 2019, Bangladesh Youth Leadership Centre (BYLC) hosted Youth Leadership Summit 2019, which was its sixth instalment since its inception in 2011. The three-day-long summit kicked off in Bangabandhu International Conference Centre, in Agargaon.
This year, 370 university students and young professionals were short-listed from a total of 1800 applicants to participate in the summit. This year's theme was "Strength in Unity: Shaping the Future" where several renowned entrepreneurs and leaders came together to discuss the importance of engaging the youth population in various leadership avenues.
The first day of the summit welcomed Robert Chatterton Dickson, British High Commissioner to Bangladesh, who opened the ceremony by discussing the impact youth can have in shaping the future of the world. He said, "This summit focuses on building skills of youth and instilling in them the values of tolerance and inclusiveness, both of which are critical for the practice of leadership."
After his speech, the day proceeded with leadership sessions, one of which was conducted by Ejaj Ahmad, Founder, BYLC. During his session, he spoke about the importance of learning to work together as a unit. He said, "We cannot wait for the authority to find a solution for all of our problems. That is why we need diversity in order to come to a solution together."
The first day also included team-building activities and a panel discussion on "Transcending Our Different Identities". The discussion included Shaheen Anam, Executive Director, Manusher Jonno Foundation (MJF), who said, "We should empower the youth and instil in them the values of inclusiveness and the ability to accept different opinions, as well as encourage them to promote tolerance and to stand against violence."
The second day of the summit included concurrent workshops on "Introduction to Public Leadership", "Introduction to Design Thinking", "Public Narrative" and "Elevator Pitch".
There were also panel discussions, one of which was on "Entrepreneurship". This panel was moderated by Pial Islam, Managing Partner, pi STRATEGY who spoke about how reinvention was the key to staying relevant. "Most entrepreneurs around the world haven't become successful by staying in the same place. They have become successful by reinventing their product, team, and market," he said. Other panellists during this session included Ivy H Russell, Founder and CEO, Maya; Bijon Islam, CEO, LightCastle Partners; and Ovick Alam, Co-founder, WebAble.
The other panel discussion was on "Leadership for the Public Good". The panellists for this session included, Dr. Abdun Noor Tushar, CEO, Nagorik TV; Md. Ahsanul Arefin Chowdhury, e-learning Expert, a2i Programme; Rayhana Taslim, Project Director, Establishment of 9 Government Secondary Schools Project, DSHE, Ministry of Education; and Shakil Ahmed, Associate Director, Public Affairs, Teach for Bangladesh. During the discussion, Dr. Abdun Noor Tushar said, "A key purpose of leadership is giving voice to the voiceless and marginalized groups of society."
The day ended with a cultural evening where students were all dressed in formal, traditional attire.
On the third day of the summit there were two leadership sessions on "Question Finding Process for Career Planning" and "Understanding Self and Developing a Personal Action Plan". There were two more panel discussions on "Finding the Fire Within" and "Strength in unity and Staying Connected to Purpose". The keynote speech was given by Prince Constantijn van Oranje of the Netherlands during the closing ceremony. He said, "True leaders are guardians of common values and they ensure that people can contribute and grow. They also scout for diverse talents with different complementary skills, reflecting the societies and markets they operate in."
Each day of the summit consisted of cultural and contemporary art performances and the final day ended with a gala dinner.
This year the summit not only welcomed university students and professionals from India and Nepal, but also included 18 transgender women who had come from various parts of the country.
This year, BYLC stepped into its 10th year and so far, has trained more than 3500 high-school, college, and university students through its various leadership programmes and an esteemed group of alumni. Through their Youth Leadership Summit, they allow young participants to not only develop leadership skills but to push themselves and stay connected with a community of leaders all across Bangladesh.