Acing business competition and real life
In conversation with Battle of Minds alumni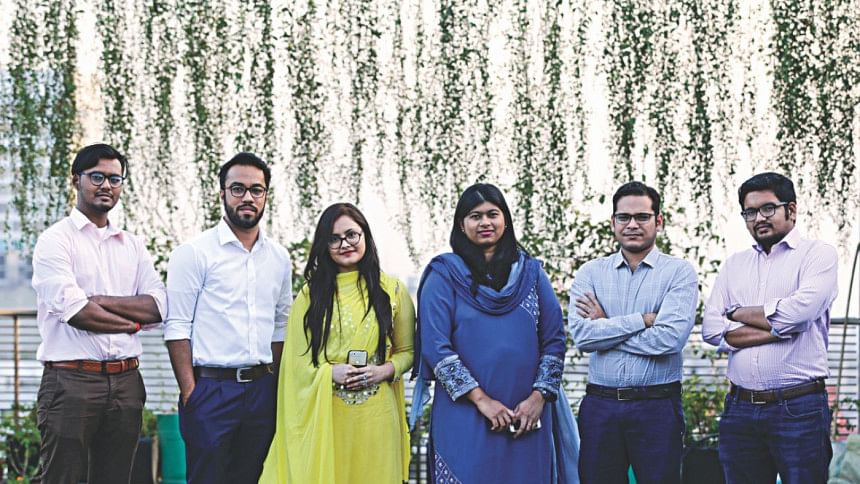 Last week, SHOUT sat down with a bunch of people who have seen it all and done it all. They are all trailblazers – inspiration to many who dream of experiencing the thrill and emerge as champions like they did – they are alumni of 'Battle of Minds'.
Injamam Ul Alam, Global Graduate, BATB; Amitabh Guha Roy, Finance Business Partner, bKash; Mashiat Chowdhury, Business Consultant, Katalyst – SwissContact; Md. Wasequzzaman, Trade Investment Manager, BATB; Mir Shahrukh Islam, Co-founder, Singularity Interactive; and Sadia Hossain, Commercial Finance Manager – Trade, BATB, convened in a conversation that took the participants down memory lane as they talked about their experience of one of the biggest business competitions in the country. 
Describe in a sentence – your Battle of Minds (BOM) experience.
Amitabh: I would say that BOM is more than just a competition – it's an experience itself. I cannot explain my attachment with the people I have worked with there. I can still relate to the mentors who've taught me to do and be better. I've learned so much from all the people who work tirelessly behind organising BOM and grooming the participants.
Shahrukh: To me, the entire BOM experience is a challenge which is magnified when you realise that it's not only about you or your team – it's also about the institution that you represent. It is crucial that you bring a game-changing pitch to compete with the best minds in the arena and win for your supporters. BOM is challenging, yes, yet rewarding.
What makes BOM different than other business competitions?
Mashiat: The exposure you get from BOM is immense. You apply as an individual here. Much like one's work life, you don't get to choose the people to work with. It prepares you before your graduation for what is about to come – the work environment and the daily challenges.
Wasequzzaman: At a young age, BOM made us deal with real people, real cases, and real drama. This sort of experience is a pretty unique bit of the competition; you have the advantage of knowing and learning what you will probably face two years down the line.
What role did participation in BOM play in you finding your current line of work?
Wasequzzaman: I believe that when you put in your CV that you're a champion, at anything, you are acknowledged. People realise that this individual has done something really well. Putting BOM there says that he or she acquired a certain level of experience – the emotions, the grooming, the tasks – and has succeeded at the end of it. It gives an edge and is sure to act as an advantage for the application.
Shahrukh: BOM also helps you familiarise with the stresses of job applications and assessments. It's like an extended version of a recruitment process; going through BOM translates that you'd perform better at any standardised recruitment and outshine others in its many stages.
What lessons from your BOM experience have you applied at your workplace?
Injamam: I learned through BOM that whatever idea that one has, it needs to be pitched in the right manner, to the right people. Being able to present my ideas clearly, as I have learned from BOM, has helped me immensely in my work.
Wasequzzaman: BOM makes you ready for the challenges that might come upon you. During the course of the competition, you get exposed to what a corporate world looks for in a person. It challenges you where and when you're most uncomfortable, and then brings out the best in you.
Why should a student participate in BOM?
Sadia: Apart from the obvious reasons, BOM explores the creative sides of an individual's mind. You get to share your own ideas with people in leadership roles of an organisation. Such relationships are of great value. BOM is also a chance for an entire university to come together and support their own – it's a celebration in itself.
Injamam: BOM asks the question "What are you made of?" It's something you need to keep asking yourself every day, to strive better and persevere. As the saying goes "It's not about finding the destination, rather the journey itself."
What should the BOM 2017 participants look out for?
Amitabh: I have faced a lot of business competitions but BOM is one of the toughest contests. A participant should always look out for challenges. BOM is based on real life case studies, so a person should be aware of the practicalities, impacts, and the atmosphere of the task that is given.
Furthermore, an additional challenge is to learn the strengths and weaknesses of one's team members, and then trust them. In BOM, one individual will work with members from multiple universities and backgrounds, so being able to harness the best qualities of a team is a big task in a small time. It's also something that becomes critical in their professional lives later on.
Sadia: Not to forget, they should also look out for the enjoyment. It's a once-in-a-lifetime opportunity – a huge platform to perform for a special kind of audience and a chance to network with your peers. The participants should make the best of it.