A perfectly normal talk show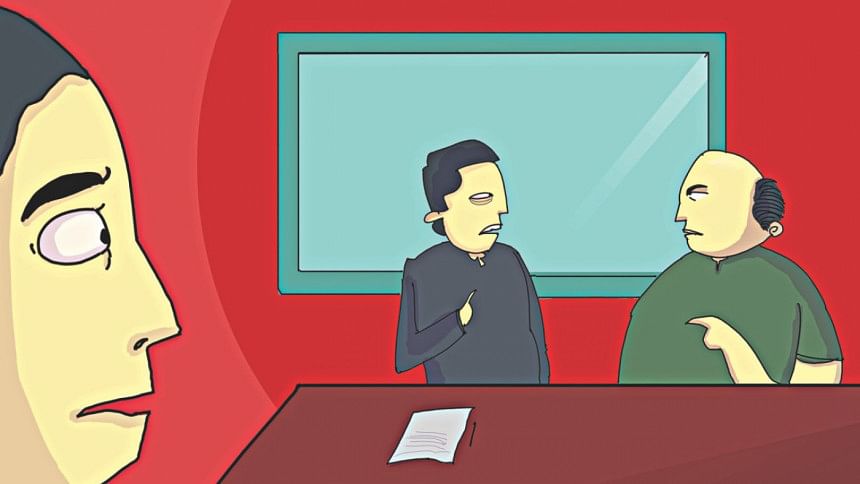 Host: Good evening, dear viewers. Welcome to our weekly talk show "Ponchom Jatra". As always, I am here with our guests for today's topic. Tonight we have Dr. Jamin Amran, Professor of Agriculture and Farming at Compass University; and Mr. Tormu Zalich, owner of the prominent horticulture company "Bestest Fruit Company (BFC)". I am certain a lot of our extremely intelligent viewers have already guessed the discussion we're going to have today. So without further ado, let's discuss about the seasonal harvest of this year. Let's start with Dr. Amran.
Dr. Amran: Thank you, Russel bhai. So, what I saw this year was beyond explanation. I have goosebumps whenever I think about it. It all started—
Host: Sorry, I think you've mistaken me for someone else. My name isn't Russel.
Dr. Amran: Oh, I'm so sorry, I was on Jinn FM last night. My mind's still stuck there. Anyway, there was supposed to be a bumper harvest this season but due to some unfortunate circumstances, we couldn't enjoy our beloved fruits. This could have been avoided if a certain someone with a big company didn't metaphorically strangle the farmers to death but this year was not ours, I guess.
Mr. Zalich: Are you insinuating that I was responsible for the bad harvest?
Dr. Amran: Now, why would you think that? Are you the only one in this field? Are you the only owner of a big company which leeches off of the land and its workers? I could be talking about Kacha Fruit Company (KFC), right? You're getting a big head, in my opinion.
Mr. Zalich: By no measurement is my head big. If you say it's big, it's probably because of my superior brainpower but I don't want to talk about that because I'm humble. But I guess you're right, I'm not the only company owner that exploits its… Hey!
Host: Okay, let's move on. Clearly you have some bad blood. Why don't we logically analyse what exactly happened?
Dr. Amran: He stole the fruits, that's what happened!
Mr. Zalich: This is absolute slander. What kind of a professor are you? Since you're from such a high academic background, which I highly doubt, what proof do you have of such accusations? You probably got your degree from University of Nilkhet.
Host: Gentlemen, I think the discussion is getting derailed.
Dr. Amran: The proof is sitting right in front of me. Just look at you, you put on a few kilos this season just by sucking on those high-fructose mangoes while we're dying of vitamin deficiency. Where did the mangoes go? In your tummy that's where!
Mr. Zalich: You are personally attacking me. This has nothing to do with my weight. I'll have you know that there would have been an even greater shortage of mangoes had we not intervened. What do you know about fruits? You're just a farm er murgi who has no experience when it comes to actual agriculture. I on the other hand was raised alongside plants, tending to them, holding them close to me while sleeping and grooming their beautiful foliage. You have no idea what you're talking about.
Dr. Amran: Umm, okay we're going off on a weird tangent here. But since we're talking about mangoes, let's discuss how you adulterated them with chemical and pesticides.
Host: (gasp)
Mr. Zalich: Where are you coming up with these? They're the best mangoes Rajshahi has to offer; I eat them regularly myself. Do you think if I added anything I would eat—
Dr. Amran: Oh, really? Well, I came prepared just for this occasion. I have brought a BFC mango with me today, and I want you to try it. If it's actually safe you wouldn't have a problem with that, would you?
Mr. Zalich: Of-of course not. It's my company after all.
Dr. Amran: Wonderful. Can we get a knife here, please?
Host: We really didn't prepare for this. Umm, catering?
Dr. Amran: This is like the worst knife ever, it can't even cut the mango. You know what, just suck on it, Mr. Zalich, like the true patriot you are.
Mr. Zalich: But we can do it later, let's not waste time right—
Dr. Amran: Eat it!
Mr. Zalich: Okay, here I go… Mmm. Wait, this doesn't taste like my mango. You tricked me!
Dr. Amran: And what makes you say that?
Mr. Zalich: Because my mangoes develop a distinct taste when they're put into a bath—
Dr. Amran: Uh-huh, carry on. Why'd you stop?
Mr. Zalich: Oh, screw you! It's just to clean the skin to make it shiny. I don't know what you are conspiring against my business but I will see to it that you don't succeed.
Dr. Amran: What conspiracy, sir? All I asked was where all the mangoes went, and you couldn't even answer that. Maybe your bulging pot belly can.
Mr. Zalich: Enough! You are an extremely ill-disciplined man. Why are you hell-bent on the mangoes? Why don't you state the overabundance of jackfruits and jambolans this season? I can clearly see how biased you are.
Dr. Amran: Did I attack where it hurts? It's fine. You getting so heated will exasperate climate change and then we'll have even fewer fruits to harvest. Watermelons and litchis are down this season too, what's your excuse for that? And trying to hide your insufficiencies with low-tier fruits will get you nowhere with the people.
Host: Damn, you roasted. I mean, Mr. Zalich, please reply.
Mr. Zalich: Low-tier fruits?! How dare you. Who gave you the right to look down upon jackfruits? How can you degrade the national fruit like that? That should be a punishable offence.
Dr. Amran: It smells. Like you.
Mr. Zalich: Another word and I'll crack my jackfruit on your head! Come here you—
Host: Folks, due to technical difficulties we have to end our live broadcast right now, we'll be here again next week with a new set of amazing guests to inform and educate you on contemporary topics. Until then, farewell. Hey, who on earth booked these fruit psychos? When will I get rid of this stupid job—oh, we're still rolling? Ahem, goodbye, dear viewers.
Shoaib Ahmed Sayam tortures himself by watching fake sports and Vietnamese cartoons. Send help at: fb.com/ooribabamama