Phases of Tragedy During the Admission Season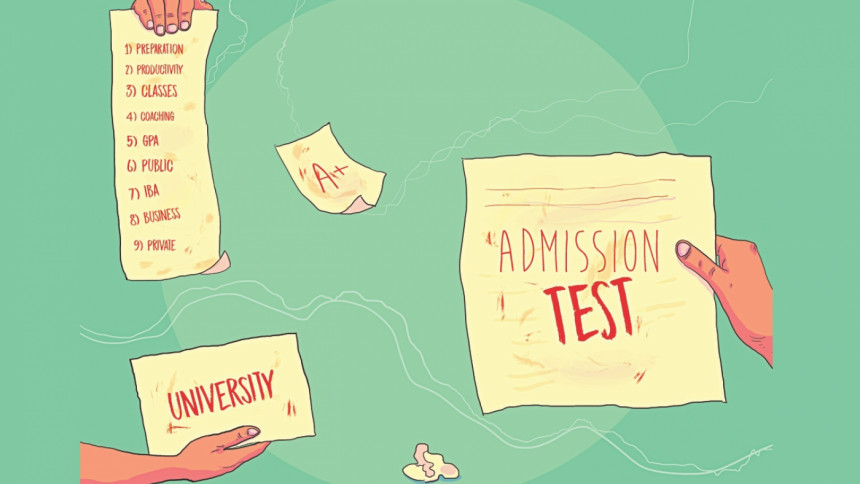 People say when bad times hit you, it doesn't all hit you at once, it happens in phases. So, let's take a look into one of the most significant yet traumatising phases that you have faced or will face in your life. Three people with three different goals tell their story, and at the end of the day, they're all just sad.
GETTING ADMITTED TO THE COACHING
Maliha: My mom told me 3 months before my HSC exams that all the aunties have already dissected every admission test program that is being offered by coachings in  the same way we have to dissect a cockroach for our biology practicals and that they have already picked out which coaching is the best for their children. While I didn't believe her then, now that I am trying to ask my friends what their plans are, turns out that they are all ready with 300 pages long guidebooks that takes them to their dream business school or engineering university.
I felt like a donkey in a horse race who didn't hear the gun go off and is still waiting behind the starting line while everyone else is making a run for the finish line
Anika: I can't believe I only started my preparations for medical admission tests from class 8 and not class 5. I am so behind schedule. I just hope I choose the right coaching.
Fahim: Are the teachers at my engineering admission test coaching center qualified enough to get me where I want to go? I did stalk them all on Facebook and take a detailed review about their success rate from my seniors but better to be safe than sorry.
ONE MONTH INTO ADMISSION COACHING
Maliha: 3-hour long classes aren't really my thing.
Anika: Definitely should have started to prepare for medical admission test when I was in class 5. The head start would have helped.
Fahim: I feel very fired up. I feel like my head is finally in the game. Even though I just want to get into BUET, I have also started going to the coaching for DU, JU, SUST, KUET, CUET, IBA DU, IBA JU, NSU, BRAC, IUB, and IUT. Everyone is going to so many coachings that I felt like if I didn't start targeting at least half a dozen universities, I probably won't make it. But now that I have bought 3 sets of the same books for every university so that I can practice the same math three different times and also got myself two home tutors, I feel like I am finally doing what everyone else is doing and that I am not that far behind from the boy who knows the right answer to every question that is asked in class. I am very sure that this is what I want. I want to do everything so that I miss out on nothing and have no regrets at the end of this admission season.
THREE MONTHS INTO ADMISSION COACHING
Maliha: This doesn't seem that difficult. I mean aren't these all things I just studied in 11th and 12th grade?
Anika: There are times when I feel incredibly confident and then there are times when I feel like I am unsure if I should take this path and go for med school. Was this really my dream or my parent's dream ? Is this my anxiety speaking or should I be looking at other options for my future? Can I even do that now? Is my life over before it started?
Fahim: I left the other 3 coachings I was doing for the engineering admission test. I think business school is the way for me to go. And I have to focus on just that. Shouldn't have wasted the past three months doing everything. Should have just figured out what I wanted from the start and focused on that.  
MOCK/MODEL TEST TIME
Everyone ever : I ranked really low. I don't think my dream university will actually happen for me. Maybe I will study at a private university or apply abroad ? Or should I keep trying? I mean it's not over until it's really over. But then again, won't it be better if I lowered my expectations and try targeting some other university? But if I lower my expectations now, after coming this far, after wasting so much of my parent's money, this will all be my fault. I have to hang in there and see this through to the end.
ADMISSION TEST WEEK
Maliha: Oh god. Everyone is sitting for admission tests in engineering universities and medical but I decided to only prepare for business school. Was this a mistake? Maybe I should stop studying for business school for a while and try preparing for other universities as well. 
Anika: No room for doubts. Let's do this.
Fahim: I think all the sins that I have committed will finally catch up to me and karma will take away my one shot at studying at my dream engineering university. In that case, business school. Or maybe both, can you do that?
RESULTS WEEK
Everyone on Day 1: Whatever has happened, happened. Not like I can change anything anymore. panicking won't really help. I will just chill.
Everyone on Day 2: This week I will fast. I will stop lying. I will stop being greedy. I will stop being jealous. I will give up every bad habit. All I want in return is to get into my dream university.
Everyone on Day 5: I can always go abroad. Or never go to university. People get into university and then waste their money for a year just to drop out after 2 semesters. I am doing my parents a favor by dropping out before wasting a lot of time and money.
AFTER RESULTS
Maliha: Do I really want to study business? I mean getting in was fun but maybe I am more of an environmental science person.
Anika: Now begins the 6-year long ratrace. There's no time to waste. I will talk to some seniors now, meet some professors, and get 5 kilotons of reading material from Nilkhet. My real life begins here.
Fahim: So this is where I end up. Thought I would feel happier.