Five Places to Go this Summer
The scorching heat of summer is yet to wane off, while monsoon still makes its presence felt with torrential downpours from time to time. One day you may be drenched in perspiration to your core in the summer heat, whereas another day you find yourself in trouble just getting a transport or even walking in the waterlogged streets. You crave respite. Well, yes, you can use a little vacation. With the holidays coming up, here are some exciting travel destinations for you to choose from.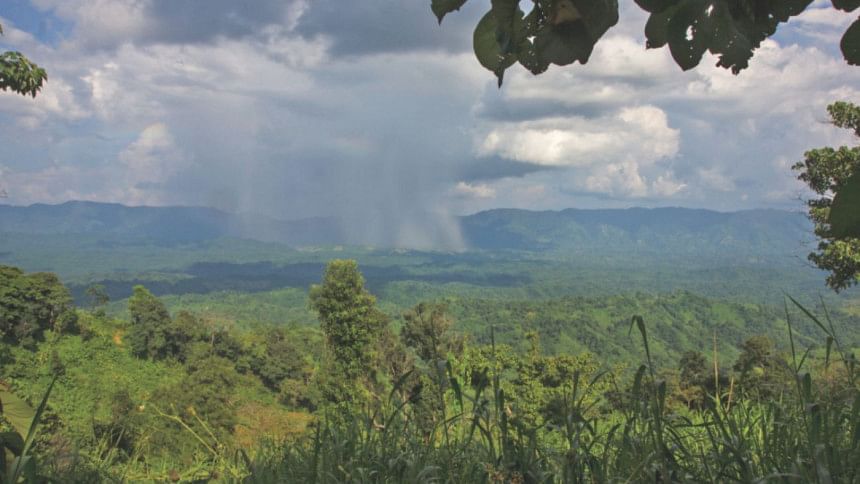 Srimangal
What better time to go to the place in Bangladesh that gets the most rain, right? There are loads of exciting destinations with fascinating scenic beauty scattered in or around the Srimangal upazilla of Maulvibazar district. There are several exquisite resorts around Srimangal, so accommodation for the whole family won't be a problem at all. You can also stay in Sylhet and commute from there as it's just a mere 2-hours ride to Srimangal. 
Places like Lawachara National Park and Madhabpur Lake are a must-visit. Lawachara has captivating greenery and you can go hiking on different customised forest trails. Indulging in the serene solitude, you'll suddenly get to listen to the chirping of an unknown bird or see monkeys jumping from branch to branch and if you're lucky, maybe spotted deer as well.  
Madhabpur lake is a splendid little natural water body meandering within little hillocks. The plethora of violet lilies floating on shallow depths of the lakes is a testament to the picturesque beauty of Bangladesh.
Don't forget to taste the seven-layer tea at Neelkontho Tea Cabin, though. Believe me, you don't want to miss this.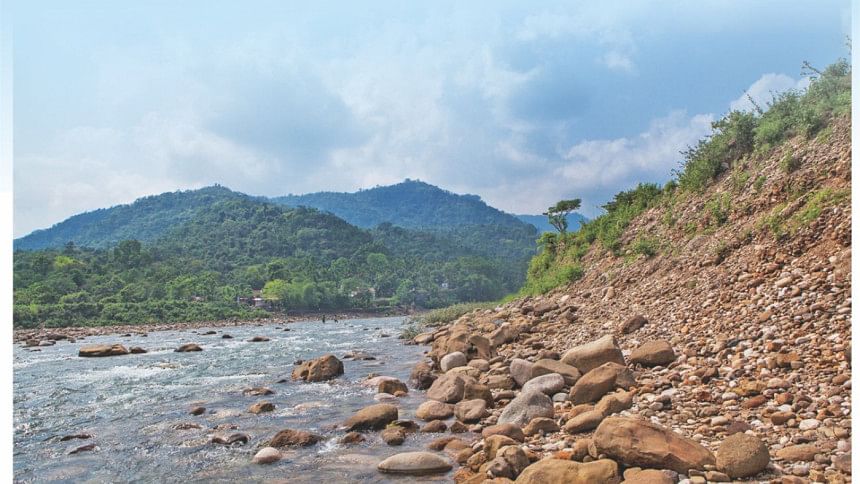 Bichanakandi and Ratargul
Bichanakandi, in Sylhet, has recently become popular among local tourists. Layers of hillocks one after another gradually converge into a distance, changing their colours from brighter shades of green to lighter shades of blue. There's a waterfall just across the Indian border feeding a stream which gently flows over the white rocks of Bichanakandi and falls into the Goain river. Located in the Goainghat upazilla, these hillocks of Bichanakandi are the footsteps of the mighty Eastern Himalayas.
Get on a car/CNG from Sylhet to go to Hadar Par Bazar, tentatively a 1-hour ride. From there fix an engine boat to reach Bichanakandi. It'll take roughly half an hour and the surrounding landscape is a treat to the eyes.
Ratargul, also a relatively new travel destination, is located very close to Sylhet city. It's the only freshwater swamp forest in the country and affectionately called the "Amazon of Bangladesh". What makes this place special is the predominance of Koroch trees (Pongamiapinnata). Almost 40 feet in height, during the rainy season, these trees are submerged to a depth of around 20-30 feet. A Kosha-nouka (canoe) ride through this forest will definitely give you an eerie feeling and the adventure that you so crave for. 
Get on a car/CNG from Ambarkhana point at Sylhet and go on to Shaheb Bazar, roughly a 45-minutes ride. Turn left from Shaheb Bazar at a Y-shaped divergence and reach Jolughat. From there you can get a boat to take you to the depths of Ratargul.
Sajek Valley
Imagine waiting for sunrise, sitting on a mountain slope and there's a vast valley in front of you hidden under the grey clouds. Suddenly the sun sneaks its head out and voila! The whole sea of clouds turns into a magical shade of golden and you just slowly take in the ethereal beauty. In the backdrop there are mountains big and high in stature. As the clouds clear out and the sun gets high up in the sky, the whole lush green valley, the picturesque Army camp and the locality of Sajek will appear before you like a little piece of 
heaven. 
Though the valley itself is in Rangamati, it's more easily accessible from Dighinala upazilla of Khagrachari. From Khagrachari town, get a local "Chander Gari" to take you to Sajek via Dighinala. The whole ride will take around 2:30 hours and the ride itself is rewarding. There are quite a few good resorts and an excellent Army rest-house. Make reservations beforehand.
Birishiri (Susang Durgapur), Netrokona
Already a popular name among the travel enthusiasts of the country, this wonderful place has a lot to offer and is perfect for a one-day vacation. Basically there are quite a few places to see in Durgapur – a thana under Netrokona district (Remember: Birishiri is just a union under Durgapur thana). The marvelous Ceramic Hill or white hill, pink hill, crystal clear blue-water lake, the transparent waters of the Shomeswari River, the massive Garo Hills of the Meghalaya state of India in the backdrop make this place a must-go for everyone looking for a serene getaway amidst nature. Also there are Susang Durgapur Royal Palace, Ranikhong Mission Church, Tonko Uprising Memorial and loads more places to see in or around Durgapur.
Board on a night-coach from Mohakhali bus-stand bound for Durgapur, Netrokona. After the 6-hour ride, you'll reach there in the morning. There are several decent hotels and rest-houses – so don't worry about accommodation. Rent a motorcycle for the day and the guide-driver will take you to all the places. The whole bike-ride will take around 6 hours.
The North-western Trip
Going to visit the North Bengal in this scorching heat might seem like a bit of masochism but it also has its perks. The sweetness of mangoes and litchis, the rich cultural heritage or the typical yet refreshing rural Bangladesh – all these are sure to attract the tourists from all over the country. Kantoji Temple and Ramshagor Lake in Dinajpur, Shona Mosque in Chapainawabganj, Bagha-charghat Mosque in Rajshahi, Paharpur Buddhist Vihara are some of the places that everyone should keep in the "to visit" list. All the districts of North Bengal are interconnected with an excellent highway network and also railway, so transportation from one place to another will never be a problem.
Ishtiaq Ahmed is a travel enthusiast who devours fictions, dreams of Paris and writes only when his brain parasites need a place to crash. He can be reached at [email protected]