The Entrepreneurs of Today
The world as we know it is now massively influenced by entrepreneurs. In the last few decades, Bangladesh itself has experienced a boom in start-up culture. These businesses have not only found success in existing industries but many businesses have helped create new industries altogether.
But what makes the entrepreneurs of the 21st century different from their predecessors? What kind of impact do today's Bangladeshi entrepreneurs have on one of the fastest growing economies in the world?
Sadia Afrin Aroni, Co-founder and Managing Director, Checkmate Events said, "After graduating I chose to follow a career in the corporate world. But after working for three years, I realised that I wasn't happy with the lack of freedom I have to explore and be creative. So, in 2015, I left my well-paying job to take a shot at becoming an entrepreneur and started Checkmate Events with my partner."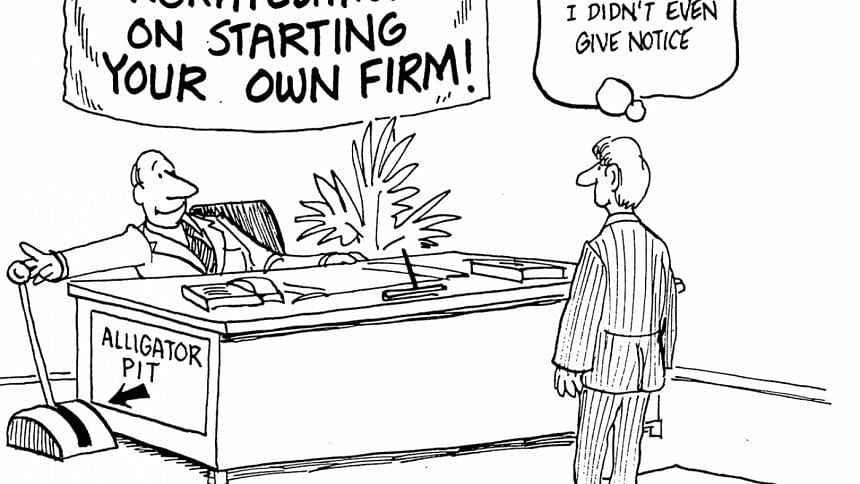 The drive to stand out is what seems to encourage the youth to take more risks in comparison to their forerunners. And with the explosion in technology and the increase in connectivity, creating your own unique brand is easier than ever.
Ifteker Mahmud, Co-founder and Managing Director, Purplebot Digital added, "When I started, there was a thrill in exploring new things on my own terms. And any success for the company felt very personal. I guess the satisfaction you can get from working on your own projects is unparalleled for me, and that's what inspired me to follow through with my desire to start my own company."
According to a recent report by the World Bank, youth unemployment rate in Bangladesh reached its peak at 11.64 percent in the year 2018. With over 28 percent of our country's population between 15 and 29 years of age, there seems to be a significant gap between our yearly economic growth (GDP for the 2018-19 fiscal year is estimated to be a record-breaking 8.3 percent) and the rate at which the youth are getting employed.
In order to fix this gap, the focus on young entrepreneurs have increased over the last few years. These entrepreneurs are expected to come up with innovative ideas and create job opportunities for millions of others. This notion is not only backed up by the government but is also being pushed by educational institutions, like BRAC's Centre for Entrepreneurial Development (CED) or Daffodil International University's Bachelor of Entrepreneurship Development (BED) program. Various courses are also being adopted by leading business institutions and entrepreneurial idea competitions are regularly promoted to encourage students in pushing their creative and analytical abilities.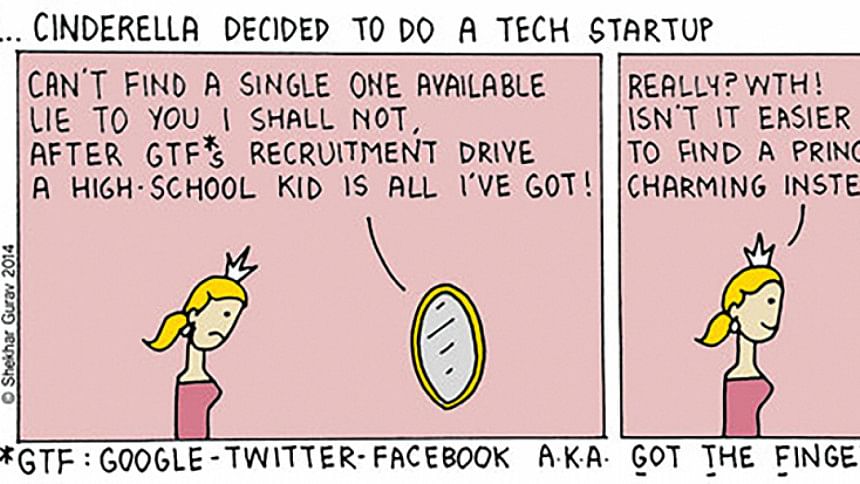 This aligns with the increasing number of youth opting for a life as an entrepreneur. The most obvious reasons include job dissatisfaction, the desire to earn more money, and the millennium dream of being your own boss.
According to an article on The Daily Star by Fahmida Khatun, Executive Director, Centre for Policy Dialogue, 80 percent of the jobs available to the youth are informal, low-paying jobs. This is another reason for the strong job dissatisfaction faced by many.
Start-ups, however, allow employees to work and learn from the company as it grows with them. This not only encourages employees to work harder but also creates a sense of achievement for everyone involved. A report published by the Ministry of Planning stated that approximately 15 lakh jobs were created by SMEs (small and medium-sized enterprises) between 2003 and 2014. This number is only growing since the introduction of e-commerce.
The newer generation, being more equipped with the technologies of this millennium, adopted the various new skills that never existed before. This is giving rise to an increasing number of small business owners, many of whom are employing even more young people, generating employment.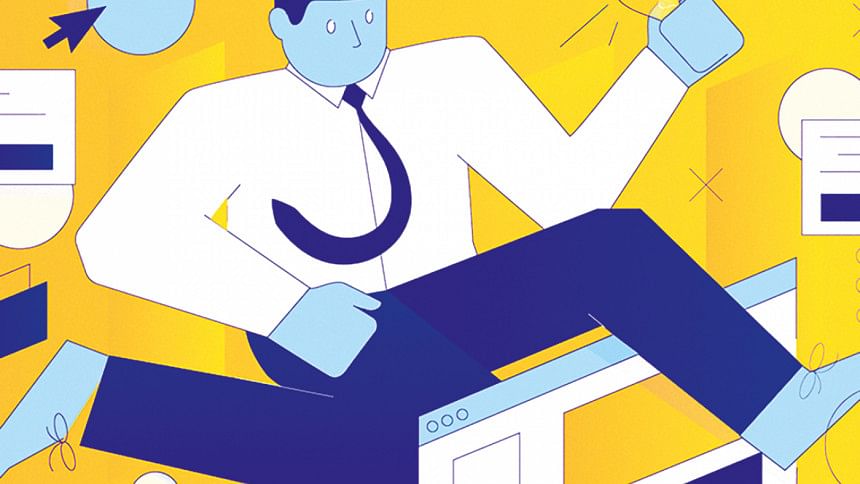 Sayem Faruk, Co-founder, Alpha Catering, feels that the increase in connectivity has opened doors to possibilities that were previously unthinkable. He said, "The vastness of information and opportunities are also the reason for the challenges we face today that perhaps the previous generation didn't. Because of all of this information and opportunities are accessible to anyone and because of how globalised everything is now, it created far more competition than we had ever seen before. This is true in whichever industry you look into."
According to the report by the Ministry of Planning, SMEs are responsible for 45 percent of manufacturing value addition, about 80 percent of industrial employment, about 90 percent of total industrial units and make up for about 25 percent of the labour force in the country.
However, given how the marketplace demands change quickly with new trends and technological advancements, many start-ups fail to sustain. Even though a lot of young individuals are starting their own businesses, there seems to be a significant lack of skilled workforce to cope with the changing job descriptions.
Ami Sayeed, Co-founder, Maverick Studios, talked about how they have wanted to focus on visual effects (VFX) for a long time and how they were struggling to find people with the required skill set. He mentioned, "When we realised that there aren't many people equipped with the knowledge on VFX, we created Mvrk Lair, a wing where we trained the youth to learn VFX. Ultimately, we were able to start focusing on this industry and right now we have around 50 people employed under Maverick Studios and many others who work in separate wings like Shop-Up, our e-commerce service platform."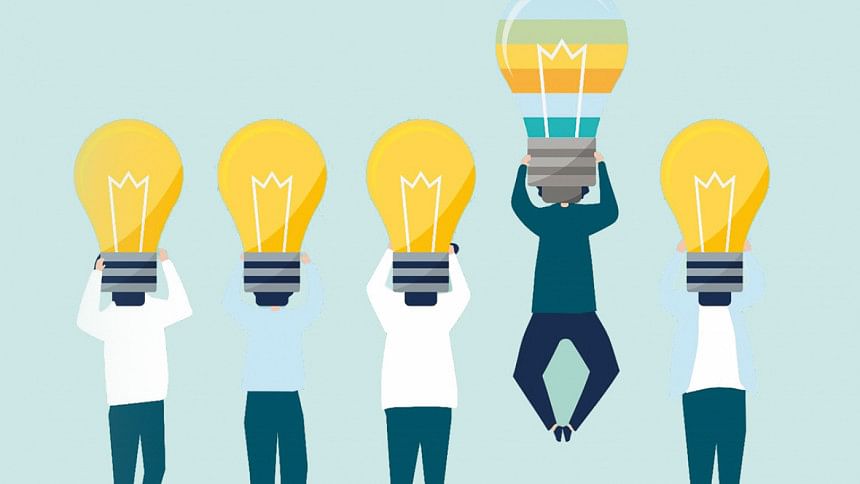 The boom in entrepreneurship has also been particularly beneficial for women. More and more home-makers and young girls are beginning to see the values of e-commerce. Starting from selling clothes to selling home-cooked meals, the 21st century technologies have opened doors for thousands of women looking for financial independence. While many women who would previously choose to not work in an office are now finding a way to earn a living through online platforms.
Tonuruha Ameen, Founder and henna artist at Leelabali, spoke of how she worked as a henna artist since she was a second-year undergraduate student to pay for her own tuition. "It started out as a way to earn some extra money, doing something I enjoy, but now it's a way for me to feel like I am in control of my work," she said.
Regardless of all these perks, how does a company stay relevant and sustain in today's highly competitive market?
Ivdad Ahmed Khan Mojlish, Co-founder and Managing Director, LightCastle Partners, spoke about the key attributes required for a successful entrepreneurial venture. He said, "First of all, people need to see entrepreneurship as a problem-solving opportunity. If you have a knack for solving problems, you can become an entrepreneur. Secondly, if you really want to see your company grow and sustain, you cannot see it as a short-term activity you want to try out. You need to have a lot of patience and perseverance to see the fruits of labour and it will take time in most cases. Thirdly, you need to be able to work with a good team and not expect yourself to manage everything on your own. It's part of being a good leader. And lastly, the most important part is to enjoy what you are doing and keep an open mind to learning new things so you can truly make an impact from whichever industry you are in."
Khaled Mahmud, Founder, MIB Spirit spoke about how everyone in our country is capable of being entrepreneurs. "Unlike the previous generations, the youth today are more enthusiastic about entrepreneurship. This is a good thing for the development of our country but we also need to make sure that these young people are serious about running their own businesses. Being an entrepreneur is a far more difficult and requires far more grit than a regular job and we need to ensure that the best minds of the country are being equipped with those qualities," he shared.
What seems to separate today's entrepreneurs from those of the past, seems to be the fearlessness for the unknown, the drive to test new waters. Regardless of the competition, the desire to make an impact with unique ideas and skills makes being an entrepreneur in the 21st century far more rewarding for this highly globalised generation.
References:
1. https://www.theglobaleconomy.com/Bangladesh/Youth_unemployment/
2. https://unstats.un.org/unsd/demographic/products/dyb/dyb2013/Table07.pdf
3. https://www.thedailystar.net/business/economy/bangladesh-gdp-growth-rate-2018-19-8.13-per-cent-1717291
4. https://www.thedailystar.net/opinion/macro-mirror/news/how-much-has-the-youth-gained-growth-1636012
5. https://plandiv.portal.gov.bd/sites/default/files/files/plandiv.portal.gov.bd/notices/afbffe34_be4c_417d_b36c_ecf8db4614fc/ToR%20final%20SME.pdf