How women are burdened with holiday responsibilities at home
No rest for the women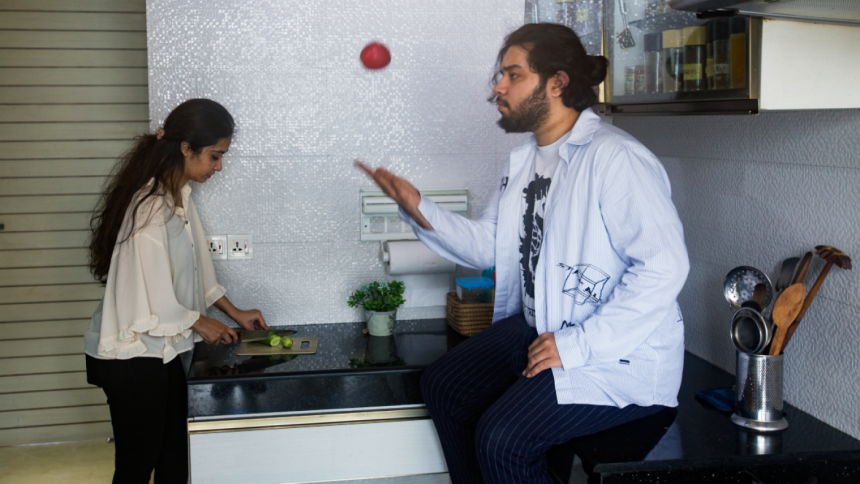 The holy month of Ramadan is associated with spiritual enlightenment. Followed by Eid, even the most jaded of us are moved by fanfare and unabashed childish delight. But it's also a challenging time for those who work behind the scenes to make these days as memorable as they are.
In Ramadan, we witnessed one of our society's unchallenged norms: the women of our families toiling hard in the kitchen to prepare the perfect food, while the men rest and prepare for a feast. Unfortunately, any celebration or special day at our houses would be incomplete without this sight.
With Eid in a few days, will things change at all?
Unlike the olden days, the number of working women in households has increased significantly. In most middle class homes, two working parents is common. Yet, after a whole day of fasting, only one parent is seen to endure the responsibilities of preparing for and cleaning up after an entire family. This lopsided distribution of household labour is nothing new, but it deserves more questioning during occasions and celebrations.
To compensate for sehri and iftar meals, many offices have their employees arrive late and leave early. Even though most men receive some relief from this, the workload for their female counterparts never truly eases during this time. In addition to office work, they are required to begin preparing iftar as soon as they return home, sometimes without even having time to change out of their clothes. Moreover, work resumes shortly after iftar and prayers, when they have to prepare sehri for the next day.
"I come home and go straight to the kitchen to prepare iftar. After iftar, I have to cook sehri and so I get really tired," states 45-year-old mother of two Afrin Akther.
I share some of the responsibilities of the holidays, but the bulk of it is still my mother's. None of it goes to my father or brother. If there's a rare day when the food is later than usual or not on par – when the lebur shorbot isn't sweet enough, or the piyaju is too salty – the annoyance, even anger, from everyone is made abundantly clear.
Homemaker and mother of three, Yasmin Nahar shares, "It's normal for me to do the cooking and all the housework even while fasting. But when my husband or my children push away food because it's not how they like it, it stings."
Her daughters, who are barely adults, are also expected to perform this labour. After studying for school and exams, they are expected to assist with the iftar preparation.
Tahira Tasnim, 19, student at Viqarunnisa Noon School, encapsulates this perfectly. "I feel that there is an expectation for me to do housework in general and more so during Ramadan or other family occasion. I think it is because of my gender," she comments.
"Even though the boys and men in our family help out with serving food or laying out the table, the more complex and tiresome things like cooking and cleaning are primarily done by the women," Tahira says. Furthermore, most girls are even unable to question this standard, because they understand that the only respite their mothers will feel will be when they take over the reins.
"The notion of men helping out in the kitchen is so incomprehensible to my family that even my own mother told me that we can't ask men to cook. That it's just not how it's done," shares Subah Basharat, 22, from Brac University. Men in our society are so removed from housework that, even if they wanted to help, they wouldn't know where to start. As a result, the reality for most girls is that they have no choice but to do the work.
However, we are seeing that the younger generation of men are more aware of this double standard. Sixteen-year-old Faisal Ahmed says, "I do want to help with cooking and other work. But my mother says I should study instead. I know it's hard because even my father and brother don't help."
Rafsan Nazmul, 15, shares his experience of helping out, saying, "I noticed that I am not usually asked to help with cooking or other work whereas my sister is just told to help out. I've been trying to help more, and I think my sister appreciates it. I want to help my mother, too, since she works hard at the office and at home."
As a child, I never had to comprehend the effort that goes into preparing the most delectable meals during Ramadan or preparing a house to entertain relatives and numerous other guests on Eid. There was always enough of my favourite food to feed a small village, and the house was always magically clean. However, as I've gotten older, I've realised that the magic is merely hard work, and that my family's fierce women were behind it.
Now, the mention of a holiday elicits a grumble and a slight resignation. I feel disinterested in participating in the holiday cheer because I know it comes with a steep price, for me and my mother. I can see in my mother's eyes when she's too tired from work and needs to lie down in the middle of Eid day, while everyone rambunctiously converses and devours her food in the other room.
And my experience is not isolated. Tahira shares, "My outlook on Eid hasn't changed since I don't have to do as much. I always have the older generation of women and my elder sisters do the heavy lifting in family situations. Even then, watching them shoulder burdens that could easily be lessened if the men did their part in our family makes me bitter."
I want to reassure you that not all hope is lost. We can actively appreciate our mothers and sisters for their contributions and share the responsibilities during the final days of Ramadan, during Eid celebrations and whenever possible. To truly bridge the gap, asking "How can I help?" isn't enough. Instead, we have to initiate work by telling our family that we will take care of certain tasks and then following through.
Asking for centuries-old gender norms to be diminished in a single article is a tad bit unrealistic, and perhaps overly optimistic. But we can all do our part as individuals to change the scenario in our homes and to help out when we can.
As long as we are not complicit and oblivious, the price of a happy holiday does not have to involve inequity.
Nushba is uselessly raging about the patriarchy and crying because her cat doesn't love her. Please send help at nushba.tajreen@gmail.com