Cover Story
Iftar Offers You Can't Refuse
Wondering about affordable iftar deals? We were too. So we went over countless iftar offers and made a list of delectable choices that will cost you just around BDT 600. You're welcome.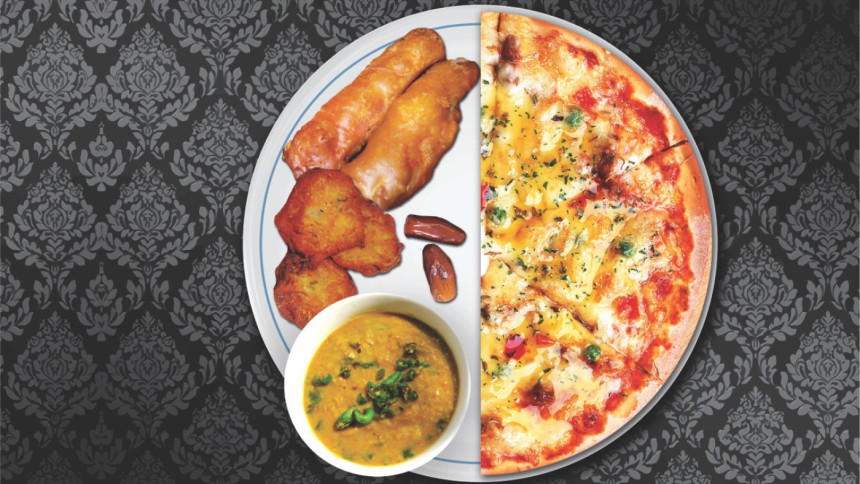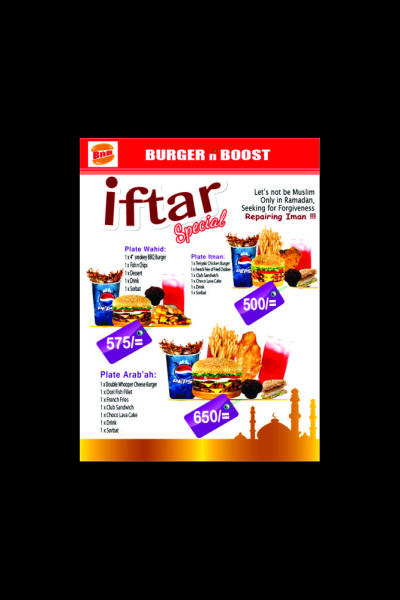 Burger n' Boost: The famous burger joint with branches in Dhanmondi, Banani and Jamuna Future Park has three Iftar special platters, all within our budget. Plate Itnan, at BDT 500, consists of a teriyaki chicken burger, a club sandwich with a piece of fried chicken or French fries, and a choco lava cake. Plate Wahid, which costs BDT 575, has a 4" smokey BBQ burger, Fish n Chips, and a dessert. But for a much more fulfilling meal, you could opt for Plate Arab'ah, with a double whooper cheese burger, a dori fish fillet, a club sandwich, with French fries, and choco lava cake. All these for just BDT 650. These three platters come with soft drink and a sherbat. The BnB outlets are small and cosy; you may need to go early to grab seats in advance. 
Tune & Bite Music Café: This moderately spacious but well decorated café in Khilgaon is relatively new, but it's upping its game with two iftar offers. There's an unlimited pizza offer that runs from iftar time to 8:30 pm every day. With two different kinds, BBQ and Mexican, the offer will cost you BDT 555. Plus you can get unlimited refills of drinks at an additional BDT 99. Besides, kids under 5 years can eat for free. On the other hand, there's a special iftar package at BDT 399, and it consists of fried rice, beef, vegetable and fried chicken. And they'll give you complimentary items like chhola, beguni, dates and lemon juice. Their regular menu is also be available.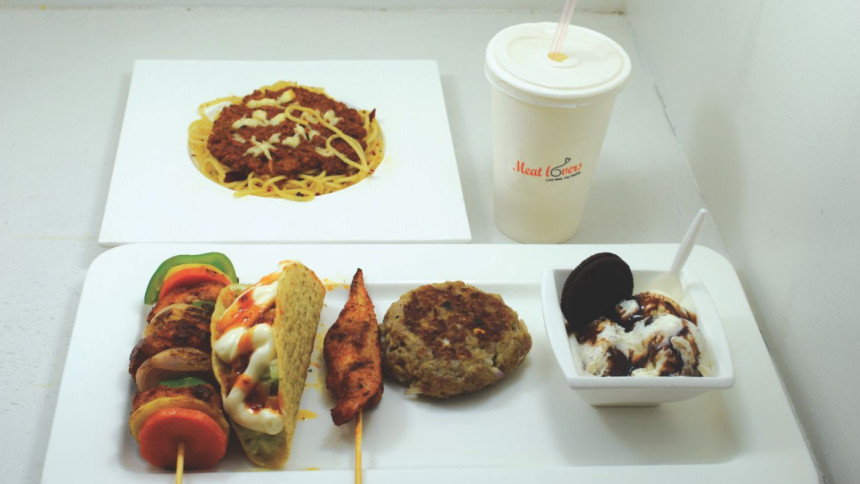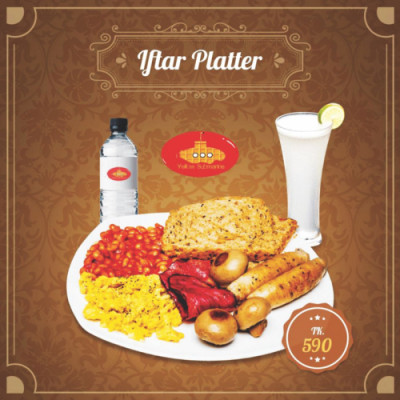 Grind House: Situated in the same building in Khilgaon as Tune & Bite Music Cafe, Grind House is a chic little café with a winning interior. This Ramadan, they are offering 5 special platters for iftar. Among those, we found three to be worthwhile. Package 2, at BDT 500, is a serving of pasta with, sweets, oranges, dates, sherbat, and a dessert item. Priced at BDT 350, Package 4 is a handi of chicken or beef hariyali khichuri, complemented with oranges, dates and sherbat. Lastly, Package 5, which costs BDT 320, contains paratha with hariyali chicken or beef. Additionally, you can purchase desserts (four different types of pastries) at BDT 200 each. 
Richmond Hotel and Suites: For a 3 star hotel, the iftar and dinner buffet of Richmond Hotel and Suites in Uttara is quite affordable, at BDT 550 (all inclusive). The buffet is on the rooftop, so you'll definitely have a breath-taking view of the city lights. Among the various items of the buffet, you'll have traditional iftar items like egg chops, potato chop, haleem, jilapi, chicken chaap and chicken lollipop. But since it's an iftar and dinner buffet, there will also be fried rice, khichuri, paratha, beef and chicken chilli, soup, different salads and dessert among other items. This seems like a pretty good deal. You might need to make reservations though.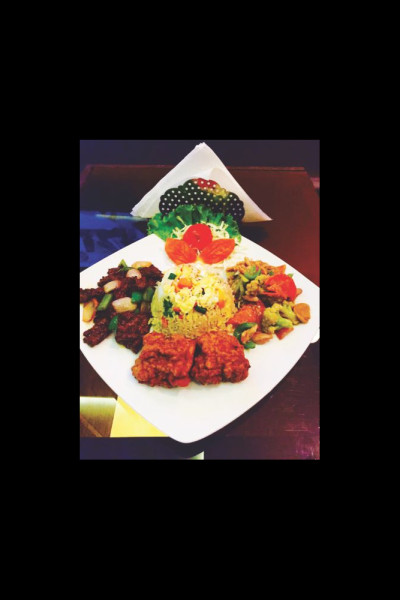 Meat Lovers: If you're looking for a wholesome iftar at Bashundhara R/A, Meat Lovers is the place to go. With a cosy interior and upbeat ambience, Meat Lovers is offering three amazing platters along with their regular menu this Ramadan. Platter 1 priced just at BDT 300 comes with a chicken broast, beef kebab, chicken shashlik, chicken satay, fresh lemonade and sweet cup. Platter 2 priced at BDT 400 replaces the chicken broast with a chicken/beef filetto burger and the lemonade with fruit juice of choice. Platter 3 is truly fulfilling, replacing the burger with spaghetti in meat sauce and the sweet cup with blissful Oreo ice cream, bumping up the sweetness of the deal.
Let's MEAT Up: The iftar offer from this food cart is a good bargain. For just BDT 450, you will get a BBQ beef burger, a chicken steak burger, a meat wrap, a good amount of nachos, and a soft drink. No, we're not kidding about the price. The quantity is more than enough to satiate your hunger. While there isn't much seating space around this cart in Dhanmondi, you can always take the meal home. Service may be a tad slow as a lot of people line up for this offer, so we'd suggest you go early and get your iftar box.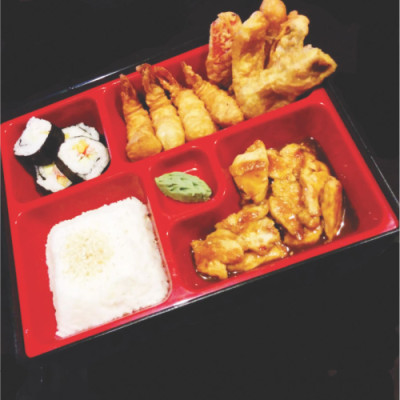 The Pit Grill: Famous for its steaks, The Pit Grill in Dhanmondi does not disappoint even in the month of Ramadan for it brings you a platter called the "Meat lover's Iftar" which essentially contains a perfectly done rib steak, pita bread, haria kabab roll, chicken satay, malai kabab, chicken ball, chicken wings and haleem, all at an amazing price of only BDT 600. Of course, the platter comes with dates, jilapi and drinks of choice. Relishing a more than reasonably priced steak, a variety of kababs and haleem while seated in the rustic atmosphere of Pit Grill might just hit bull's eye for the ideal iftar evening you're looking for.
HAKASA: For all those times a mere platter is not enough to satiate your hunger, HAKASA in Banani is offering one of the best "all you can eat" 16 items buffet, priced only at BDT 599. So brace yourself for a menu decorated with scrumptious appetizers like crab curry mayo tortillas, Thai corn and potato salad, floating dumplings teamed with Singaporean laksa soup. The mains include Cantonese chow mein, Malaysian egg fried rice, HAKASA five chilli beef and kung pao chicken. They also have jilapi and deep fried honey bananas to seal off the meal with desserts. If you now feel like this buffet is too much to handle, simply opt for the takeaway buffet boxes in large (BDT 299) or medium (BDT 249) sizes and bring your buffet home.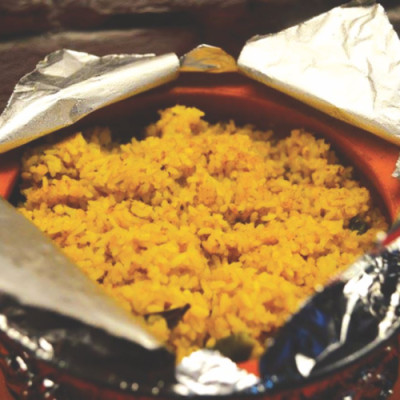 The Upstairs Lounge & Bistro: What cuisine are you craving today? Japanese, Indian, Middle Eastern or Thai? Whichever it is, you'll get it all in the iftar offers of The Upstairs Bistro in Banani. The Japanese platter is a teriyaki bento, which basically means it has teriyaki chicken, tempura prawns, vegetables, sticky rice, and crab maki rolls. The Indian platter, in all its spicy glory, has a serving of butter chicken, steamed rice, yellow lentil curry and some raita. The items in the Middle Eastern platter are – sheesh tawook, vegetable couscous, baba ganoush, hommus and pita bread, can be difficult to pronounce, but they do look extremely appealing. Lastly, the Thai platter comes with a combination of massaman curry beef, crab rangoon, and prawn crackers with steamed rice and salad. The good news is that all these platters cost BDT 623, inclusive of all costs.
Pizza guy: "Endless pizza" and "bottomless Pepsi" are two expressions that are music to our ears. Which is why Pizza Guy's offer at BDT 599 is something you can't refuse. With a variety of 17 different pizzas, served hot and fresh from their "Classic Italian Pizza Menu" and "Pizza Guy Special Menu", it's about time pizza lovers made a run for this delicious offer. Situated in Banani, the reservations for dining comfortably with authentic pizza in your hand are flying off the table.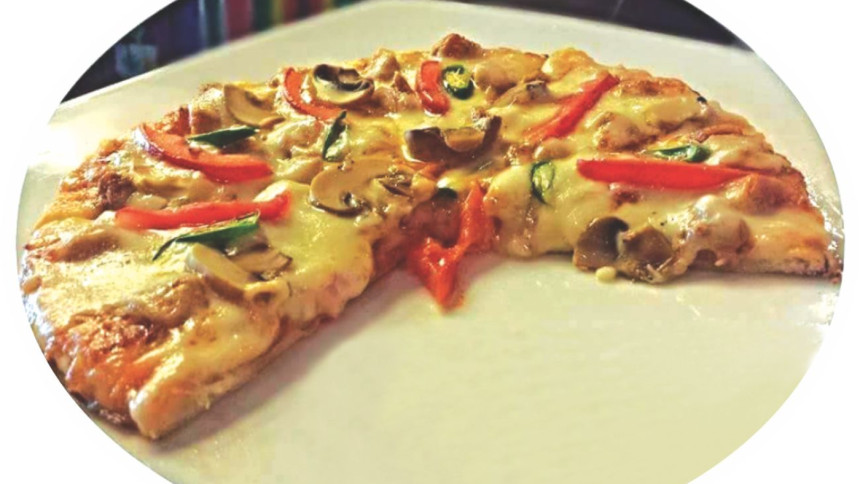 Yellow Submarine Café: Tired of the regular fried 'delicacies' for iftar? Yellow Submarine Café, located at the heart of Gulshan-2, comes to the rescue with a 'breaking your fast with a breakfast' styled platter priced at just BDT 590. This platter comes with a sizable serving of waffled brown breads, scrambled eggs, baked beans, grilled mushrooms, (halal) sausages, beef bacon and maple syrup. Topped off with a glass of lemonade, breaking your fast could not get any healthier than this platter.
While it's important to have a wholesome iftar after hours of fasting, it's also important to remember to refrain from gluttony. Also, remember to keep yourselves hydrated after iftar. Ramadan Mubarak and happy iftar.