Bright Ideas for a Better World
ICDRET 2016 at United International University
At a time when climate change is closely related to the means of energy used, renewable energy shows promise to be the solution. In light of that, United International University (UIU) organised the International Conference on Developments in Renewable Energy Technology (ICDRET) 2016 at the university's Dhanmondi campus on January 7-9, 2016. This was the fourth edition of the biennial conference organised by the university. 
ICDRET 2016 was officially inaugurated through a ceremony held at the auditorium of the university on January 7. The event was graced by the presence of Nasrul Hamid, State Minister for Power, Energy & Mineral Resources, who was the chief guest. The special guest at the inauguration ceremony was Faridur Rahman Khan, Vice Chairman, Board of Trustees, UIU and the Managing Director of United Hospital Limited. Professor Dr. M. Rezwan Khan, Vice Chancellor of UIU, presided over the occasion. Professor A. K. M. Sadrul Islam, Chair of the Technical Committee and Head of Mechanical and Chemical Engineering Department of Islamic University of Technology (IUT); Professor S. M. Lutful Kabir, Co-Chair of the Technical Committee; Shahriar Ahmed Chowdhury, Co-Chair of Organising Committee and Prof. Raqibul Mostafa, Head of the EEE department of UIU also addressed the audience.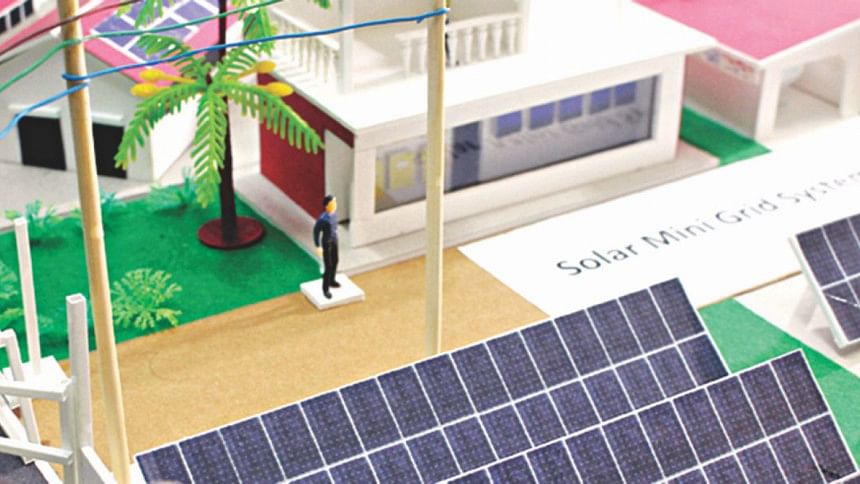 In his inaugural speech, the chief guest stated that renewable energy is a "burning topic" all around the world, and it's important to pursue renewable energy methods in Bangladesh. 
"A lot of us are not yet aware of the needs of renewable energy in Bangladesh," he said. "We need better quality tools and we need newer technologies to cut down the high costs associated with renewable energy."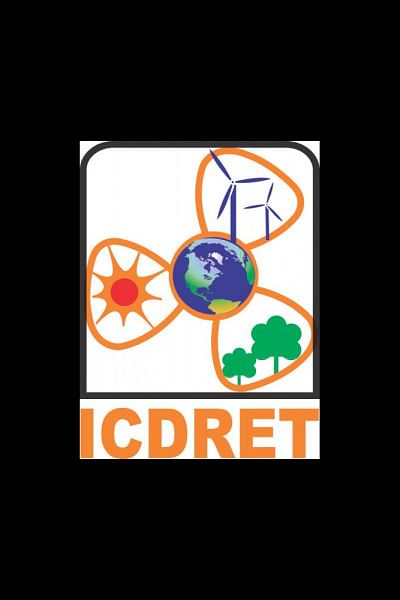 He added that the main challenge of renewable energy in our country is generating awareness and educating people about it. Thanking UIU for the platform to discuss innovative ideas in the field of renewable energy, he urged involved parties to allow young researchers to undertake pilot projects to test their systems. He also informed that the ministry itself is planning on taking interns in large numbers in order to develop experts and professionals for a brighter future of Bangladesh.
Faridur Rahman Khan, the special guest, expressed his delight to see ICDRET being organised for the fourth time. He said, "It takes a lot of patience, dedication and motivation to keep organising such an event."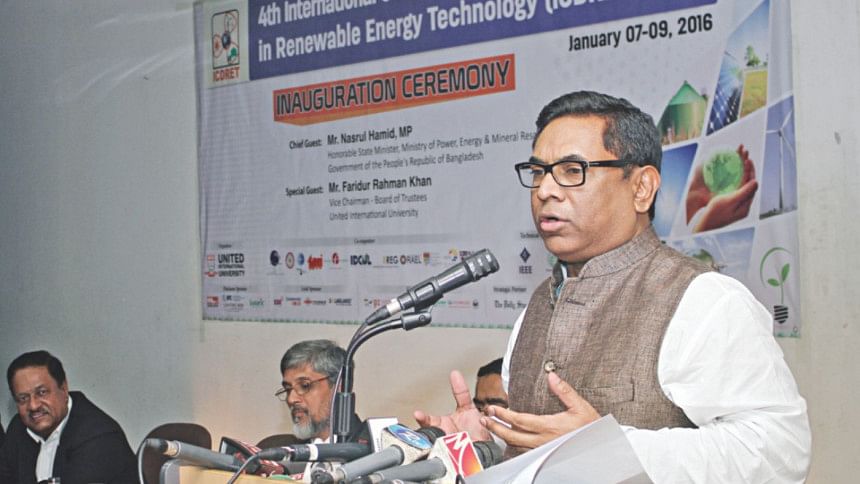 "Over dependence on fossil fuel in the long run is not good for any country. Renewable energy can be replenished, and is waiting to be harvested, so it is a viable option," he added. He said that although the primary investment in renewable energy is quite high, its end results are beneficial in many ways. 
Professor Dr. M. Rezwan Khan, Vice Chancellor of UIU and Chair of Organising Committee, ICDRET 2016, said that since fossil fuel is depleting, most countries are moving towards renewable energy, and Bangladesh is keeping up as well. Speaking highly about Bangladesh's success in installing 4.4 million Solar Home Systems (SHS), he hoped that the country as well as the world in general will be benefitted through the ideas presented in ICDRET 2016.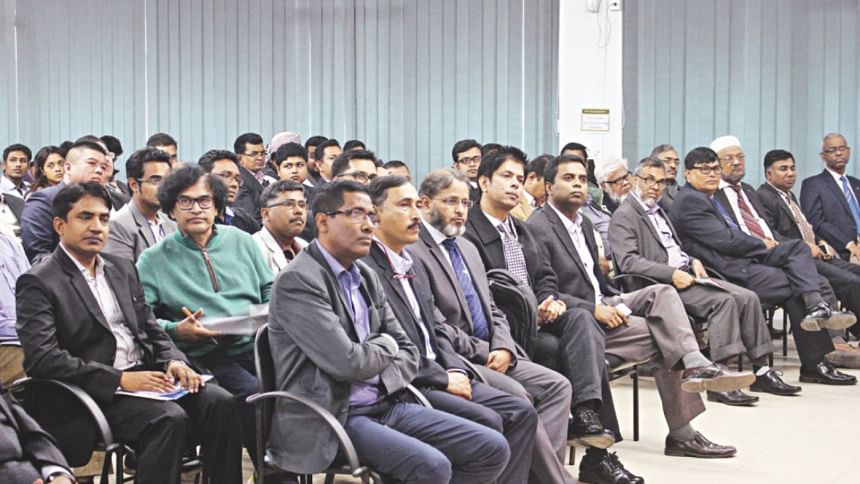 ICDRET was organised by UIU for the first time in 2009 to raise awareness about the necessity of renewable energy through active discussion. The success of the conference rendered it to be revived for a second time in 2012. ICDRET has since become an event held in alternate years and was held in 2014 and 2016 for the third and fourth time respectively. The conference has seen a growth in both popularity and quality over the years, thus successfully ensuring participation from research and development personnel in the sector of renewable energy.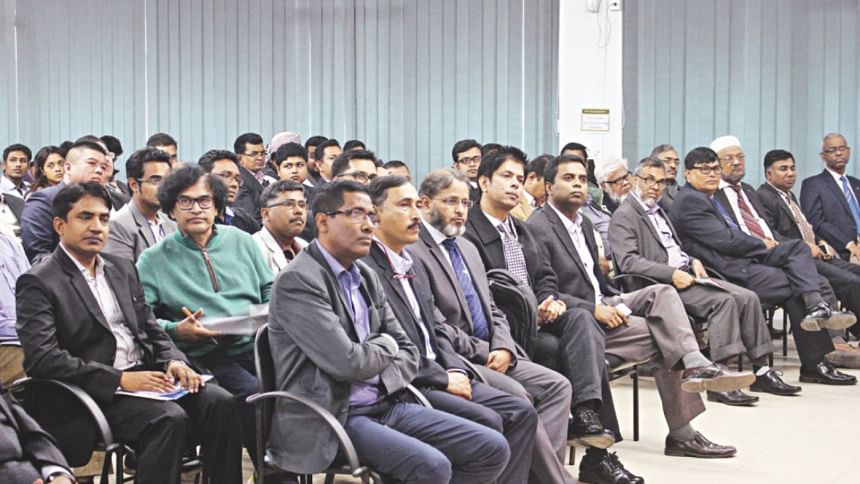 It was revealed by the Chair of the Technical Committee of ICDRET 2016, Professor Sadrul Islam, that a total of 134 technical papers were submitted for the conference this year from 10 countries. After meticulous reviews by the technical committee, 66 of those papers were selected for presentation at the conference. He also informed that the selected papers would also be published in IEEE Digital Library. 
Following the paper presentations, the winners of the conference were announced. The best paper award went to "Dye-Sensitized Solar Cells: Sensitized with Triple Dyes in Ultraviolet to Near Infrared" by Ashraful Islam and Liyuan Han of National Institute of Materials Science; Md. Akhtaruzzaman of Universiti Kebangsaan Malaysia; Idriss M. Bedja of King Saud University;  and Antoine Mirloup and Raymond Ziessel of Université de Strasbourg. The first runner-up award was handed to GM Shafiullah of Murdoch University for his paper titled "Impacts of Renewable Energy Integration into the High Voltage (HV) Networks." Hans Holtorf, Tania Urmee, Martina Calais and Trevor Pryor of Murdoch University bagged the second runner-up award for their paper on "Incorporating the Institutions' Perspective into a Proposed Model for Assessing Success of Solar Home System Implementations."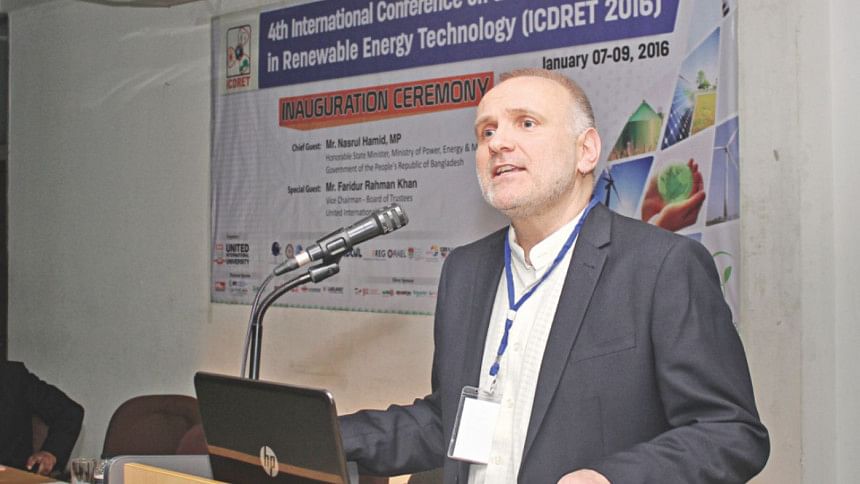 ICDRET 2016 was co-organised by Berkeley Rural Energy Group, Renewable and Appropriate Energy Laboratory of University of California at Berkeley (USA), Center for Energy and the Global Environment, Virginia Tech University (USA), University of Oldenburg (Germany), Micro Energy International (Germany), The Energy and Resources Institute (India), Solar Energy Research Institute of National University of Singapore (Singapore), Kathmandu University (Nepal), IDCOL and the National University of Malaysia. The Daily Star cooperated as the strategic partner for the conference. Various other organisations supported ICDRET 2016.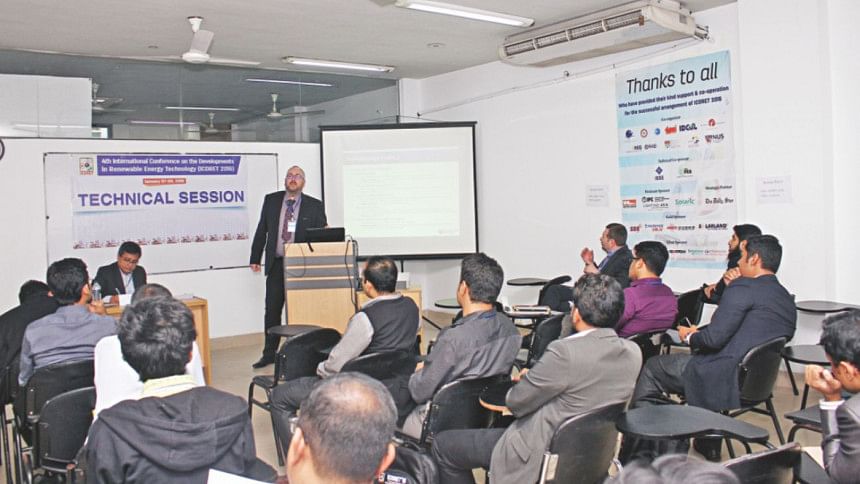 Md. Shahriar Ahmed Chowdhury, Asst. Professor at UIU, Director of the Centre for Energy Research (CER) and the Co-Chair of the Organising Committee of ICDRET 2016, said, "In order for Bangladesh to attain its renewable energy target, the policymakers, industry and academia of the country must work together. We started this bi-yearly conference back in 2009 to facilitate this coordinated effort. We expect participation from all tiers of RE sector to make the conference a useful forum for sharing experiences, exchanging views and helping to forge a long lasting bond between the academia, industry and the people involved in the dissemination of the technology at the grassroots level."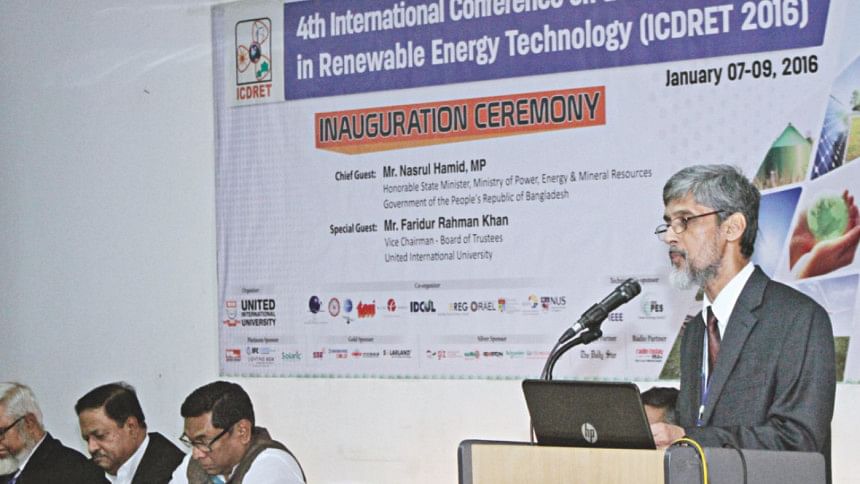 He also informed that UIU has established the Center for Energy Research (CER) for researchers of sustainable and renewable energy. They provide technical support to various solar projects throughout the country. Moreover, CER is involved in the energy and emission modelling of Bangladesh up to 2050, the Bangladesh Delta Plan where they are preparing an energy scenario for Bangladesh up to the year 2100, and also related with the development of solar nanogrids in Bangladesh and Kenya alongside various other projects. CER also receives research grants from World Bank, ADB, GIZ, EPSRC, DECC, NUS, etc.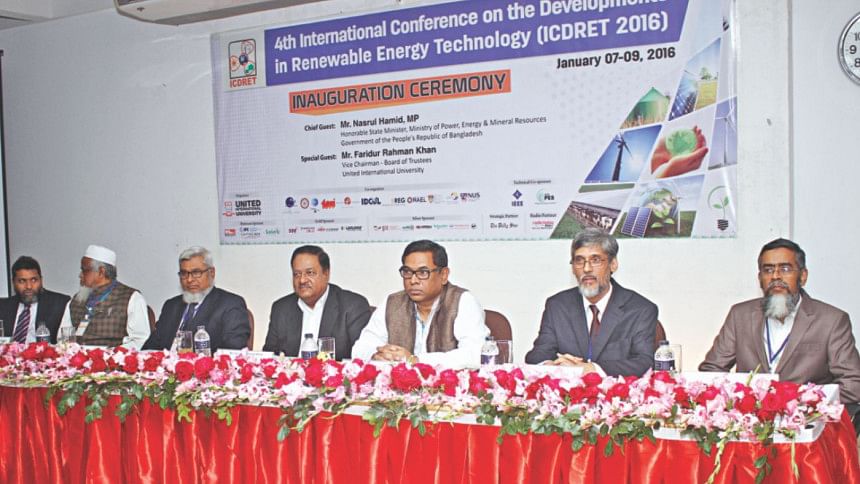 In the last year, there has been an increase of 1% in the primary energy demand and renewable energy has contributed 22.8% of the total electricity demand of the world. The International Energy Agency (IEA) estimates that renewable energy will account for more than half of the world's additional energy production. Data such as these indicate that the world is quickly transitioning from fossil fuel to renewable energy. At a time like this, it is important not only to create renewable energy technologies, but to hold discussions among experts in order to create sustainable and efficient renewable energy sources to meet the ever-increasing energy demands.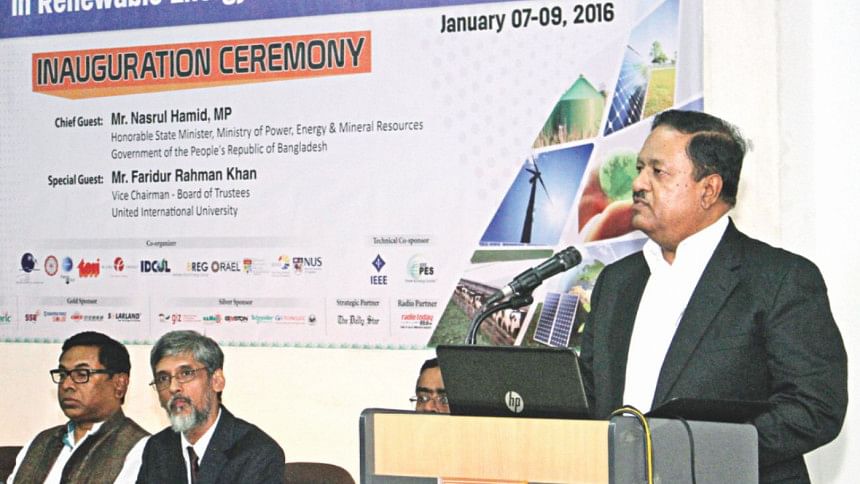 The International Conference on Developments in Renewable Energy Technology (ICDRET) 2016 organised by United International University is a commendable initiative that brought experts from around the world under one roof to make advancements in the renewable energy technologies. This will surely leave a positive impact in the renewable energy scenario of the world and make the world a better place to live in.