BULLETIN BOARD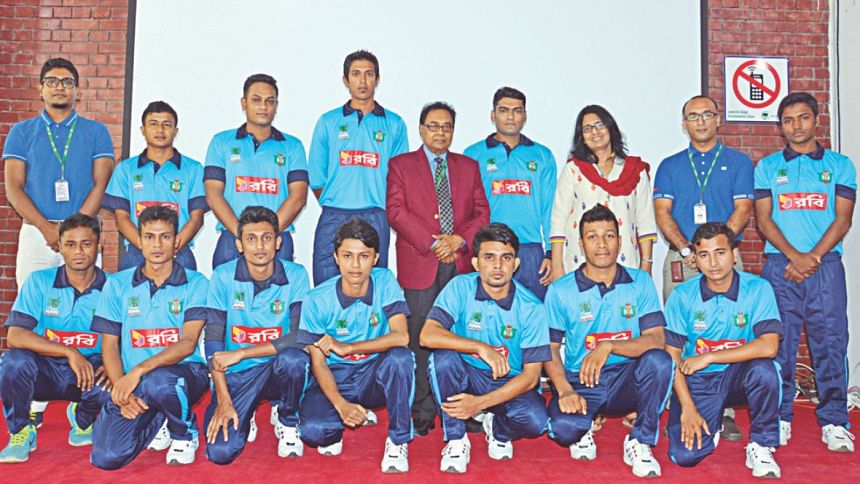 IUBAT to compete in the Clemon Indoor Uni Cricket 2015
The cricket team of the International University of Business Agriculture and Technology (IUBAT) is competing in the Clemon Indoor Uni Cricket 2015. The event is organised by "THE 3 CRICS" with GTV as the media partner. IUBAT has announced a 16 member team on August 27, 2015 to compete in this indoor cricket. 
Thirty-two government and non-government universities are participating in this tournament. It is the 3rd time Clemon Indoor Uni Cricket is being organised at Shaheed Suhrawardy Indoor Stadium, Mirpur, Dhaka.  
Prof. Dr M Alimullah Miyan, VC of IUBAT presided over the inaugural ceremony. He highlighted the importance of education and co-curricular activities. Sports Coordinator and Assistant Prof. Mohammad Abu Horaira of IUBAT welcomed the members to the team.  Then he introduced the head coach, Md. Jubaer Alam, Lecturer, Department of Electrical and Electronics Engineering and the Captain Arifin Rubayet Anik, student of Computer Science and Engineering. The captain expressed optimism about the success of the IUBAT team.
Workshop on "Stress Management" by NSU MBA Club
On August 13, North South University MBA Club successfully completed a workshop on "Stress Management" with participants from NSU students, faculties and guests from outside. "How to reduce stress or how to handle it" was the main topic of workshop. The chief guest was Prof. Dr. Gour Gobinda Goswami, Vice Chancellor (in charge) at NSU; Session Chair Prof. Dr. M Emdadul Haq, Director of Students Affairs at NSU and guest of honour Prof. Dr. M. Mahboob Rahman, Dean, School of Business at North South University attended this event. The speakers were Zaara Mahbub (Head of Communication, BRAC Bank), Mehtab Khanam (Counsellor and Psychologist) and Khaled Mohiuddin (Head of News, Independent TV). The speakers shared their personal experiences.
Faculty Advisor Mokhdum Morshed provided appreciable assistances and guidance. The media partners were 29CODE FILMS, Amader Studio, Peoples Radio, Outbox Events and SHOUT, who added an extra dimension to the programme. 
ACCA and UoL launch Masters programme
Accountancy students will be at the forefront of ground-breaking change by studying for the world's first integrated Masters degree programme with the University of London at the same time as taking their professional qualification with the ACCA (Association of Chartered Certified Accountants). The design of the Masters degree in Professional Accountancy has been customised with two pathways for both ACCA students and its Members/Affiliates, wishing to get ahead in their career.
For current students, the first three essential ACCA professional papers will be credited by the University of London for its Masters degree and at this point they become eligible to register for the degree with the University.  In order to successfully pass the Masters degree, students will be required to complete two professional modules, which offer synergy between the University of London and the ACCA examination papers, as well as completing a strategic financial project.
ACCA Members and Affiliates, who will have already completed their ACCA professional qualification, will also be eligible to register for the Masters programme. They will be required to complete two modules, namely global issues for the finance professional and a strategic financial project, to complete the award.
The Vice-Chancellor of the University of London, Prof. Sir Adrian Smith FRS described the partnership between the University and ACCA as "ground-breaking for the benefit of students all over the world." Helen Brand OBE, ACCA's Chief Executive said, "This ground-breaking agreement links the vocational and academic pathways through education in the first truly integrated qualification of its kind.
The University of London Masters award will be delivered through the University of London International Programmes, with programme direction being provided by UCL's world class faculty in the Department of Management Science and Innovation. 
IUB launches female dormitory 
A female dormitory named "IUB - Saima Hall", for meritorious female students from outside Dhaka city was launched at Baridhara in capital recently. Independent University, Bangladesh (IUB) set up the dormitory with generous support from the Shaheed Khalek and Major Salek Bir Uttam Trust.
Tahrunnesa Abdullah, renowned social activist and Magsaysay award winner, inaugurated the dormitory as the chief guest. A Matin Chowdhury, Chairman of IUB Founding Trust; Rashed Chowdhury, Chairman of BOT, IUB and M Omar Rahman, VC, IUB and other officials also attended the ceremony.
Mentionable, the dormitory students will receive full tuition scholarship from IUB aside from free dormitory facility. Female students from different geographical locations of Bangladesh will be staying at the dormitory.
Seminar on labour law at UAP
The Department of Law and Human Rights of the University of Asia Pacific organised a seminar titled "Implementing Labour Law in the RMG Sector of Bangladesh" on August 24, 2015. Marion Champoux-Pellegrin, a student of McGill University, Canada presented a research paper conducted under the supervision of Dr. ANM Atahar Ali, Head of the Department, Department of Law and Human Rights, UAP.
Her findings suggest RMG factories should be encouraged to improve their compliance with the national law as a first step towards meeting the compliance demands of the brands and retailers who they supply to.
Prof. Dr. Jamilur Reza Choudhury, VC of UAP, delivered the welcome speech. Deputy Director of Department of Labour (DOL), Abu Ashrif Mahmud gave detailed information about the functioning of the DOL. Dylan Tromp, CSR Specialist of UNICEF spoke as panel speaker. The seminar ended with the vote of thanks given by Prof. Dr. MR Kabir, Pro-VC of the university. 
AIUB signs MoU with Grameenphone
American International University-Bangladesh (AIUB) and Grameenphone Ltd. entered into a Memorandum of Understanding (MoU) on August 26, 2015 with the view of fostering academic and professional co-operation.  Prof. Dr. Charles C. Villanueva, Pro-VC and Dean of the Faculty of Business Administration of AIUB and Syed Tanvir Husain, Director, Center of Expertise People & Organisation of Grameenphone Ltd. signed the MoU on behalf of their respective organisations. The MoU highlights various areas of cooperation such as students' placement, assistance for academic research, mutual sharing of experts for the benefit of the two parties. The agreement also covers the granting of certain facilities to employees of GP wishing to take up MBA and EMBA in AIUB. The signing ceremony was attended by R. Tareque Moudud FCMA, Director, Office of Placement & Alumni; Md. Lutfar Rahman, Director PR, Legal & Int'l Affairs and Dr. Nisar Ahmed, Director, MBA Programme of AIUB. GP officials who attended the programme are Mohammad Naimuzzaman, GM, Leadership & People Development Center of Expertise People & Organisation; Syed Masud Mahmood, Employer Branding Manager Center of Expertise People & Organisation, Grameenphone Ltd. Both sides expressed optimism that this laudable undertaking would mutually benefit AIUB and Grameenphone Ltd. in the near future.
Seminar on renewable energy at BRACU
A seminar entitled "Renewable Energy Transition — Now!: Recent Advances in Technology, Applications, Financing and Policy" was held on August 25, 2015 at the Department of Mathematics and Natural Sciences of BRAC University. The speaker of the seminar was Prof. Sajed Kamal of Brandeis University, USA. The seminar was initiated by Prof. A.A.Z. Ahmad, Chairperson of the Department of Mathematics and Natural Sciences; Prof. Syed Saad Andaleeb, VC of BRACU was among others who attended the seminar. 
In his Powerpoint presentation, Dr. Kamal showed innovative applications of renewable energy technologies — including photovoltaics, wind turbines, hydroelectric generators, solar thermal systems, solar greenhouses, solar cookers and biogas plants that are opening up new possibilities around the world. 
Dr. Kamal reminds us that we must make the transition toward renewable energy as soon as is humanly possible, that continuing to rely on fossil fuel poisons our world with every hour that passes.