Love, loss, and letters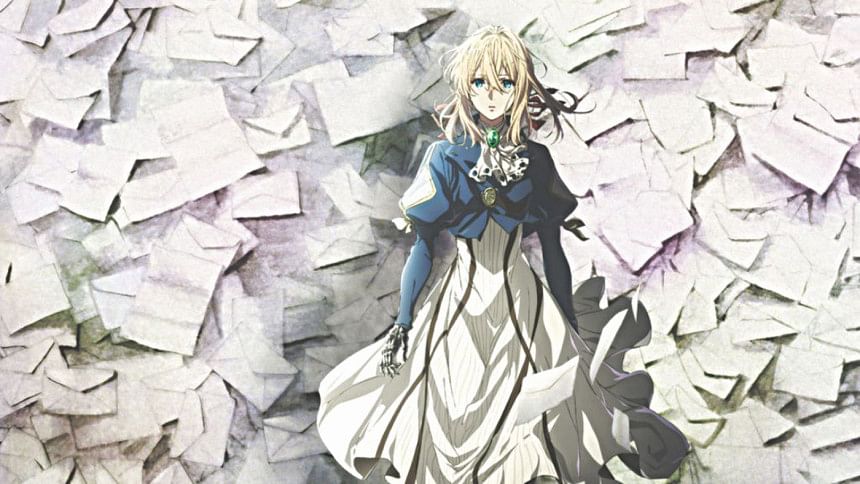 Violet Evergarden is an anime that explores human emotions, both basic and complex, in a way that makes you step back and think about why you feel the way you feel.
Based on the light novels written by Kana Akatsuki, the anime follows the story of 14-year old Violet, an orphan found by a navy officer and later raised by a major in the military to work as a super soldier. She served under Major Gilbert, who taught her how to read and write. The anime is set post-war, with Violet finding a new job as an "Auto Memory Doll" i.e. a letter writer. She uses a typewriter to type out letters for people who do not know how to write.
Violet is described as a doll by most characters in the anime and she kind of is one, in the sense that she finds it difficult to understand most emotions. Because of her job, she meets various people requesting specific kinds of letters. They all lead different lives and have unique problems, and each character opens up a new emotion to her. Compassion, empathy, grief — these are just some of the themes explored. These characters are brilliantly written, and all play an important role in helping her reach her end goal, to understand the meaning behind the Major's last words to her.
While most anime have storylines that induce different emotions, Violet Evergarden is unique in the sense that the storyline is based entirely around emotions themselves. Each episode is a deep analysis of a specific emotion. It tries to show that sometimes the best way to convey feelings is through a letter.
Violet's character development in just 13 episodes is highly impressive. Some might argue that a robotic character with no feelings trying to understand humans is an overdone plot line. However, this anime successfully portrays this in a more subtle, realistic way. She is shaped by all the incidents that occur during and after the war, and the change we see in her does not feel forced.
Kyoto Animation has done a stellar job when it comes to the stunning visuals. The anime has more of a Victorian setting, and each location Violet visits is a treat to the eyes. However, the soundtrack is nothing special in my opinion. It complements the anime, but isn't something you'd want to listen to afterwards.
Violet Evergarden also caters to people who enjoy war stories. War tactics make up a huge part of this anime, but the fighting is somewhat boring since Violet seems to always overpower the soldiers.
The anime does, however, have some plot holes. Violet's mechanical arms during the time of typewriters and her inhuman strength go unexplained. Unless you're a skeptic, these issues should not affect your experience since the anime is mainly intended to move you, to make you feel things, and it does that perfectly.
Violet Evergarden has its pros and cons, but I would recommend it to anyone wishing to watch a short anime that packs a big punch emotionally. Seriously, if you're not crying by the end of it, you're just as much of a doll as Violet.
Mayabee Arannya is a confused soul still searching for a purpose. Give her advice on life at facebook.com/mayabee.arannya