SHEIKH SADI KHAN
SHEIKH SADI KHAN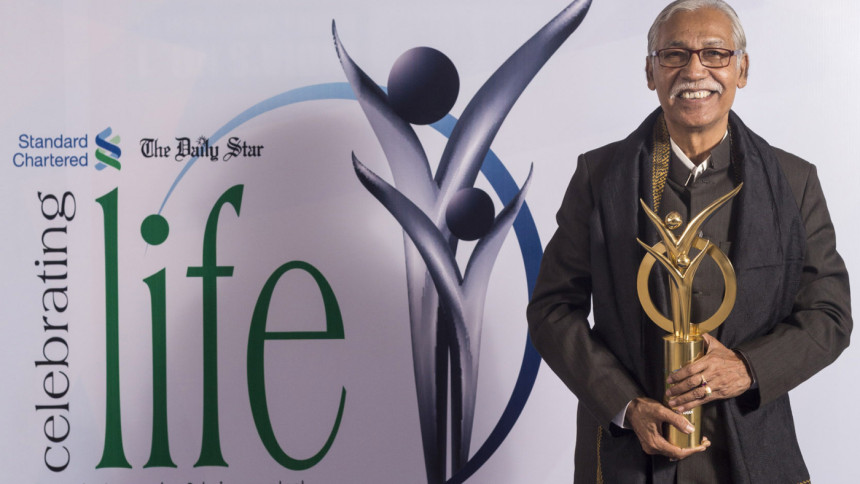 Born to a family with a rich musical heritage, Sheikh Sadi Khan began his career under the tutelage of his father Ustad Ayat Ali Khan. Later he gained expertise as a violinist from his elder brother Ustad Bahadur Hossain Khan. He joined the then Pakistan Radio in 1965. "I had expertise in classical violin. After joining the radio, I learnt to apply my knowledge in classical music to commercial tunes," said Sheikh Sadi Khan. "Ayat Ali Khan, Pandeet Robi Shankar, Ali Ajgar Khan all are responsible for my transition into music." He started as a Behala player. Having worked on over 100 songs and musical masterpieces, he won the National Award twice.

Three years later, he resigned from the radio and joined television. Working with music exponents such as Raja Hossain Khan, Ustad Abed Hossain Khan, Mobarak Hossain Khan, Ustad Khadem Hossain Khan, Swapan Kumar Saha, Robin Ghosh, Hemayetuddin and Monsur Ali on TV enhanced his experience in the field and enriched his musical sensibility, especially in case of fusing classical music with the contemporary trends.  When the Liberation War of Bangladesh broke out in 1971, like many artistes, he left the motherland, migrated to Kolkata and worked for Swadhin Bangla Betar Kendra, the radio station that made enormous contributions during the Liberation War. After the Independence, Sheikh Sadi Khan joined Bangladesh Betar.

In the early '70s, he worked as an assistant to the renowned film music composer Khondokar Nurul Alam. At the same time he continued playing the violin in films as well as composing music for Bangladesh Betar. "In 1977 I got nationwide recognition as a music composer. And, I received an offer to compose music for the film Ekhoni Samay (1980) directed by Abdullah Al Mamun," he says.

Many local and Indian singers including Asha Bhosle, Kumar Shanu, Runa Laila, Sabina Yasmin and others have rendered songs composed by Sheikh Sadi Khan. Moreover, many renowned singers of the country won recognition through singing songs composed by him. But, in the early 1990s he gave up composing music for the cinema. He said, "In the 1990s the film industry deteriorated to such a level that it became difficult for me and my peers to work. Anyone, blindly imitating music of the Indian film industry, could become a music director. Even the producers and directors of the movies motivated the music directors to plagiarize Hindi movie songs, which was unacceptable to me. That's why I gave up composing music for films. But, the situation is better now; that's why I've made a comeback."

He has worked in all of the mediums -- cinema, music albums, radio and TV. Of all these mediums, he enjoys composing music for the radio the most. Currently, Sheikh Sadi Khan is the chief music producer of Bangladesh Betar. Sheikh Sadi Khan is a three-time winner of BACHSAS Best Music Composer Award. He is known as a wizard of music.

 
Philosophy

Those who are engaged in creative work are all philosophers themselves. Be it literature, artwork, music or any other form of art; those engaged in the pursuit of creativity are all philosophers. My philosophy is to make good, clean music. It is my vision and my goal to make music that can soothe the mind. I want my music to have therapeutic properties. I hope someday our culture embraces a good, clean, uplifting posture that will reach out to the world.

Inspiration

I gather my inspiration from mostly my family. I received a lot of inspiration and support from my wife. Because she understands that working in the music line is very tough. I've also received help and support from my children. I also count on the support from my peers and audience, it is what keeps me going and want to create even better music.

Idols

I've always looked up to the more senior musicians of my time like Mohammed Ullah Haji, Mohammedullah Siddiqui, and Ferdousi Rahman. I also look up to foreign artists like Asha Bhosle and Kumar Sanu.

Favorite Musicians

Symphony, Beethoven, Frank Sinatra, Bob Dylan, Indian Classical music.

Favorite Authors

Rabi Thakur, Sunil Gangapaddhay, books on legends and books on western music.

Favorite Movies

I frankly do not find the time to watch many movies these days, so I watch whatever feels good. But if I have to name one favorite movie, it would be Repulsion.