CXO Summit 2021
In Pursuit of Resurgence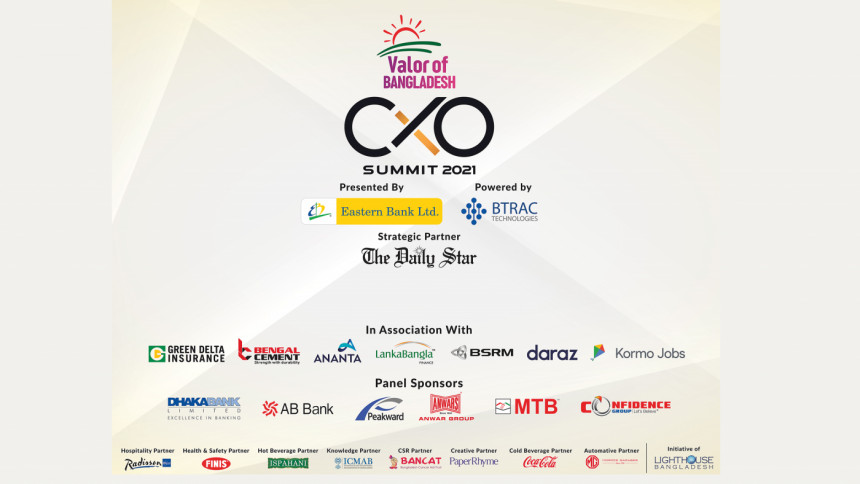 SESSION 1
THE CALIBRATION: BUSINESS SUSTAINABILITY
In this session, speakers focused on how businesses can properly address ongoing and future crises to achieve sustainability, and how organisational leaders could rise to the occasion with appropriate and effective strategy, vision, mission and business models that determine the sustainability of a business.
Syed Mahbubur Rahman, Managing Director and Chief Executive Officer, Mutual Trust Bank (MTB), stressed upon the necessity of ensuring good governance and the importance of decision-making. He also urged to increase the quality of education so that there is an abundance of skilled labour, as Bangladesh is far behind in this aspect in comparison to neighbouring countries.
"First of all, we have to strengthen our governance and address the issue of corruption, since both of these are interlinked. Corruption impedes sustainable growth. It is only through strict governance that we can bring corruption under check," he added.
Sharif Zahir, Managing Director of Ananta Group, noted that Bangladesh now has a lot of infrastructure that was not there in the past.
"We have an opportunity to increase our private sector investment and foreign direct investment, but this will not happen until and unless we ensure that our policies for governance are more transparent. The United States and other developed countries tend to establish operations and factories in developing countries. Bangladesh needs to sufficiently capitalise on these opportunities, as otherwise it will be a missed opportunity," said Zahir.
Syed Naimul Abedin, Chief Executive Officer of Peakward Bangladesh Limited, focused on the need for proper decision-making and execution to facilitate investment in this country. "We are blessed by our demographic dividend, but this alone will not ensure economic growth. We need to ensure we create proper policies for strict monitoring, which will allow us to capitalise on our demographic dividend," he said.
Syful Islam, Managing Partner, Syful Shamsul Alam & Co. emphasised on the need for efficient business management and also highlighted the importance of a corruption-free system to facilitate business sustainability in Bangladesh.
"While technological development is causing disruptions in the market, we will be able to adapt to these changes. However, what is more necessary at the moment is a stable political system that is free of corruption, which will facilitate business-friendly policies and allow businesses in the country to thrive," he added.
M Jahangir Alam, Group Chief Executive Officer of Bangla Trac Group opined on the importance of ensuring that employees are happy throughout the whole process of technological transformation. Employees are the backbone of any organisation, and without handling them with empathy, long-term sustainability cannot be achieved.
Finally, speakers said that Bangladesh had made tremendous achievements due to well-planned policies and now this policy support must be ensured going forward. All organisations must have proper knowledge of the evolving technology and business environment, globally, and that is why it is essential to appoint the right people to lead their organisations.
The session was moderated by KAM Majedur Rahman, Vice Chairman & Trustee, Valor of Bangladesh and Chief Executive Officer, AK Khan and Company Limited.
SESSION 2
CONSCIOUS LEADER: ACHIEVING THROUGH PEOPLE
In this session, speakers shared their observations on the role of leadership and teamwork in organisational success. Panellists spoke about their experience as leaders and gave key insights on driving a team of individuals over the course of their storied careers.
Visionary leaders ensure strong leadership that stems from within the organisation and have the ability to influence the lives of individual co-workers towards a shared goal. This is how leaders achieve through people.
Yasir Azman, Chief Executive Officer, Grameenphone, started off the session by emphasising on the importance of leadership to drive an organisation towards achieving greater goals and also touched on some of the traits that make great leaders.
"Leaders help bring out the best of their team members. A leader is able to inspire people to dream big, to do more and to learn more. The two most defining traits of a leader are honesty and transparency," said Azman. As leadership has evolved, leaders are closer and more accessible to their employees than ever before. This provides them with an opportunity to have an impact on their employees to an even greater extent, Azman added.
Sulaiman Ajanee, Managing Director, Standard Finis Oil Company, stressed that leaders are those who put the team and organisation before themselves. He emphasised that a "we rather than me" mentality is what makes a true leader. Ajanee mentioned that leaders should always stay true to their commitments and recommended volunteerism as a great way for leaders to become more acclimatized with serving a community or team.
This sentiment was further echoed by Barrister Fatema Anwar, Academic Director and Head of Laws, Dhaka Centre of Law and Economics, with her adding that there are many ups and downs in a freelance profession, but the grit to keep going is what makes a leader. "You must be patient and never compromise your values if you want to become a successful leader," she added.
Shwapna Bhowmick, Country Manager, Marks and Spencer Bangladesh, opined that daily excellence is essential and something that all leaders should try their best to ensure. She also reflected that leaders should not only acknowledge the success stories, but also talk about the shortcomings and how to improve on them.
A challenge within the context of Bangladesh is the culture where employees put their boss over everyone else. Syed Moinuddin Ahmed, Additional Managing Director and Company Secretary, Green Delta Insurance Company Limited, highlighted this with a story about when his company was restructuring their salary structure to comply with the requirements of NBR. "When we sat down and started to plan the restructuring of our salary structure to ensure compliance, I saw resistance from some of my team members. I realised that they were more concerned about the negative financial impact the process would have on their salaries. But if the change benefits the organisation and the majority of the employees, then why shouldn't we adopt them? This is a part of the work culture in Bangladesh that needs to change," said Moinuddin.
The session was moderated by Akhteruddin Mahmood, CHRO, BRAC Bank, who recommended that we focus on instilling the values we were brought up with as children into our businesses.
SESSION 3
CULTURE IS THE BACKBONE: COLLABORATION AND VALUE CHAIN
The session highlighted the importance of working together and creating a value chain to make businesses sustainable.
Whether going to the work-place or working from home, the COVID-19 pandemic has had tremendous effects on work culture. The speakers shared their experiences of working through the COVID-19 pandemic and discussed some key lessons learned about organisational culture during this period.
Malik Talha Ismail Bari, Director, United Group, shared that the key factor behind their successful journey through the COVID-19 pandemic was team effort. The whole organisation worked as a team and supported each other which also helped them to find innovative solutions to face the new challenges posed by the pandemic.
Mushfique Manzoor, COO of IGW Operators Forum, emphasised on three key words: adapt, adopt, and execute. In a circumstance like the COVID-19 pandemic, he suggested, every organisation needs to adapt to the changes, adopt innovative plans to address the new challenges, and execute those plans successfully.
"As most of our interactions are happening online, it is really difficult to understand an employee's mental and physical condition. Therefore, we need to develop empathy towards our colleagues across the organisation," he added.
Sayem Haq, Managing Director of Lighthouse Bangladesh opined that the new generation is eager to take up new technologies as well as new challenges but senior citizens are not that eager to transform themselves. CXOs must identify and understand the emerging challenges faced by their employees and work out solutions in collaboration, he added.
Asadul Haque Sufyani, Chief Operating Officer at Bengal Cement Limited, shared the need for teamwork, ranging from manufacturing to distribution level, which has helped businesses sustain themselves and that subsequently gave a satisfactory outcome. He also mentioned "courage" and "safety" as two other key factors that supported their journey.
"We reorganised our entire work-flow taking into consideration the external and internal factors of the value chain. We used real-time data to prepare our action plan and, with robust adoption of technology, successfully implemented the plan," he added.
Ihtesham B. Shahjahan, Managing Director, Quality Feeds Limited said that the COVID-19 pandemic might be a boon for the companies in the end as it taught many valuable lessons. Every company, for example, should have some preparation such as reserve funds for facing sudden ruptures. The leaders of an enterprise should lead from the front and create confidence among the employees, he added.
The session was moderated by Shams Mahmud, Managing Director of Shasha Denims Limited. He identified that the pandemic helped organisations to re-evaluate their internal strength and encouraged them to invest in it. He also emphasised the need for creating ownership among the employees.
Citing the example of his textile mill, Shams Mahmud shared that since they started sharing profits with the employees the productivity of the company rose to 98 percent and turnover increased manifold.
SESSION 4
THE CHANGE ARCHITECT: AGILITY AND TRANSFORMATION
In this session, speakers shared their observations on the importance of agility to transform businesses quickly in an increasingly evolving market.
Business leaders and managers have to navigate through fast-changing conditions that are more volatile, uncertain, complex, and ambiguous than ever before. A new form of leadership thought has emerged that will produce effective and efficient solutions taking charge of the rapid transforming landscape – agile leadership.
Shehzad Munim, Managing Director of British American Tobacco Bangladesh, gave the keynote speech before the formal start of the session. He advised leaders to prioritize understanding their consumers, scanning their environment and thoroughly understanding the core purpose of their company. Munim also discussed the importance of handling challenges with the right perspective and agility, and the necessity of developing new talent.
Shams Zaman, Head of Corporate and Investment Banking, Citibank, N.A. Bangladesh started the session talking about the unprecedented COVID-19 pandemic in 2020 and how his organisation adapted to the changes.
The most important priority for Citigroup was to ensure the safety of and maintain their commitments to their clients. Agility became an important element for leaders to ensure that they could motivate employees and effectively communicate the organisation's situation, he added.
"Being empathetic in our decision making was of the utmost priority. In everything that we do, we must embody empathy and compassion in our interaction with people. This requires a different breed of managers who are more agile and can adapt to the evolving environment," said Zaman.
This sentiment for agile leaders was echoed by Rezwanul Haque Jami, Head of eCommerce, a2i, ICT Division, who added that younger entrepreneurs should start participating in the market. The low barrier to entry allowed many people to enter the e-commerce industry, even though many of these companies are just retailing businesses. Younger entrepreneurs are working in niches of the sector such as food-tech and agri-tech, but they should consider entering the larger market as it need agile leaders, opined Haque. "We would like to see young and agile leadership in the e-commerce sector in the future. As this e-commerce sector spills into other sectors such as fintech and core technology, agility is the key to success here," he added.
Ruhi Murshid Ahmed, Adviser, CSR & Public Relations, BSRM, mentioned that it is likely we will be in this COVID-19 situation for the next one or two years, and that is why it is important to adapt to the changes brought by the pandemic. "BSRM's senior management knew exactly how to coordinate the team and technology together. Their foresight meant that we were prepared in terms of technology for such a crisis and were able to react quickly," she added.
Rahat Ahmed, Founding Partner and Chief Executive Officer, Anchorless Bangladesh stressed upon the necessity for collaboration between large corporate bodies and start-ups. He also emphasised that replicable models will not help in securing international investment, and that entrepreneurs should strive to become market leaders instead. "Creating new and unique models is hard to do in-house, and so corporations should invest in innovative start-ups. Once these start-ups are established, they can be fully procured by larger companies who will then use their distribution channels to grow the business even further. In Bangladesh, the corporate sector should invest or collaborate with start-ups and acquire them down the line," added Ahmed.
The session was moderated by Professor Mohammad Abdul Momen, Director, IBA, University of Dhaka, who reiterated that businesses will continue to face challenges as we are in a volatile and ambiguous environment. That is why it is necessary for a new generation of agile leaders to help Bangladesh get to the next stage of its transformation.
SESSION 5
FUTURE READINESS : INNOVATION AND TECHNOLOGY
In this session, speakers shared their observations on what role technology and innovation has been playing to reshape the landscape of commerce in an ever-changing world. Panellists spoke about their insights, plans, and the rationale behind the plans to become future-ready business entities.
Shuvashish Roy, Head of Business, The Daily Star, began the session discussing the two elements we must observe and adapt in order to be future ready. "Technological disruption is perpetual, and adapting to the changes in technology is one part of becoming future ready. The other part is innovation, and this is more difficult, as it requires us to change our organisations with new ideas and concepts," added Roy.
Imran Karim, Vice Chairman, Confidence Group spoke about how his sector – engineering and manufacturing – is in the privileged position of being protected from disruptive technology because of the high cost of entry. Sharing his observation, he said, "For technology to be disruptive, it must be easy, it must be cheap, and it must be easily adaptable."
Ala Uddin Ahmad, Chief Executive Officer, MetLife Bangladesh, explained why innovation is vital to businesses with a mind for success.  "Things are changing so fast that it calls for innovation. If businesses cannot cope with this change, it will impact their future performance," he shared.
Mominul Islam, MD and Chief Executive Officer, IPDC Finance, discussed all the ways his organisation used technology for the betterment of society and their business, "IPDC has embraced technology as a tool for financial inclusion and reshaped its business model. We have two applications: a block-chain-based digital supply chain finance platform, ORJON, which caters to the small suppliers who supply to corporates; the other is IPDC Dana, where we provide small credit facilities to retailers digitally."
Kamal Quadir, Chief Executive Officer, bKash, went back to the origins of his organisation to discuss how technological innovation was achieved with cost consideration. "Brick and mortar banking services struggle to serve clients whose average ticket size is around BDT 1100-1,200. This is the challenge that the central bank and banking sector was facing when we started. bKash's challenge was to provide this service by staying within the regulatory framework and providing the service in a cost-effective manner. To solve this problem, we had to employ hundreds of thousands of agents, and develop a platform that can be used with a very basic phone," he said.
Muhammad Abdul Mabud, Chief Executive Officer, B-Trac Technologies Limited., shared his unique perspective as the sole technology supplier among the panellists. He spoke of how COVID-19 first exposed the lack of readiness, and then expedited the digitisation process for Bangladeshi businesses.
He added, "There is now demand for the latest technologies we have available now. This is a good indication for the maturity of the industries and leadership, and for them, understanding the necessity of technology in business."
All the speakers agreed that the most important thing would be the mentality to adapt, to be open to change that will be the most vital for future readiness, as technology and infrastructure has a tendency to follow what the market demands.
SESSION 6
GOVERNANCE ENSURES ORGANISATIONAL EXCELLENCE
In this session, speakers highlighted the necessity for governance and strict monitoring to achieve long-term success as an organisation.
The aim of governance is to facilitate effective and pragmatic management, transparency and accountability that can deliver long-term success. Organisations with well-designed reporting systems, ethical approaches and monitoring of all dealings, interactions, and transactions effectively are crucial to ensuring this.
The session was kick-started by the moderator Anis A. Khan, Chairman, Valor of Bangladesh. Khan stressed that governance starts from our families and moves up to the corporate world. He also suggested that businesses select members for their boards based on skill-set and experience, rather than just appointing distinguished individuals who might not always be right for the role. "We can have an operational board and a supervisory board. The operational board will be in charge of making technical business decisions while the supervisory board will be in charge of overseeing them," added Khan.
Ali Reza Iftekhar, Managing Director and Chief Executive Officer, Eastern Bank Limited mentioned that one of the biggest challenges in the industry is that key financial decisions are made by the board of directors, who might not always have the right set of skills to make these decisions. "An important point is that our companies invest millions on technological advancements but sometimes we forget to invest in our employees. We should provide our employees with skills that are useful to their roles and will help them grow in the long term," added Iftekhar.
The intricacies of governance were further elaborated on by Suraiya Zannath, Lead Financial Management Specialist, World Bank, who highlighted that governance is the backbone of every organisation. It is a structured framework where the processes, the laws, and the regulatory environment operate. The four fundamentals that are essential for any organisation, private or public, are transparency, accountability, responsiveness, and compliance, she added.
Zahida Fizza Kabir, Chief Executive Officer, Sajida Foundation stressed the importance of non-profit organisations becoming more self-sufficient, or they would struggle as Bangladesh becomes more developed and funds from international donors diminish.
"Funding via the corporate sector will be the key going forward. As the corporate sector and private donors prefer to work with financially sustainable organisations, governance will be a key component to ensuring a steady flow of investment," she added.
The state of governance in universities is also a key issue as Bangladesh looks to ensure its universities meet global standards, opined Professor Imran Rahman, Vice Chancellor of University of Liberal Arts Bangladesh.
"We need to improve governance in our universities as thousands of taxpayer funds go to public universities to ensure quality education. Even University of Dhaka needs to rebrand and reposition itself as we are now in the 21st century. It is essential to select board members who have the right skill-set, values, and experience to elevate the state of our universities, whether public or private," added Professor Rahman.
Masud Khan, Chairman, Unilever Consumer Care Limited urged the corporate sector to strengthen their state of corporate governance, as it is a reflection of the value of their investors. Good corporate governance is attractive to everyone, from investors and regulators to financial institutions who act as lenders. The board is at the heart of good corporate governance and they are the ones who set the tone of an organisation.