Post COVID Cottage, Micro, Small, and Medium Enterprises: Youth and Women Responsive Strategy
The Daily Star and ActionAid Bangladesh organised an online discussion titled "Post COVID Cottage, Micro, Small and Medium Enterprises (CMSMEs): Youth and Women Responsive Strategy" on June 28, 2021. The main objective of the event was to discuss a youth and women responsive strategy for CMSMEs in Bangladesh to support them during Covid-19 pandemic as well as to facilitate growth in the sector after the coronavirus crisis comes to an end. Here we publish a summary of the discussion.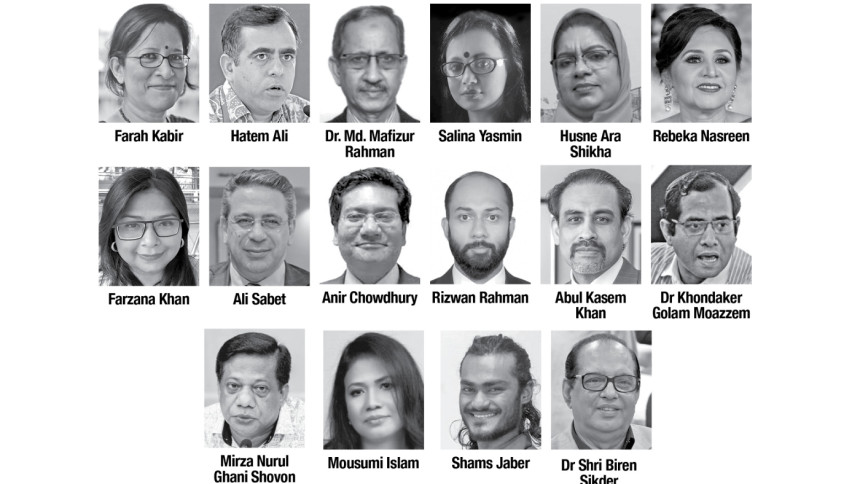 Farah Kabir, Country Director, ActionAid Bangladesh
CMSMEs play a key role in Bangladesh's economy, particularly in the area of employment generation. This sector was affected the most by the Covid-19 pandemic. The enterprises owned by young people and women were the worst sufferer. Their problems should be adequately addressed by the government through effective policy measures along with direct support. The government should keep these particular groups in mind while designing the stimulus package. Their easy access to stimulus packages must be ensured.
It is also important to take into account other factors such as production and marketing related issues that these CMSMEs are struggling with but are not addressed directly through stimulus packages. Finally, an eco-system should be set up to nurture and develop CMSMEs in Bangladesh.
Hatem Ali, Deputy Manager (Economic Opportunity and Decent Work), ActionAid Bangladesh
Although there is a lack of data on the exact number of small-and-medium enterprises (SMEs) operating in the country, we can estimate that there are currently more than 7.8 million that provide the livelihoods of around 31.2 million people.
Since CMSMEs contribute around 25 per cent of our GDP, they will surely play a crucial role in Bangladesh's graduation from a least developed country in 2026, achieving the country's sustainable development goals by 2030, and Vision 2041.
The government had planned a stimulus package of Tk 20,000 crore for the sector soon after Covid-19 began to spread in March last year. Of the amount, 70 per cent is said to have already been disbursed and yet, 62.4 per cent of the CMSMEs were unable to pay their employees' salaries for the past year.
Dr. Md. Mafizur Rahman, Managing Director, SME Foundation
We are planning to help set up facilities that encourage and educate new entrepreneurs to start their businesses.
We will also focus on providing financial literacy to SMEs so that they can get access to various banking products suitable for their business.
Along with a2i, we are working on a database of the existing SMEs in Bangladesh. Once it is complete, we will be able to provide various kinds of support, including stimulus funds and loans, to SMEs in a comprehensive manner.
Suriya Yeasmin, A Female Entrepreneur
Due to Covid-19, it has become difficult to source the raw materials required for production while demand has also simultaneously declined. Our local government or authorities have not informed us about any kind of stimulus packages on offer. So, we are depending on high-interest loans to run our businesses.
Salina Yasmin, Owner of Pindhon and Onnorokom Beauty Parlour
We have not been receiving bank loan benefits properly. We can't continue to sell our assets to pay our staff and keep our businesses running. Instead of loans, CMSME entrepreneurs should be offered grants. Databases should be updated with entrepreneurs from both district and upazila levels. Also, training sessions should be held at the upazila level with proper facilities such as food and accommodation for the duration.
Husne Ara Shikha, General Manager, SME & Special Programmes, Bangladesh Bank
Bangladesh Bank has instructed all lenders to set aside one per cent of their net profits to create a corporate social responsibility (CSR) fund of Tk 116 crore.
These funds will not be disbursed as loans. 50 per cent is reserved for entrepreneurs adversely affected by Covid-19, slum-dwellers, and general people in the Rajshahi and Khulna districts. The rest is allocated for every other district.
Regarding the Tk 20,000 crore stimulus package, 74 per cent has been successfully disbursed, of which 5 per cent was allocated for women.
We have also started a credit guarantee scheme for women where 5 per cent of the funds will be allocated for female entrepreneurs. Another stimulus package disbursed through micro-finance institutes reached 93 per cent of the grassroots women SME entrepreneurs.
A challenge with the Tk 20,000 crore package was that it was in the form of working capital. There are some limitations for CMSMEs when dealing with working capital, and some of them are not familiar with the terminology. We are talking with the government to change this to a loan, which will be much easier to distribute. Bangladesh Bank will also write to all relevant government organisations to exempt women entrepreneurs from requiring trade licenses to avail bank loans. 
Rebeka Nasreen, Director, Chittagong Women Chamber of Commerce & Industry (CWCCI)
In a partnership with the PRISM Bangladesh Foundation, our chamber has provided training in block printing and hand-stitching to young women in remote villages of the region. However, there is no monitoring system to ensure they have been able to put the skills to use. There needs to be funds or loans available for these women.  
Farzana Khan, General Manager (Women entrepreneurship, technology, capacity and cluster development wing), SME Foundation
Banks categorise stimulus packages under their regular risk management process even though they are for people affected by the Covid-19 pandemic. Hence, the banks are refusing to provide stimulus funds to some small entrepreneurs. 
Many small entrepreneurs who were negatively affected by the pandemic were unable to pay back loans in 2020. A Bangladesh Bank circular has clearly stated that these people can't be considered defaulters but still, the banks do so.
Moreover, many bankers refuse to trust women entrepreneurs who do not have men supporting them. This mind-set must be changed.
Ali Sabet, Team Leader, PRISM Bangladesh Foundation
The ecosystem of business support services for CMSMEs, particularly women entrepreneurs and youths, has to be established in Bangladesh.
Support should be provided to regional women chambers so they can offer business support services to their members. Additionally, capacity-building training can be provided to women entrepreneurs' associations so they can provide such support to others.
A solution to the stimulus package disbursement issue could be establishing a state financing agency to provide financial support to CMSMEs. 85 per cent of the stimulus packages provide liquidity support and so, they could be revised to focus more on fiscal support for CMSMEs. 
Anir Chowdhury, Policy Advisor, a2i
We will establish a unique business ID, integrating trade licenses and other forms of ID. Over time, this will create a credit rating for small businesses. This business ID will fast-track the banks' decision-making process.
CMSMEs are provided with about 1,300 government services, of which around 200 are the most frequently used. These services will go through service process simplification and digitisation. 
Rizwan Rahman, President of the Dhaka Chamber of Commerce and Industry (DCCI)
We should arrange SME bonds and the documentation cost for loans should be reduced. Some existing banks should be instructed not to provide loans higher than Tk one crore so that CMSMEs can avail smaller loans.
The 15 per cent VAT placed on f-commerce should be removed since the worst affected will be women and young entrepreneurs.
An alternative way to provide stimulus funds could be allocating funds for the National Board of Revenue (NBR) and asking them to decrease taxes for the CMSME sector. Wealth taxes should be increased while turnover taxes should be reduced or removed altogether.
Abul Kasem Khan, Chairperson, Business Initiative Leading Development (BUILD)
Loan applications should be processed within seven days, regardless of the loan size, allowing businesses to plan ahead to avoid losses.
CMSMEs should be able to register through an app and receive their trade license and universal ID to show banks when applying for loans. The trade licensing process in Bangladesh is complicated, so bank loan applications should not require such a license.
The government should establish a research and innovation fund for CMSMEs and advance taxes should be removed to lessen the need for stimulus.  
Dr Khondaker Golam Moazzem, Research Director of the Centre for Policy Dialogue (CPD)
If each SME entrepreneur is given Tk five lakh from the Tk 20,000 crore stimulus package, only six per cent of the country's entrepreneurs will receive the fund.
The CMSME sector should be divided based on sector and occupation. Loans should be disbursed based on these divisions.
Commercial banks wanted credit guarantees in exchange for providing loans to CMSMEs. The central bank organised a fund worth TK 2,000 crore for them but they took the benefit and didn't keep their end of the bargain. So, the central bank should ensure the objectives of providing such benefits are met.     
Mirza Nurul Ghani Shovon, President, National Association of Small and Cottage Industries of Bangladesh (NASCIB)
There are no separate segments for women or youth entrepreneurs in the Tk 20,000 crore stimulus package. As a trade body leader, I believe the claim that 74 per cent of the stimulus package has already been disbursed is merely on paper. Moreover, it has been established that commercial banks are not following the central bank's guidelines correctly.
Mousumi Islam, President, Association of Grassroots Women Entrepreneurs, Bangladesh (AGWEB)
Women are the ones most affected by the pandemic. There are many conversations about policies and plans, but actual remedies have not been provided. Low-interest loans should be designed specifically for CMSMEs with special criteria for women.
Shams Jaber, Founder of Tech Academy
While everyone celebrates our success whenever SMEs are doing well, no one is there to explain to us how to get out of times of trouble. Even with loan facilities and stimulus packages available, we find ourselves lost because the process is complicated.
Dr Shri Biren Sikder, MP, member of the Parliamentary Standing Committee on Planning
We have set up many digital centres throughout the country to help people who need access to a wide range of services, including online services. These Digital Centres or Union Digital Centres (UDCs) need to be leveraged by incorporating CMSME facilities into them to ensure the maximum number of people have access to these services.
As a member of the Parliamentary Standing Committee on the Ministry of Planning, I would like to take all the recommendations from this discussion and present those in the parliament for the consideration of all the relevant government bodies.