Mental Health: The Role of Media
LifeSpring and The Daily Star jointly organised a roundtable titled "Mental Health: The Role of Media" on September 12, 2022. Here we publish a summary of the discussion.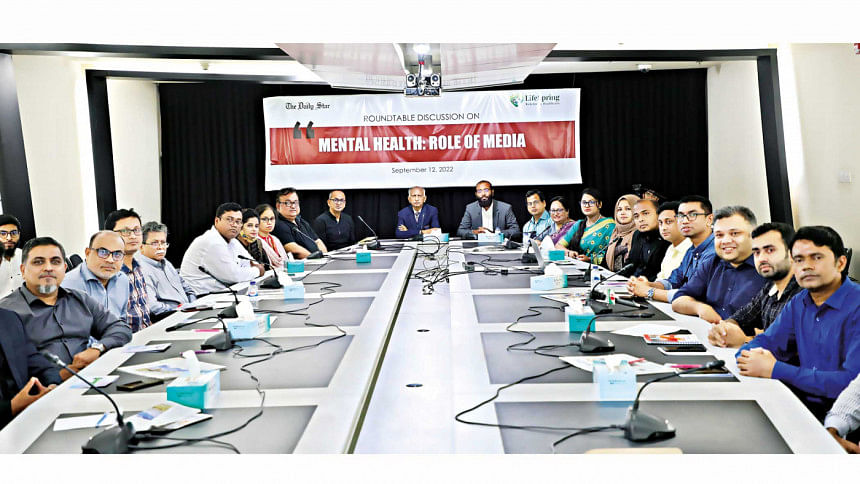 Yahia Md Amin, Lead Psychologist and Chairman, LifeSpring & Moderator of the Session
To improve our mental health ecosystem journalists and mental health professionals should work together. We need to make people aware of the importance of mental health.  We have to take care of our mental health and help others with mental health problems.
Syed Ashfaqul Haque, Executive Editor, The Daily Star
We don't feel comfortable talking about mental health issues. Mental health is still taboo in our society. We need to change this mindset.
Journalists work under huge stress. The nature of their job poses a risk to their mental health. We talk about the role of the media in the promotion of mental health. But we must also ensure the mental well-being of journalists. 
Dr. Sayedul Ashraf, Lead Psychiatrist and Managing Director, Life Spring & Keynote Presenter
According to the National Mental Health Survey of Bangladesh 2018-19, 21.5 percent of the population is suffering from mental disorders. In Bangladesh, 29 persons die every day from suicide. At Life Spring, we are seeing a rise in patients by 3-5 times following the outbreak of the pandemic. However, Bangladesh Mental Health Survey of 2018-2019 estimated that 92.3 percent of persons with diagnosable mental disorders were not receiving mental health treatment. The current treatment gap for adult is 92.3% and for children is 94.5%. That means, in Bangladesh, 9 out of every 10 people with mental health issues do not receive treatment. Media can play a crucial role in addressing this by promoting mental health and preventing mental disorders. I would request them to take special care when reporting on suicide. It shouldn't be portrayed as a heroic act.
Dr. Md. Kamal Uddin, Professor & Chairman, Department of Psychology, University of Dhaka
Journalists should be trained on how to best report on mental health and suicide. They should be more careful about reporting on negative issues so that it doesn't create mental stress for readers.
Prof. Dr. Jhunu Shamsun Nahar, MBBS, FCPS (Psychiatry), Ex-Chairman, Department of Psychiatry, Bangabandhu Sheikh Mujib Medical University
Stigma surrounding mental health is still widely prevalent in our society. Media can play a big role in destigmatising this issue. They should make people aware of the importance of mental well-being and promote mental health. They can also provide information about affordable mental health care and therapy options available in the country.
Naziba Basher, Sub-editor, The Daily Star
As journalists, it is our responsibility to provide information without triggering our readers, some of whom might be patients of mental disorder. Therefore, each and every word used in a report related to trauma, suicide, and abuse, has to be curated very carefully.
At The Daily Star, for example, we use the phrase 'die by suicide' instead of 'killed himself' or 'committed suicide'. If journalists have the awareness that mental illness is like any other medical illness, they will be able to report on this issue more responsibly.
Azim Hossain, General Manager, Channel I Digital
Traditional media houses are now facing steep competition from social media both in terms of capturing audience's attention and advertising. A responsible media outlet has to maintain certain standards that might be of least concern to a YouTube channel or a Facebook user. The algorithm of social media platforms promotes sensational content that has negative impacts on our mental health. Therefore, there should be a code of ethics for all types of content creators. As individuals, we should discourage production and consumption of sensational content.
Abu Sayeed Khan, Advisory Editor, The Daily Samakal
Bangladeshi media have made good progress in reporting on sensitive issues. Most of the media houses, for example, avoid publishing images of victims and dead bodies. However, there are also many gaps that should be addressed to make our media industry more accountable and responsible. Journalists should be provided training on how to responsibly report on mental health issues. There should be a monitoring mechanism to promote creation and distribution of good content across different media platforms.
Farzana Akter, Lecturer, Department of Clinical Psychology, Dhaka University
There is a clear media guideline for reporting on suicide safely. Journalists should follow that. They have to ensure that they provide information without triggering or creating stress on the audience. They can also seek opinions from mental health experts for reporting on critical cases.
The media has already played a significant role in promoting mental health in Bangladesh. We need more support from them to destigmatise the issue. They can also help us to take the issue to the grassroots level.
Shafiqul Alam, Bureau Chief, AFP
All the reputed international media have guidelines for ensuring the mental well-being of their employees. They have developed journalists' guides to cover sensitive stories. They also assess the mental health of their employees on a regular basis. Unfortunately, these facilities are absent in local media houses. We should raise our voices to bring about improvements.
Dr. Golam Mostofa Milon, Consultant Psychiatrist, LifeSpring
Journalists as first responders cover violent crimes and horrific accidents that pose risks to their mental health. Many of them suffer from depression and post-traumatic stress disorder (PTSD). If we want good journalism, we have to take care of the physical and mental well-being of journalists.
Dr. Abdun Noor Tushar, Physician and Media Personality
When we talk about mental disorders, we don't address the underlying reasons. In our society, families have set roles for children. All of us aspire to get GPA 5. It creates huge mental stress for our children. This mindset must change.
We need to make people aware of digital well-being. Students should be taught how to use social media. We need to bridge the cultural gap between students and teachers. We need to listen to our young people.
Mst Hasina Khatun, Member, Bangladesh Clinical Psychology Society
In 2017, WHO issued a guideline for safe and responsible reporting on suicide. Journalists should follow that guideline. We should report on suicide in such a way that readers become aware of the causes of suicide and take preventive measures. 
Professor Dr. AAMS Arefin Siddique, Former VC, University of Dhaka
Journalists as change agents have a big role in promoting mental health in Bangladesh. They should report responsibly on mental health issues and cover the full spectrum of mental health – from mental illness to mental well-being.
Journalists must uphold the ethics of journalism. New ideas may emerge in the media landscape but the ideals of ethical journalism – truth and objectivity – will remain the same.
The Government of Bangladesh should increase expenditure on mental health care.
Recommendations
Media should take more initiatives to make people aware of the importance of mental health.
Follow international guidelines for reporting on mental disorders.
Formulate in-house guidelines for ensuring mental well-being of journalists.
Organise workshops and training sessions to sensitise journalists about mental health.
There should be a strong collaboration between journalists and mental health professionals.
The Government of Bangladesh should increase expenditure on mental health care.