Invest more in girls
CARE Bangladesh, in association with The Daily Star, organized a roundtable to share CARE's investment study findings on June 28, 2022. Here we publish a summary of the discussion.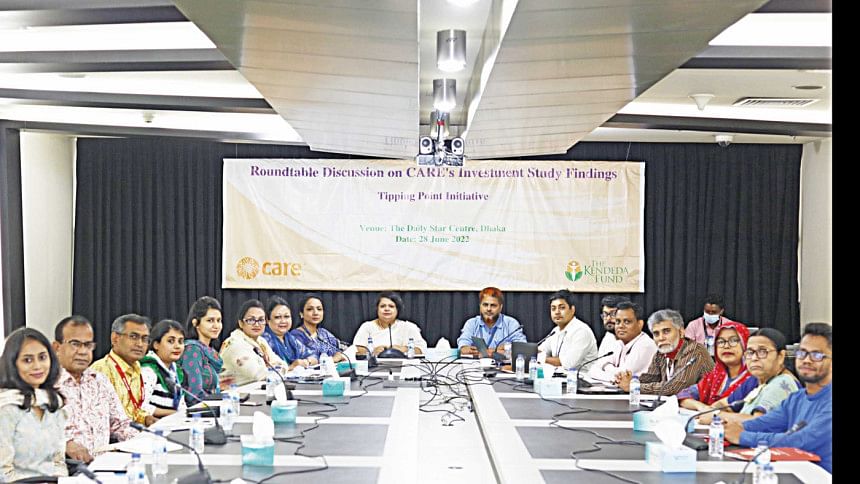 Rawnak Jahan, Acting Director, WGEP, CARE Bangladesh
The Tipping Point Initiative of CARE Bangladesh addresses the root causes of child early and forced marriage (CEFM) through gender transformative social norms programming. It is a multi-level advocacy initiative. Under this initiative, we have conducted a study titled 'An Analysis of Evidence of Priorities, Nature, and Size of Investment of Government and Donors in Response to Girls' priorities and SDG-5. The study evaluated how these investments are impacting girls' lives in Bangladesh. Today we will share the study findings with you. We are seeking your recommendations for making the study inclusive and effective to eliminate child marriage in Bangladesh through advocacy initiatives.
Mahmudur Rahman Khan, Technical Coordinator- Research, M&E, CARE Bangladesh.
The study tried to identify the priorities for girls in Bangladesh. These include creating spaces for girls to meaningfully participate in dialogues; ensuring a conducive environment for girls within the family to decide on their life goals; ensuring equal opportunities in education and learning;  ensuring girls have access to capacity building and livelihood opportunities; and equal access in ICT-based platforms; ensuring positive attitude of community towards the collective initiatives; access to SRHR information and services; access to adolescent-friendly mental health and psychosocial support; and creating a supportive legal and policy environment.
The study also identified gaps in relevant investments in response to girls' priorities.  Although the allocation for the Ministry of Labor and Employment increased by 4.8% in the national budget for FY 2021-22, the ministry doesn't have any precise annual development plan for developing skills of adolescent girls, and existing programs are not accessible to girls under 18. The implementation of the Child Marriage Restraint Act of 2017 and the National Plan of Action for Eliminating CEFM are still weak. Additionally, there are gaps in inter-ministerial and inter-departmental coordination in terms of designing programs, implementation and avoiding duplication.
REFLECTION FROM PARTICIPANTS
Sigma Ainul, Senior Programme Officer, Population Council
We need to rethink the effectiveness of our preventive measures.  An underlying cause of child marriage is the lower status of women in our society, and we must invest in girls to improve their status.
We have to provide them education and life skills, such as SRHR, critical thinking, and financial literacy which should be made at an early age, perhaps around 12, so that, we can build assets to support them in their future journey.
Our training programs generally focus on home-based livelihoods such as raising cattle and poultry and sewing. We need to bring girls to public spaces and increase their visibility. 
Investment has to be made alongside the government and they have to be kept involved and updated to ensure the best use of our limited resources and scale up the good practices.
Schools are the best place to reach girls. We need to ensure that mental-health counsellors who work with schools are making students aware of the harmful effects of child marriage.
Reefat Bin Sattar, Director- Program Development and Quality, Save the Children.
We have to first understand that child marriage isn't a disease itself, it's a symptom. What's more important is to look at what's happening within education, livelihood, and health programs because those are inextricably linked to child marriage.
We need to focus on four areas. Firstly, we have to ensure voice and space for girls. Second, girls should be seen as human capital. Third, there should be adequate legal and policy support to prevent child marriage. Lastly, we have to change the societal attitude towards girls.
Increasing budget allocation is important but increase in spending is necessary as well. There should be a strong oversight mechanism to track and monitor public expenditure on girls.
Masuda Rehana Begum, Joint General Secretary, Bangladesh Mahila Parishad
We should think and consider safety and financial stability while investing in girls. Investment without a clear focus will not bring any effective change.
Civil society can play a big role in monitoring the public expenditure on girls. We must build a strong social movement to eliminate child marriage. We have to put pressure on the government to monitor the activities of the child marriage prevention committees at the grassroots level.
We want our girls to be established as independent human beings. To achieve this, we need to change the mind-set of their family as well as school teachers. The government must take the lead, and all of us have to work under the same umbrella for the betterment of our girls.
Zarfisha Alam, Manager, Gender Justice and Department, BRAC
We need to change the social norms that a girl's eligibility for marriage decreases as she ages. In order to create a conducive environment for women choosing non-traditional livelihoods, the family members need to be counselled as well.
 Girls are required to be minimum SSC graduate to receive govt. training. We have to advocate for the inclusion of dropouts and those who don't have an SSC certificate. There is  a strong link between school dropout and CEFM.
Ruma Sultana, Program Coordinator, Security and Rights of Women and Girls, Manusher Jonno Foundation (MJF)
The Child Marriage Restraint Act of 2017 includes a provision that allows child marriage in 'special circumstances. The minimum age of marriage under this special provision should be specified.
K.M. Syeduz Zaman, Consultant, SRHR, FPAB
An autonomous body should be established to coordinate among programs for the elimination of child marriage.
All our interventions happen to be donor driven, instead of being driven by girls' demands. We should come out of this approach.  Moreover, we should go beyond a project-based approach and undertake long-term initiatives to address the child marriage issue. We also need to involve the government in our initiatives so that they can carry forward the program and implement the good practices on a national level.
Sohanur Rahman, CEO, Bangladesh Model Youth Parliament
The Global Synthesis report (2017) on the economic impacts of child marriage warned that child marriage would cost the world $4tn by 2030. We need to conduct a similar study to measure the economic cost of child marriage in Bangladesh. It will help us understand the importance of investing in girls for ending child marriage.
Md. Jamal Uddin, Advocacy & S.ACC Coordinator, World Vision
Local government representatives are generally reluctant to prevent child marriage. Their support is key to preventing child marriage at the grassroots level. We need to engage religious leaders to bring changes to our existing social norms.
The implementation of the CMRA 2017 is still very poor. The minimum age of marriage under the special provision of the act should be specified.
We need to strengthen our advocacy efforts to bring a positive change in our existing social norms. 
Rabeya Begum Kalpona, Executive Director, SDS
We provide various types of training to girls at the grassroots level. Most of the girls are interested in tailoring. They do not show much interest in learning non-traditional skills, such as mobile phone repairing, graphic design and auto mechanics. The reason behind their lack of interest is that women generally don't do these works in our society. We need to encourage women to adopt these non-traditional professions.
Sadia Karim, Project Coordinator- Adolescents & Youth & Gender Mainstreaming, Educo Bangladesh
Transformative thinking should be spread among both boys and girls. If a boy is aware of the harmful effects of child marriage, he would be able to say no to it. This is why we must involve boys in the fight against child marriage.
Dr. Farhana Ahmed, Director- External Relations, New Business, Marie Stopes Bangladesh
Girls suffer greatly due to their lack of knowledge about SRHR. We will not be able to prevent all child marriages. However, if these girls have adequate SRHR knowledge, they will be able to delay their first pregnancy, and that will significantly reduce maternal mortality rates and other maternal health risks.
Younger adolescents are often neglected in our SRHR programs, so we should seriously address their needs.
Shawkat Akbar Fakir, Coordinator- Women Economic Empowerment, ActionAid Bangladesh
The local government institutions need to be engaged actively in the child marriage prevention initiatives. A systematic and integrated effort is needed to achieve a reduction in child marriage.
Recommendations
Ensure coordination among implementing organizations to avoid duplication and support creativity and innovation.
Strengthen research initiatives to evaluate both the existing interventions and future plans regarding the prevention of child marriage in a pragmatic way.
Increase the budgetary allocation for the skill development of girls. 
A strong oversight mechanism should be established to track and monitor public expenditure on girls. 
Make marriage registration compulsory and build an online database. 
The minimum age of marriage under the special provision of the Child Marriage Restraint Act, 2017 should be specified.
Ensure boys' engagement in programs to eliminate child marriage 
Focus on the age group of 10-14 in the child marriage prevention programs.