Encourage collaboration to ensure sustainable CSR projects
Speakers emphasise at CSR Dialogue: Rangpur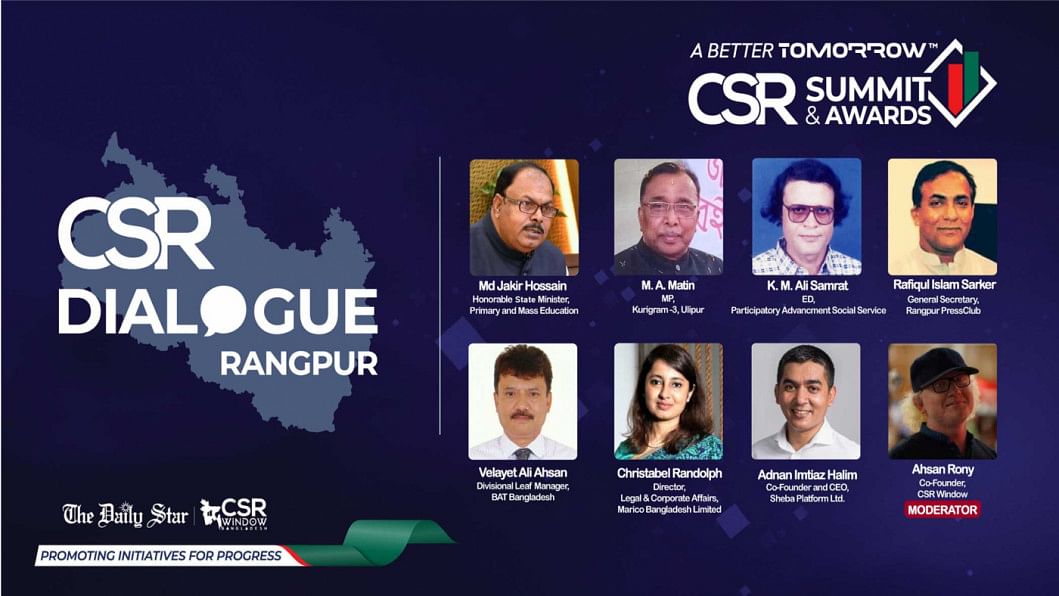 Speakers at an online discussion recommended that companies increase collaboration amongst themselves and with the public sector to ensure their Corporate Social Responsibility (CSR) programmes are bringing about long-term sustainable development. This collaboration will allow companies to develop more sustainable projects that will better address the issues they work with.
The event titled CSR Dialogue: Rangpur was held on August 26, 2021. It was part of a joint initiative of The Daily Star and CSR Window known as "A Better Tomorrow: CSR Summit and Awards". The annual nationwide programme aims to create dialogues for future development and sustainability solutions and recognise corporations for their innovative and world-class CSR initiatives, social projects and programmes implemented for sustainable impacts in society.
K M Ali Samrat, Executive Director, Participatory Advancement Social Service, said, "The major problems facing Rangpur are drug use, trafficking, violence against women and children, child marriage and unemployment. People who do not own land here tend to migrate to Dhaka to become rickshaw pullers. The economic situation is dire, so such issues should be the focus of any company that wants to set up its CSR programme in Rangpur. We should do our best to increase mass awareness about CSR opportunities so that more people can approach the existing programmes for support." 
Rafiqul Islam Sarker, General Secretary, Rangpur Press Club, said, "Not many locals are aware of the different CSR projects taking place here, and a lot of them are not even aware of the concept of CSR. We try our best to publish news about CSR initiatives whenever it is provided to us. However, actively trying to find the information ourselves isn't always possible. The idea of establishing a CSR Forum within newspapers is an interesting concept, so hopefully, it can be implemented in partnership with the corporate sector." 
Velayet Ali Ahsan, Divisional Leaf Manager, BAT Bangladesh, said, "We must ensure that our CSR activities are sustainable, as that is one of the ways we can support the development of Bangladesh. When working with our flagship forestry project 'Bonayan', we witnessed the impact it can have on people's lives. To date, we have distributed over 11 crore saplings free of cost and have seen how it inspires people when they comprehend the improvement that has taken place in their neighbourhoods. We must take these kinds of projects to the national level and encourage collaboration among the relevant sectors. Raising awareness about these types of initiatives is important, as it inspires others to also set up similar projects."
Christabel L. Randolph, Director, Legal & Corporate Affairs, Marico Bangladesh Ltd., said, "Marico's flagship CSR programme, 'Strengthening Women's Ability for Productive New Opportunities (SWAPNO)', started in Kurigram and Satkhira. The project began in 2018 and focuses on working with ultra-poor women. The modality involves collaboration between the government, UNDP and Marico Bangladesh. Collaboration is the key to ensuring that our CSR efforts continue to become more sustainable.
"When we started SWAPNO in 2018, we chose not to promote it actively. Instead, we focused on running the project for 18 months and analysing its impact. After seeing the positive results, we decided to promote the programme publicly. While it's understandable that companies want some form of promotion from CSR, I think it's easier to promote your project once its success has been established."
Adnan Imtiaz Halim, Co-founder and CEO, Sheba Platform Ltd., said, "The guidelines for CSR usually vary from company to company. In many cases, companies want to work with specific issues only. When starting a collaboration with multiple companies, it's important to ensure that along with a shared objective, clear communication is maintained throughout. Transparency in reporting and fund management is crucial to ensuring a successful collaboration." 
M A Matin, Member of Parliament, Kurigram-3, Ulipur, said, "As members of society, it is our duty to be socially responsible. The number of companies participating in CSR has been increasing, but many companies have still not stepped forward. I would encourage all corporate entities to start a CSR initiative, as they can play a great role in social development. The government has tried its best to collaborate with the companies working with CSR, but more companies and social organisations should come forward to work in collaboration to ensure our efforts are sustainable. We should also focus on using CSR for the capacity building of marginalised people so that they can become economically empowered." 
The session was moderated by Ahsan Rony, Founder, Green Savers.