Bridge communication gaps in CSR
Speakers emphasise at CSR Dialogue: Rajshahi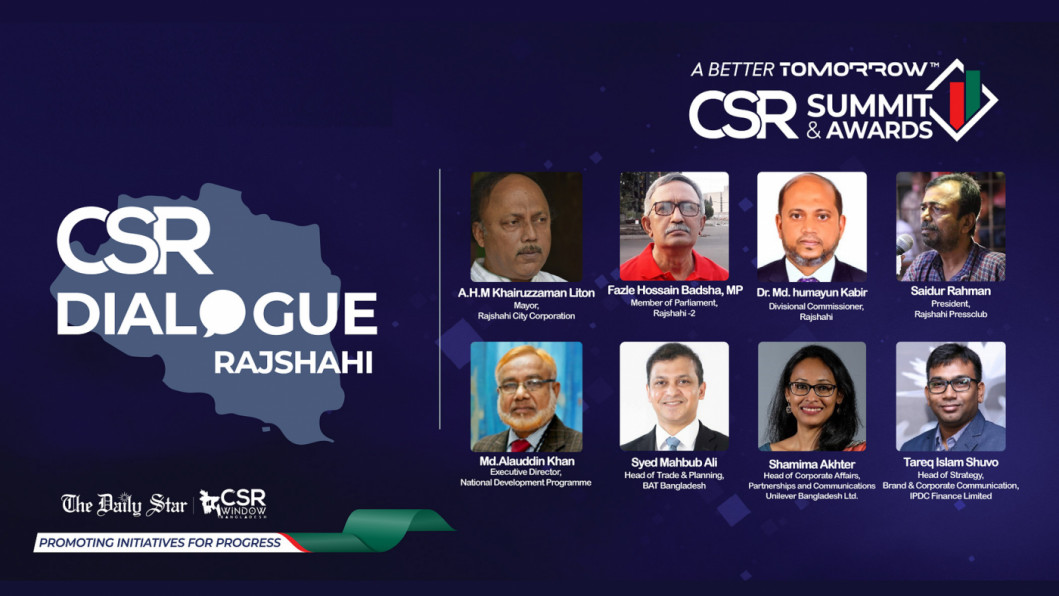 Speakers at an online discussion recommended that companies put more focus on communicating their corporate social responsibility (CSR) programmes to grassroots organisations. This would help non-governmental organisations (NGOs) and youth organisations working all over the country gain access to CSR funds. Consequently, companies would be able to extend their humanitarian assistance to the people who need it the most.
The event titled CSR Dialogue: Rajshahi was held on August 12, 2021. It was part of a joint initiative of The Daily Star and CSR Window known as "A Better Tomorrow: CSR Summit and Awards". The annual nationwide programme aims to create dialogues for future development and sustainability solutions and recognise corporations for their innovative and world-class CSR initiatives, social projects and programmes implemented for sustainable impacts in society.
Md Alauddin Khan, Executive Director, National Development Programme, commented on communication within the development sector. "When a corporate entity approaches us to provide CSR funds, the overall task of setting up a CSR project becomes much easier. They provide us with a clear idea of what they want, so there is very little back and forth with project proposals. However, the task becomes much more complicated when the NGOs have to approach the corporate entities. Usually, the Request for Proposal (RFP) that is advertised does not contain all of the information an NGO requires to write a good proposal. The deadlines are also short, preventing us from communicating with the companies for more details," he said. "We also need more platforms like CSR Summit and CSR Dialogue to promote the work done by various local NGOs and grassroots organisations," he added.
Tareq Islam Shuvo, Head of Strategy, Brand and Corporate Communication, IPDC Finance Limited, further elaborated on the communication gap. "Since a majority of the large corporations have their head offices in Dhaka, their CSR ideas are Dhaka-based, leading to inflated expectations about their CSR projects. Therefore, the corporate sector should fully understand the situation in the Upazila they want to work in before forming any plan. At IPDC, we use our social media platforms to disseminate information about our CSR projects. Simultaneously, we scout social media for local NGOs and youth organisations from whichever area we want to work in," he said.
Saidur Rahman, President, Rajshahi Press Club, said, "Due to a lack of training, young journalists cannot effectively report on issues plaguing their local areas. Without quality reporting on local concerns, we cannot gain the attention of the corporate sector. Consequently, local projects are unable to capture CSR funds. Veteran journalists should train the younger generation of journalists to write more compelling reports to ensure that the corporate sector has easy access to information about different crises in the various Upazilas."
Shamima Akhter, Head of Corporate Affairs, Partnerships and Communications, Unilever Bangladesh Limited, said, "Corporate social responsibility is a term that focuses on social responsibility. A corporate's role is to develop a sustainable society in alignment with Global and National development vision and strategy."
Dr Md Humayun Kabir, Additional Secretary & Divisional Commissioner of Rajshahi, said, "We have seen the impact CSR projects have had when addressing natural disasters and crises. However, it is time to shift the focus from a reactionary model to a more proactive model. An economy relies on multiple facets for smooth operation, one of them being the corporate sector. So, we should be planning our CSR projects with long-term development targets in mind."
"We want to ensure Rajshahi continues to thrive. To achieve this, we must keep increasing our agricultural businesses. Corporate agencies that want to work in agriculture should approach us directly. We will help them establish a CSR project in line with our government policies that would be successful long-term," he added.
Syed Mahbub Ali, Head of Trade & Planning, British American Tobacco (BAT) Bangladesh, added, "We aim to continue assisting the government in achieving the sustainable development goals (SDGs). Our 'Bonayan' project has been in operation since 1980 and has distributed over 110 million saplings till date. The 'Probaho' initiative has been working on ensuring availability of clean drinking water in rural areas since 2009. The 'Deepto' initiative has been in operation since 2011 and has set up over 2500 solar home systems in the Chattogram Hill Tracts."
"We have worked alongside the Honourable Mayor of Rajshahi to support and preserve the green city. When it comes to the agriculture business, be it in Rajshahi or elsewhere, we always try to support the farmers through different measures, from distributing alternative crops to ensuring the social welfare of their families."
Fazle Hossain Badsha, Member of Parliament, Rajshahi Division, said, "It is the utmost duty of the corporate sector to be more responsible with their CSR initiatives. Instead of waiting for NGOs to approach them with project proposals, they should take the initiative to approach local NGOs, youth organisations, political leaders and citizens. They should evaluate by themselves the needs of the area where they want to work instead of waiting for ideal projects to be delivered to them when they release their RFPs."
AHM Khairuzzaman Liton, Honourable Mayor, Rajshahi City Corporation, said, "We try our best to accommodate the corporate sector with their CSR initiatives. However, as most of these corporate agencies are located in Dhaka, it takes time for new CSR projects to be deployed in Rajshahi. If these corporations established branches in Rajshahi, it would make the process of procuring funds for CSR easier, while also creating more jobs in the city."
The session was moderated by Ahsan Rony, Founder, Green Savers.