Adopt a whole-of-society approach to ensure sustainable development
Speakers say at CSR Dialogue: Dhaka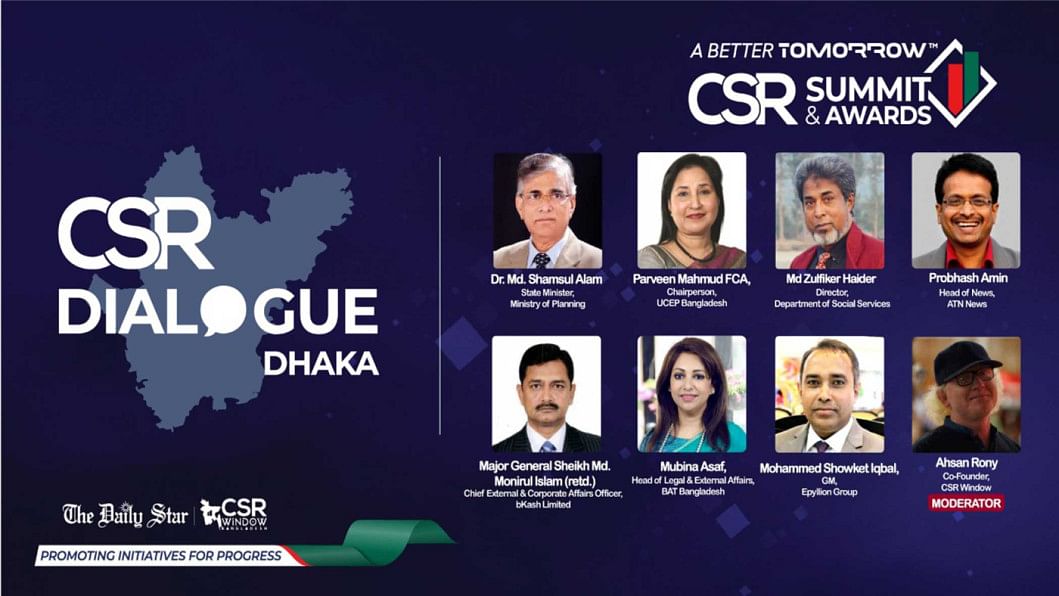 A whole-of-society approach should be adopted by both government and non-government bodies, including volunteer organisations and the private sector, to ensure sustainable development in Bangladesh, according to speakers at a virtual discussion.
The event, styled "CSR Dialogue: Dhaka " was held on September 9 earlier this year as part of a joint initiative by The Daily Star and CSR Window known as, "A Better Tomorrow: CSR Summit and Awards".
The annual programme aims to facilitate dialogues for future development and sustainability solutions as well as recognise local corporations for their innovative and world-class corporate social responsibility (CSR) initiatives, as well as social projects and programmes.
"Social responsibility is not only for the corporate sector or the government, but also for everyone else," said Md Zulfiker Haider, director of the Department of Social Services.
"A lot of companies that provide social services have already registered with us but in the future, whenever a new organisation will apply for registration, we will ask them to focus on a particular area of the country's sustainable development goals (SDGs)," he added.
Parveen Mahmud FCA, chairman of the Underprivileged Children's Education Programmes (UCEP), said Bangladesh is a global role model in terms of sustainable development.
"But when it comes to fulfilling our SDGs with a view to leave no one behind, we still have a lot of work to do and it is here that CSR activities could play an important role," she said.
As Bangladesh is now seen as a lower-middle income country, international donors are no longer investing in the same capacity as before.
"Therefore, going forward, we have to look to cross-subsidies, social enterprises, CSR and public-private partnerships to continue our sustainable development efforts," Mahmud added.
If every corporate house can assess their own social responsibilities and what is required of them, then they can determine which field needs what type of support, according to Major General Sheikh Md Monirul Islam (retd), the Chief External and Corporate Affairs Officer of bKash Limited.
"Ever since the beginning of its journey back in July 2011, bKash has aimed to work in the education sector. That is why bKash focused on getting students between the ages of 12 and 18 interested in reading books other than just textbooks. If the students read books outside their school reading materials, they could gain multi-dimensional knowledge and become enlightened individuals," he said.
"As the education sector was our focus, bKash partnered with the organization which was well-known in this field. Therefore, bKash started working with Bishwo Shahitto Kendro from 2014. Since then, we have provided over two lakhs seventy thousand books to libraries of 2900 schools and colleges across the country," Maj Gen (retd) Monir added.
Dr Shamsul Alam, the state minister for planning, said the whole-of-society approach needs to be adopted so that all vested quarters can work together to benefit society.
Alam suggested that establishing a single organisation or federation to facilitate greater cooperation between relevant parties could help the country go a long way in this regard.
"Maybe this could be organised by the Department of Social Services as a yearly conference. What we need is a collaborative effort between all sectors for social welfare and to raise awareness in society about the work being done by all of these organisations," he said.
Mubina Asaf, Head of Legal and External Affairs at BAT Bangladesh, highlighted that sustainability of CSR initiatives are of utmost importance. When the government and corporate sector works together, these initiatives can be executed in a long-term and sustainable manner.
"All of our CSR programmes are working in conjunction with the government's SDGs plan. In our afforestation project, Bonayon, we have around 30,000 beneficiaries, and each year we distribute around 50 lac saplings," Mubina said.
As for the company's water project, Probaho, it has established around 110 water filtration plants in 20 districts, delivering clean water to over 2.7 lakh people every day. Besides, it is not possible for the government to realise its SDGs without support from the corporate sector.
"That is why public-private partnerships are very important," she said, adding that a tax rebate could encourage more companies to come forward to work on their CSRs.
Mohammed Showket Iqbal, general manager for CSR and admin of human resources at Epyllion Group, said his organisation primarily works through collaboration or partnerships with its development partners.
"We try to ensure that our efforts reach the maximum number of people. Our CSR interventions focus is aligned with the country's SDGs," he said.
For example, under Epyllion Group's Kheya programme, the company provides education for its employees and their children through stipends, Iqbal added.
Probhash Amin, head of news at ATN News, said the issue is that the media believes good stories do not always make for good news.
"However, this is a backdated ideology and our perception is slowly changing," he said.
Nowadays, positive stories are becoming more prevalent in the media and nowhere in the world do people live in equal social and economic situations.
"Therefore, it is the duty of those living comfortably to support those who are worse off. We all have a responsibility to do this, not just corporations," Amin added.
The session was moderated by Ahsan Rony, founder of Green Savers.