Midwifery-led Maternal Health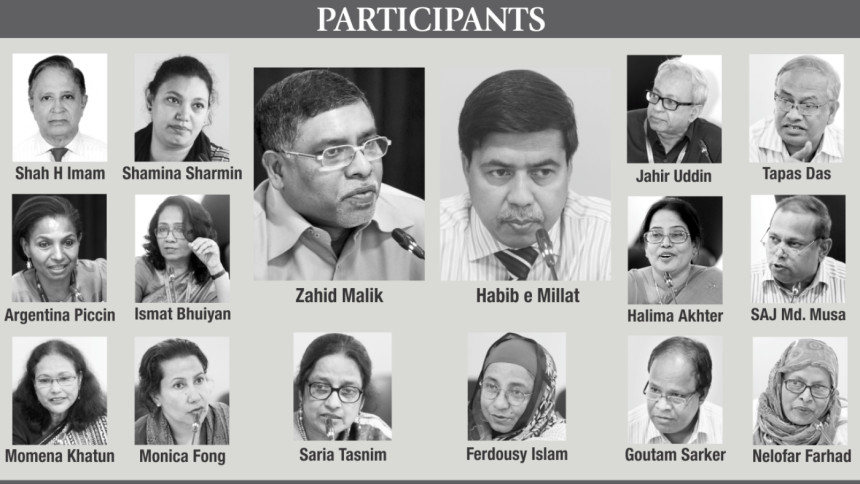 Recently UNFPA and The Daily Star organised a roundtable on "Midwifery-led Maternal Health".  Here we publish a summary of the discussion
– Editor
Shah Hussain Imam, Associate Editor, The Daily Star
Bangladesh has made significant progress in improving maternal health but much still remains to be done. One of the key healthcare components that improve maternal health outcome is the presence of a professional birth attendant at every delivery. Although proportion of deliveries attended by trained providers has almost tripled from 16% in 2004 to 42% in 2014 [BDHS 2014] the number of deliveries with professional attendant remains low. In spite of efforts to make care equitable, lack of professional attendants at birth is particularly an issue amongst the poorest, least educated and those living in rural areas.
Dr Shamina Sharmin, Maternal Health Specialist, UNFPA
In Bangladesh,  still home delivery is 63% and delivery with no skill birth attendant is 58%. Delivery at facility among the poorest quintal is only 15%  and delivery with skill birth attendant is only 18%. We want to reach this quintal of the population.
As per the International Confederation of Midwives (ICM), midwives have to successfully complete the midwifery education programme approved by ICM. They need to be registered and licensed to practice midwifery and use the title midwife. According to World Midwifery Report, a trained midwife can provide 87% of the essential care needed for women and newborns. So a skilled midwife can lessen the extra workload of doctor and nurses.
The current status of midwifery led care is that the government has already approved 3000 posts for midwives who will be posted in four per Upazila and one per Union Health Family Welfare Centres in phased recruitment of 500 each year from next year. Till now 1289 certified midwives are already working in the government health facilities. They have become midwives through UNFPA supported programme for six months basic course on midwifery training. One of the focus areas of UNFPA is establishing midwifery led maternal and neonatal health services to ensure emergency obstetric care that is EMOC services throughout the country. UNFPA is supporting the government of Bangladesh in four critical areas so that we can establish the midwifery programme, regulation and licensing for midwives, quality education and faculty development and demand creation in the community.
Argentina Matavel Piccin, UNFPA Representative in Bangladesh
I want to focus on two issues: quality of midwifery education and training and acceptability of a midwife in the community. Quality training will ensure quality service and quality service will lead to acceptability. Our curriculum maintains international standards. We need to ensure effective transfer of the skills mentioned in the curriculums.
Zahid Malik MP, Honourable State Minister for Ministry of Health & Family Welfare
Investing in midwives is an investment for future. In Bangladesh still 60 % deliveries do not happen in health facilities. We need to encourage delivery at facilities.
Bangladesh spends only $27 per person for health. Bangladesh needs to arrange more funds for midwives. Out of pocket expenditure is also very high in Bangladesh. We need to reduce this expense and make the midwifery services available for poor people.
We will request the government to raise the budget for the health sector. This sector recieves only 4.5 percent of the total budget. And in terms of GDP, it is only 1 percent.  In developed countries, the health sector constitutes nine percent of the total GDP.
Dr Habibe Millat, Honourable Member of Parliament
The budget is going to be placed next month. We need to talk about increasing budget for health sector because without proper budget we will not be able address a priority sector like midwifery. 
In our country when a woman gets pregnant she is used to have limited movement. She has to go through an exceptional lifestyle. But a woman can lead normal life even during her pregnancy following certain lifestyle. We need to make people aware about this issue. Media can help us disseminate this message. We also need to address issues like child marriage that is one of the major reasons behind maternal mortality. We need a social movement to stop such harmful practices.
Dr Jahir Uddin Ahmed, Interim Chairperson, Dept. of Midwifery and Nursing, BRAC University
I would like to focus on quality of midwifery training. To ensure quality training we need regular monitoring and capacity building mechanism for the trainers. BRAC University has been operating midwifery training successfully. We need more support from the government and the donors.
Dr Momena Khatun, Senior Health Adviser, DFATD-Canada
By the end of this year trained midwives will be deployed in various areas of the country. After deployment we have to ensure that they stay there and provide the required services. Here post-training follow up is very important. The Directorate of Nursing has to be empowered as the Directorate General of Nursing and Midwives. Only then they can raise their voice, look after the needs of midwives and achieve their goals.
Monica Fong, WHO
To ensure quality of midwifery training we need to do impact evaluation of the existing curriculum. We need to see whether effective transfer of skills is happening or not.
Acceptability will come with quality. When a woman will get good services in a health facility she will feel comfortable to go there again and again and the community will follow her. It will automatically increase acceptability of midwives in the community.
Professor Saria Tasnim, Executive Director, ICMH
Midwifery as a profession is one of the oldest vocations in the world, because it deals with childbirth. But the definition of midwife varies from country to country. As it is a new entry point of our health service, we have to define it in very straight terms. There are potential scopes for conflict of interest among medical professionals. So we need to address that first.
Professor Ferdousy Islam, Head of the Department of Gynaecology, DMCH
I think we are in the right track regarding maternal health. Because of a strong political commitment the midwifery curriculum has gained momentum. Midwifery is a very respectable job so we need to prepare our midwives to provide quality service. In order to do that, we need to run quality training sessions as well. Supervision and monitoring is also a must to ensure quality midwifery service in the country.
Ismat Bhuiyan, Midwife Programme Director, BRAC University
Maternal mortality has reduced significantly. But it is still high compared to the other countries, particularly in remote areas. So we need to give more attention to the 63 percent deliveries that happen at home. And over 90 percent of these deliveries are attended by unqualified attendants.
Dr Tapash Ranjan Das, Deputy Director, MCH, DGFP
In the next few months, the freshly graduated midwives are going to enter the actual professional field. And the ministry might take a few more months to deploy them to different Upazila health complexes. By December 2015, 525 students will be graduated and there are around 480 Upazila health complexes in different Upazilas. I think it is a very critical situation for us because we need more midwives to provide proper services all around the country.  
Halima Akther, President, Bangladesh Midwifery Society
We need proper laboratories and infrastructure for the students training in midwifery to ensure quality education and services. I believe that midwives cannot help to reduce maternal mortality rates solely through text book knowledge and skills. We also need modern technology to achieve our goals.
Dr SAJ Md. Musa, UNFPA
The developed countries follow two kinds of approach. One is the Caseload Midwifery approach and the second is the group midwifery approach. Now depending on the situation, we need to decide which approach we are going to chose in our country. We have to sit with the stakeholders to decide on this matter. Finally, we need to focus on designing the package of service delivery at different levels. We should focus on the development of the midwifery culture in medical institutions as well.
Goutam Aleh Sarker, JS, MOH&FW
The Government has already launched 31 institutions and nursing colleges training in midwifery all around the country. With the help of the UNFPA, we have already trained 1300 nurses. And the government has already allocated 3000 posts for midwives. But we will need to implement this phase by phase. In the first year, we will recruit 600 midwives and the rest of the recruitments will be followed in the consequent years. I believe that these initiatives will change the maternity health scenario in the country.
Nelofar Farhad, Deputy Director, Directorate of Nursing Services
I think we should adopt community based recruitment. A midwife from a particular union knows better about her own community. So we should recruit them from their place of origin. It can be a way of reducing conflicts between the patient and the midwife.