Gender Equality and Women Empowerment
Reviewing Achievements and Identifying Remaining Challenges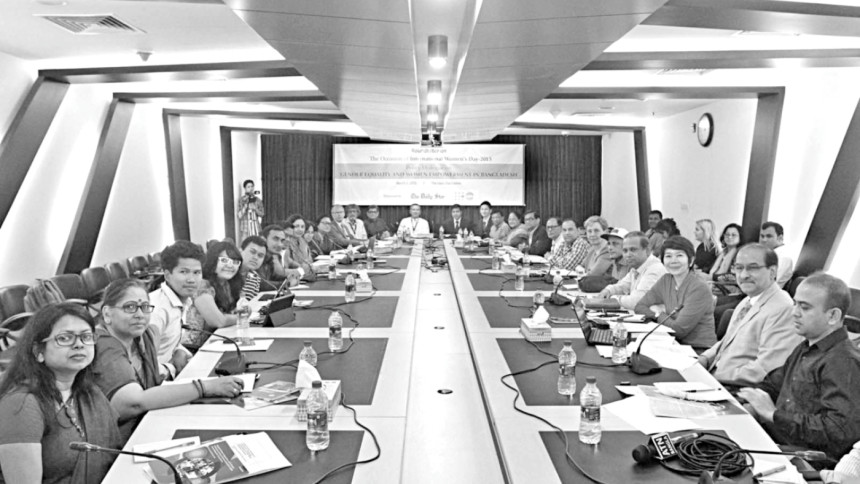 UNFPA and The Daily Star organised a Roundtable on "Gender Equality and Women Empowerment" on March 2, 2015. Here we publish a summary of the discussions   
-- Editor
Mahfuz Anam, Editor & Publisher, The Daily Star
As a country we have so many successes in terms of women movements and women leadership. There are two things. One is physical success. That is one struggle. The struggle is providing women with respect, rights, status and dignity which encompass the psychological world. In the 21st century discriminating between one human being and another is truly shameful. We have not been able to make the critical breakthrough.
I had a little exposure to the issue of child marriage. On the one hand it is so prevalent and on the other hand it is so shameful. As a journalist and a citizen I am ashamed of the reality of women's status in Bangladesh. But I have full commitment to work for change. I am offering the full capacity of our newspaper for changing the situation. I will also work for mobilizing other media. The time has now come to make the critical difference which we must do in the issue of gender. It is not that we are doing a favour to women. It is important because it will push us forward. It is the way for us to attain the type of development we want for Bangladesh.
Iori Kato, Officer-in-Charge, UNFPA
In his welcome address, Iori Kato, Officer-in-Charge, UNFPA Bangladesh, emphasized that observing the International Women's Day in 2015 is especially important for several reasons. This year is the 15th anniversary of the Millennium Declaration. There are only 300 days left to achieve all the MDGs. Later this year the Member States of the UN will determine the shape of the Post 2015 Sustainable Development Goals (SDGs). Also "2015 is the first year after UN Member States including Bangladesh confirmed that what they had agreed in the Programme of Action from the 1994 International Conference on Population Development, or ICPD, still remains as an 'unfinished agenda' which they have agreed to carry forward in 2015 and onward," said Iori Kato, adding that "the ICPD was a ground-breaking movement in a sense that member states agreed for the first time that sexual and reproductive health and reproductive rights are human rights integral to gender equality and women's empowerment. It was a paradigm shift from the number-focused approach to a more human rights based approach."
2015 is also the 20th anniversary of the landmark Fourth World Conference on Women held in Beijing.  Through the 1995 Beijing Declaration and Platform of Action, member states confirmed that gender mainstreaming is the methodology to achieve gender equality goals, and committed themselves to 12 critical areas of concern.  In addition to these international junctures, 2015 is an especially important year domestically too, Iori Kato reminded the Roundtable because the government of Bangladesh will embark on the next Five Year Development Plan.  "It is hoped that the results of international, regional and national reviews of Beijing+20, ICPD and the MDGs will be reflected not only in the Post-2015 SDGs but also in the next Five Year Plan of Bangladesh."  Echoing the remarks by the Daily Star Editor, Iori Kato said, "It is not just right for the government of Bangladesh to invest in the advancement of rights of women and girls, gender equality, and universal sexual and reproductive health and reproductive rights, it makes good economic sense too." 
UNFPA recently submitted a Demographic Impact Study to the Planning Commission as an input to the 7th Five Year Plan formulation. According to the study, by 2021, Bangladesh will have 170 million people. And by 2040, the population will reach 200 million, meaning a nation with 100 million women and girls.  "If Bangladesh would like to benefit from the so-to-speak demographic dividend, now is the time to make prudent choices and act on those decisions," said Iori Kato. "That is why today's policy dialogue is extremely timely. I am looking forward to your collective wisdom through which some concrete policy recommendations and directions for actions may come out for all of us to take forward in 2015 and beyond."
Maheen Sultan
Bangladesh has achieved some important success in promoting women rights. We see substantial reductions in maternal mortality (from 322 in 2001 to 194 in 2010, a 40 percent decline in 9 years – BMMS 2010). Female life expectancy at birth has increased to 71.08 years (BBS). Good policies in the area of population, adolescent reproductive health and HIV/AIDS have been introduced. Provision of health services especially related to sexual and reproductive health has increased. Now the women have increased access to contraception information and services (CPR increased from 56% in 2007 to 61 in 2011 – BDHS 2011). We also see increased recognition of general health and reproductive health needs of marginalised and underserved populations. Another important achievement is improved services for HIV/AIDS awareness and treatment.
However, in spite of many progresses there still remain many challenges. One is protection of the right to informed decision making. We see that comprehensive knowledge of HIV is low especially in rural areas among lower income group. Still 18% of our women are underweight and half of pregnant women are anemic. We still see inequality in terms of access and utilization of health services. Still ¾ deliveries are happening at home. Emergency obstetric services are still not available. In terms of expressed unmet need of family planning is 13.5%. Our urban population is still underserved. Implementation of laws and policies are still inadequate.
Still we see high prevalence of violence against women. The BBS Survey 2011 shows that 87% currently married women have ever experienced any type of violence in the last twelve months. There are various types of intervention to prevent violence against women. The multi-sectoral programme on violence against women is the biggest one. But still people's attitude towards violence is not changing as fast as we like it to. There is large percentage of both men and women still thinks that violence against women is justifiable. These kind of believe is reflected in law enforcement authorities and the judiciary which makes the access to justice much more difficult. Women are also not seeking justice as much as they can. Still who seek justice has to go through complicated process. Now if we come to the issue of child marriage and pregnancy we see that the adolescent birth rate is the highest in South Asia (118 per 1000 highest in South Asia) 
About 50% of all 15-19 years old females are married, of whom about 33% are already mothers, and another 6% are pregnant having risks to their health.
Now looking forward in terms of priorities for next five years , overall of food security and nutrition needs to be considered seriously. The reduction of maternal mortality, child marriage and adolescent pregnancy remain priority. Because of the demographic transition we are going through at one end we are going to have ageing population and on the other a large bulk of young people demographic dividend group. So providing services to both groups is a challenge. Full implementation of Beijing Conference should be integrated in the SDG. At the national level recommendation from review of Cairo and Beijing summit should be incorporated into our 7FYP and sectoral strategies and policies. We need to strengthen both monitoring and accountability of what is already in our laws and policies.
Ayesha Khanam, President, Bangladesh Mahila Parishad
In Bangladesh our women have progressed a lot but the attitude of the society to women has not changed much. That's why violence against women is so critical to us.
My first point is about the existing environment in terms of legal, political, economic, social and so on. Security in the workplace is very critical to our current environment.
We need effective institutional mechanism. Still our policy makers confuse ICPD with family planning. UNFPA should address this issue so that we can ensure proper utilization of our resources.
Dr. Ubaidur Rob, Country Director, Population Council
Health indicators are not actually the empowerment indicators. So we need to be careful about what are we talking.
I want to emphasise on 3Es: education, employment and early marriage. If we can improve on these three indicators we can easily achieve women empowerment. Education and employment is interrelated. 3 million children were born 15 years back. But, only 1.5 million of them are appearing today in SSC exam. So we have left 1.5 million  somewhere on the way. So employment of left-out girls is an important issue to be considered seriously. If we cannot create employment opportunity for them they will be victim of early marriage. So we have to create alternative employment opportunity for these girls. Skilled education is very important for girls. For the last 10-15 years we are talking about garment sector which has employed only 4 million women. We have to find alternatives inside the country.
Dr. Shamsul Alam , Senior Secretary, GED, Planning Commission
In the 7th FYP we have already one paper on how to attain gender equality. We want both progress and empowerment. Progress may decelerate anytime. But empowerment gives sustainable development. We have already many policies and strategies, now we need implementation of these policies. In the 7th FYP we have to emphasise on three big drivers: employment, education and stopping early marriage. We would give particular emphasis on developing women as human resources. It will be our number one priority. Next comes employment. If we can provide education and employment it will be the best way of contraception. Then women will be able to decide how many children they want. It will also help control the population.
Dr. Syed Saad Andaleeb, Vice Chancellor, BRAC University
We need to unpack the word empowerment. This is like a suitcase with a lot of things in it. We need to define the concept properly with its multiple aspects. Universities can come forward and work on these different aspects. On a long term basis they will research on various aspects of empowerment. I would urge donor agencies to partner with universities because we need to understand particular context of a society. We need to build a model of empowerment on which we can build further.
Advocate Salma Ali, Executive Director, BNWLA
We have enough policies. The big challenge is implementation of these policies. Corruption is big challenge for proper implementation of the policies. We have to ensure that women can get access to justice, have legal service at door step and minimum standard and care. We need more institutional mechanism to implement these things. We have one stop crisis centre only inside the medical college. It should be in all the district hospitals. We also have to ensure that a woman who comes for legal support should be given proper victim support and protection so that she does not face further violence.
Christine Hunter, Representative, UN Women
There are two ways of approaching the issue of violence against women. One is recognizing the actual realities of gender equality. If girls and women are unsafe, they can not go outside then how will they get the services we have built. Secondly, how women are seen. Do we see them as equal citizens or beneficiaries to be uplifted? Clearly, we do not. The unpaid work that women and girls do to support the family is not recognized as economic work. The labour law does not cover domestic workers.
Pauline Tamesis , Representative, UNDP
If you look at the 17 SDGs, four of them are identified as key transformational goals: inequality, gender inequality, sustainable consumption and production and peace, security and governance. If we look at the progress of Bangladesh in terms of MDGs, these key areas remain as gaps. This is my first point. Second is the need for independent monitoring and quality data. Third is reducing urban poverty and empower women as a leader in the urban poverty reduction activities. 
H.E Gerben de Jong, Ambassador of Netherlands to Bangladesh
We did some pilot projects on violence against women and early marriage and later scaled up our programmes based on the findings of these pilot projects. We are also working on young who are already married to give more social and economic empowerment. At the national level, we support government and UN programmes. Another important area of cooperation is creating coalition among different countries and preparing a strong text of SDGs.
H.E Johan Frisell, Ambassador of  Sweden to Bangladesh
We got a new government in October which has defined itself as a feminist government. Soon we will formulate our feminist foreign policy. So we are going to do everything keeping in mind gender perspective. Still we have some structural gaps which hinder women to realise their full rights. We are working on these gaps.
We have gender equality and women empowerment as part of our development portfolio in Bangladesh. We have been given a target by Swedish government in consultation with the Bangladesh government to facilitate women in the labour market
Toufiqul Islam Khan, Research Fellow, CPD
Fifty percent of potential labour force is coming from women. In the last 20 years women's participation rate has increased significantly (36% in 2010). Rural women are participating more compared to urban women. But there are some structural deficiencies. Most women are going to informal sector and unaccounted household works. Though there are huge gaps in participation between men and women, time spent in job is coming closer. The average wage rate for women is lower. In CPD, we did a nation wide survey on women's participation in work. We found that a female 15+ member spends 7.7 hours a day on unaccounted work while the figure is 2.5 hours for male. The number of unaccounted work taken by women is 12.1 while for male it is 2.7.
Sanaiyya Ansari, Sr. Deputy Director General, Social Justice Ain o Salish Kendra
We do not give importance to post-natal care of women. It seems after giving birth a woman loses her importance. We should consider this issue seriously.
Next point is women with disability. There should be special guideline on their care in our women policies.
Dhiraj Kumar Nath, Former Secretary and Adviser to Caretaker Government
We need to change the law of inheritance. It can bring major breakthrough. Then we need to look at urban-rural divide. In urban areas women are not getting any protection. We should look into it.
Tahmina Haque, Gender Adviser, Plan International Bangladesh
We talk about child marriage but we stay away from talking about what happens to the child after marriage. We should talk about it seriously. I want to emphasise on uniform family code and withdrawal of CEDAW reservation in this regard. Because, personal law becomes a hindrance to protection of women rights. Decision making power of MOWCA should be increased in terms of inter-ministerial advocacy.
Dr. Syed Abu Jafar Md. Musa, Ex-Director, Primary Health Care, DGHS
If you ask a company manager whether you have a gender strategy I am sure most of the answer will be no because they do not have enough capacity to translate gender equality concept into reality. That is a big problem. We have failed to transform our social attitude to women and create a women friendly culture.
Lancet pointed out women empowerment as one of the reasons for Bangladesh's success in achieving significant improvement in child and maternal mortality with low resource setting. This empowerment is especially about taking decision in the family and care seeking behaviour. So some progress is happening in the country. To progress faster, we need structured planning and implementation of women policies in every sphere of life.
Prof. Dr. Md. Habibe Millat , Member of Parliament
Awareness is one of the important issues. Do our women know about their rights? We need massive campaign to make both men and women aware about women's rights. Media can play a big role here.
At the moment we have a women friendly government. Our Honourable Prime Minister  is trying her best to get equal opportunity for every man and woman in the country. We have resource limitation. We need to utilize our existing resources properly.
Bureaucracy is another big problem in our country. It slows down implementation of any decision. We need a friendly  bureaucracy system.
Though we have adequate logistics support at the grassroots level we see people are not interested in registering birth and marriage. These registrations work are very important for checking child marriage.
We need to organise this sort of meetings more and more. We also need to go to the field because it is the people in the field particularly in the rural areas who are suffering most.