"END VIOLENCE AGAINST WOMEN AND GIRL CHILD"
16 Days of Activism against Gender Based Violence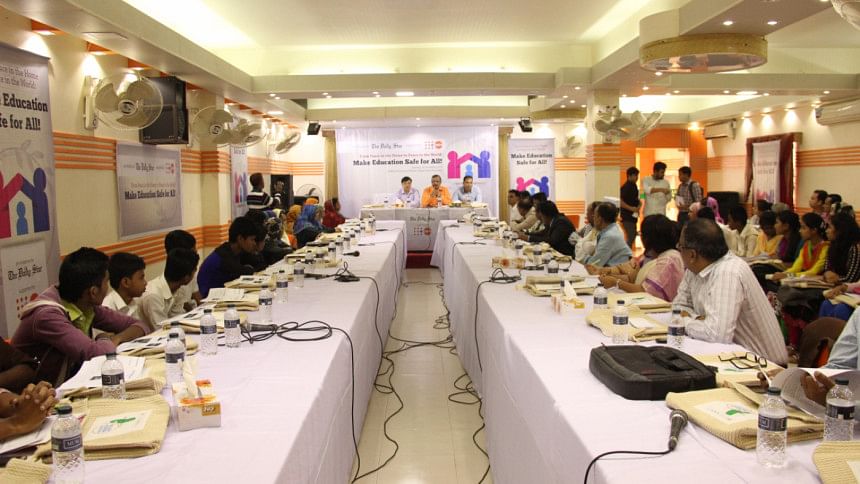 ON the 5th of December, The Daily Star and the United Nations Population Fund
(UNFPA) jointly organized a policy-level dialogue at the Mollika Restaurant, Mohila College Road, Patuakhali. The title of the discussion was "End Violence against Women and Girl Child: 16 Days of Activism against Gender Based Violence". Participants at the roundtable included representatives from NGOS, law enforcement agencies and policy makers. The Chief Guest was Deputy Commissioner, Amitav Sarker and the roundtable was moderated by Dr. Salehuddin Ahmed who gave a brief on the main topic - gender based violence.
WHAT NEEDS TO BE DONE:
* Students and their parents should be made aware of the consequence of GBV and Child Marriage.
* Teacher should be informed about when or where students face eve teasing or sexual harassment on the roads. 
* Law enforcers need to be more responsible in taking action against eve teasers.
* Opening of a GBV Complaint book so that action can be taken on the basis of complaints
* Girl students need to be empowered with some laws so that they can protect themselves.
* The initiative taken by UNFPA and The Daily Star should be replicated in all districts 
* Change of male mindset is required. 
* Removal of inequality between men and women. 
* Security has to be ensured.
* Reduction of poverty.
* Girls should be made economically independent.
Fathema Sultana, Gender Officer from UNFPA, presented the keynote paper discussing issues such as the prevalence of gender-based violence and typologies of violence, ranging from emotional to physical and sexual violence. She highlighted the vicious cycle of violence that a girl experiences starting from the womb (female infanticide, lack of nutrition and health care) to various stages of adolescence (child abuse, malnutrition, rape, forced prostitution),  to adulthood (dowry killings, intimate partner violence, domestic violence)  till old age (widow abuse).
Status quo of gender based violence indicated that 56% of women entered their first marriage before they were 18 years old and 87% of women had experienced some form of violence at the hands of their current husbands. Incidences of physical and sexual violence experienced by married women where the perpetrators were their husbands stands at 65% and 36.5%, respectively and only 77% of women had reported violence at the hands of their husbands in the last 12 months.  compared to urban areas, the prevalence rate of such incidences is higher in rural areas.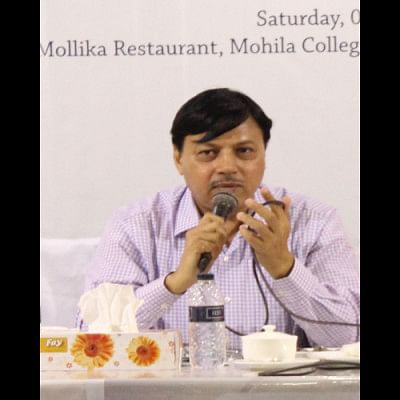 In rural areas 43% of unmarried adolescent girls are sexually harassed on their way to school, college or social visits ( Alam, Roy, and Ahmed 2009). As this brings forth the question of the safety and security of girls, many including their own parents consider discontinuing with their education. 
Effect of such violence also leaves a mark on children of women who experience abuse. They may exhibit behavioral problems, poor school performance and increased likelihood of experiencing and perpetrating violence as adults. In general, families are likelier to have impaired family functions and suffer economically. Therefore, on a macro level, violence against women costs 2% of the GDP in Bangladesh (study on Cost of Violence by CARE Bangladesh, 2012).
Unequal gender norms, stereotyped perception, poor investment in youth and adolescents, lack of social safety and the culture of silence and impunity all contribute to the increase of incidences of gender based violence. The only way to break through these barriers that hold back girls and women is by introducing Comprehensive multi-sectoral programmes that fulfill girls rights to health, social, and economic resources. Girl-centered programs need to be introduced that ensure safe neighborhoods and safe school environment (in school and way to/from school).
Schools need to retain girls from dropping out or delay  the process until they have finished at least the 12th grade. This contributes to the delaying of marriage, in other words child marriage. Increase in accessibility to information regarding gender based violence and sexual reproductive health services are needed to prevent and reduce incidences of early childbearing and violence. The youth should be provided with life-skill based and employable livelihood training that includes financial literacy for out of school children.
In the discussion session, Patuakhali District Commissioner Amitav Sarkar commented that eve teasing has become a social ailment nationwide. Some girls were forced to commit suicide following excessive teasing and harassment, he informed. He mentioned that to discourage the eve teasers now police personnel in plain clothes patrol areas near schools and colleges.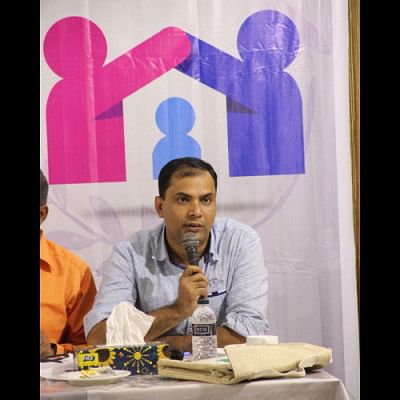 Shahed Ali Khan, AFP (Police) observed that unless there is change of mindset and self-realization amongst the male population, it would be difficult to stop such activities. He hopes students and their parents would become more aware of the consequence of GBV.
District Education Officer Ruhul Amin Khan suggested when a girl will face teasing or sexual harassment on the roads she should immediately inform the head teacher or the class teacher. He observed that similar seminars and meetings should be held in educational institutes from time to time for greater awareness.
JOURNALIST 
On many occasions members of the police force harass girls/women by asking embarrassing questions when they are found walking with male friends. He wanted to know whether this is banned in the country. Police administration should look into the matter seriously, he commented.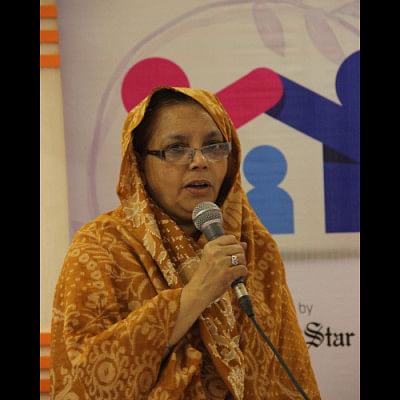 Some adolescent students expressed themselves openly as they hardly get such opportunity every day. A girl of class VII of a local school divulged that some corrupt elements of their school place secret camera in the washrooms and capture images of girls and upload them in internet and mobile phones. In some schools, some people in the committee use tricks to exploit some girls thereby destroying their future. She suggests school authorities should be stricter about such things.
A college student asked why she has to be forced into marriage when she wants to study and not marry before she turns twenty. Parents should be made aware of the consequences of child marriage, she commented.
A girl student said that when boys tease them on way to school or home, elderly persons watch but do not protest and come to their rescue. She wants senior citizens to come forward to help the helpless girls.  Another girl described how boys take their image on mobile phones and upload them on internet. This makes the victims face unpleasant situation at home and also in the educational institutes. They need protection from such menace so she appeals to the administration to take action against such boys who take images of girls on mobile phones.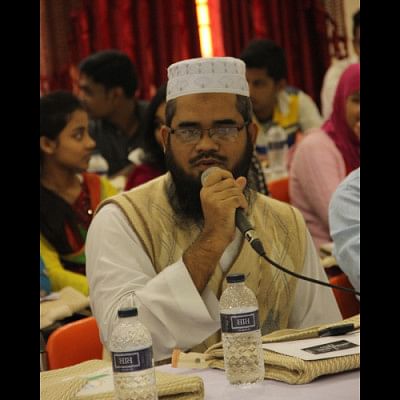 A college girl raised the point that when a student leader or someone belonging to a powerful political party teases a girl and if he is arrested by the police following complaint, top political leaders call the police officers and get the eve teaser released from custody. In such cases, the perpetrators come back to take revenge on the girl. Her question is who will protect the victims? Adding to this college girl's concern, a male student of BBA second year said that the recent trend of incidence of eve teasing shows that it is happening more on the campuses of educational institutes than on the roads. It is more rampant in government colleges he said. Most eve teasers are connected to some political leaders/parties and as a result it becomes difficult to take action against such persons. He wants the police force to be more responsible in taking action against the eve teasers.
Another student suggested opening a GBV Complaint book so that action can be taken on the basis of complaints. A female school student said that when they become victims of harassment in the hands of an elderly man, a family member or a teacher they cannot fight it alone. She thinks strict laws and their implementation are important. She also wants girl students to be empowered with some laws to take action themselves.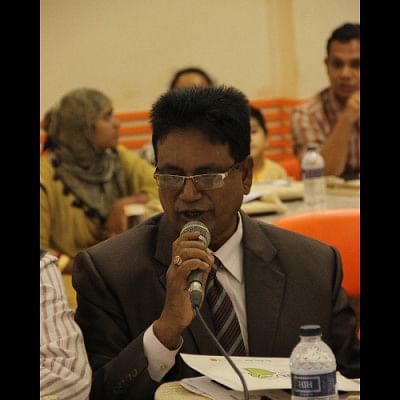 A male student of Patuakhali Govt. College believes that the incidence of psychological abuse is more than that of physical abuse in society. When a boy or a girl does not do well in examinations, they are verbally abused by teachers, parents and relations. As a result, the student loses interest in continuing education. He thinks it would be better if everyone encourages a student who might have done poorly in an exam. A girl student of a college narrated her story drawing the attention of the police official who was present in the Roundtable. She said that one day during class break she along with a female friend went out to buy some snacks when a police van approached and asked them what they were doing there. A policeman checked their mobile phones as well. She wanted to know why they should face such embarrassing situation, especially in the hands of the members of the law enforcing agencies. A male student who lives in a student dormitory said that often politically connected people take various kinds of drugs inside the dormitory.  Good students feel helpless as they have no voice to protest. He terms this as mental torture. He questions why the administration cannot take any action against them.
A student of Patuakhali Govt. College offered the following recommendations for the organisers. He said that people know why child marriage takes place and the consequences of such marriage. He believes that education will drive away the lingering superstitions and help end such mal-practices in society. He further believes that replication of the if the initiative taken by UNFPA and The Daily Star in all districts and upazilas, will have profound impact on the minds of the common people.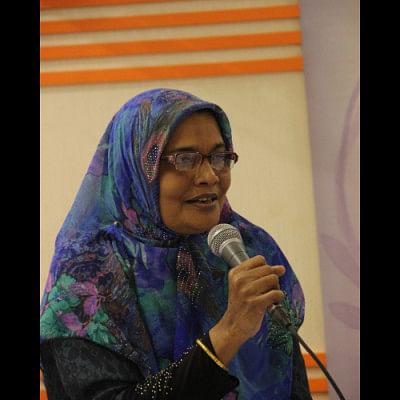 Syeda Aklimun Nesa, Commissioner of Patuakhali Pourashova (Municipality) felt that the change of mindset was necessary along with ensuring security for girls. The removal of gender inequality and poverty is necessary as is providing girls with proper education and to be economically independent.
(The names of the students have not been mentioned to avoid any untoward incidence once the report is published)