'Rohingya abuse may be crimes against humanity'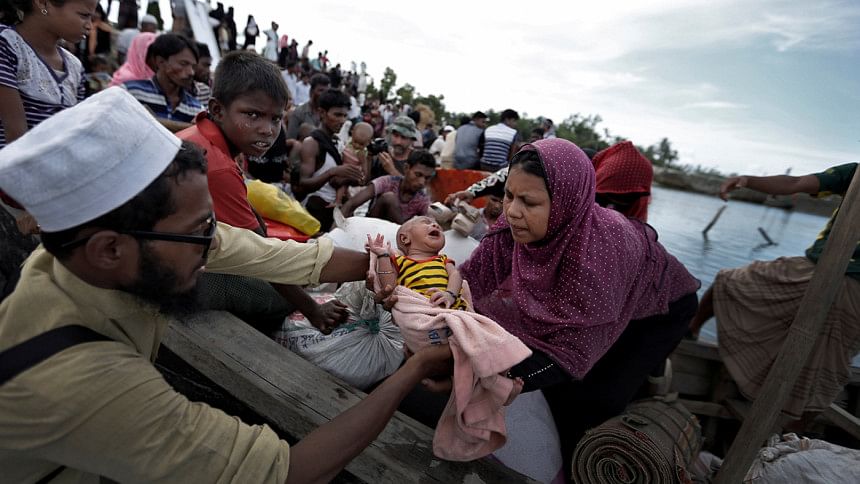 The United Nations Committee on the Elimination of Discrimination against Women (CEDAW) and the Committee on the Rights of the Child (CRC) have called on Myanmar to immediately stop violence in the northern Rakhine State, and to promptly and effectively investigate and vigorously prosecute cases of violence against women and children.
"We are particularly worried about the fate of Rohingya women and children subject to serious violations of their human rights, including killings, rape and forced displacement," the experts said in a joint statement issued today.
"Such violations may amount to crimes against humanity and we are deeply concerned at the State's failure to put an end to these shocking human rights violations being committed at the behest of the military and other security forces, and of which women and children continue to bear the brunt."
The committees have urged the civil and military authorities of Myanmar to fully comply with their obligations under both the CEDAW and the CRC, and to exercise due diligence and prevent, investigate, punish and ensure redress for acts of private individuals or militias under its jurisdiction that violate women and children's rights.
To ensure full accountability, the committees also call on the Government of Myanmar to grant access to and fully cooperate with the fact-finding mission established by the UN Human Rights Council, so it can conduct thorough and independent investigations.
The experts also highlighted that the statelessness of Rohingya women and children and their protracted displacement had exposed them to high levels of poverty and malnutrition, and limited their access to basic rights including education, employment and health care, as well as imposing restrictions on their freedom of movement.
"We urge the Myanmar authorities to address the needs of internally displaced Rohingya women and children, as well as of Rohingya refugee women and children living in camps in neighbouring countries, with the support of the international community," the experts said.
"This should include the provision of necessary assistance and creating adequate conditions to ensure their prompt and durable return to their places of origin, if they so wish, in safety and dignity."