Bangladesh to seek WB assistance for Rohingyas: Muhith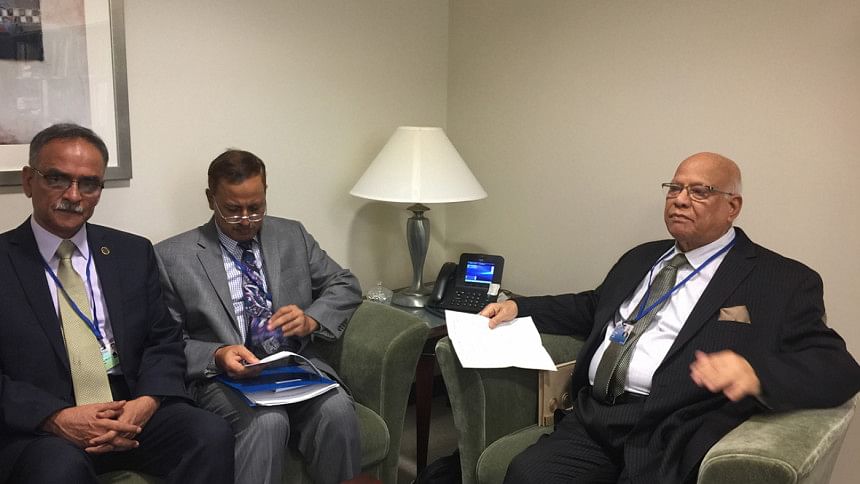 Bangladesh will seek assistance from The World Bank for the forcibly displaced Rohingya people who crossed over into Bangladesh from August 25, Finance Minister AMA Muhith said today.
Prime Minister Sheikh Hasina gave her decision on the matter today, the minister said.
Bangladesh government will now sent a formal letter to the World Bank, the minister told reporters after a meeting with Kristalina Georgieva, the chief executive officer of the World Bank, and Annette Dixon, vice president of the South Asia Region.
The meeting was held on Wednesday on the first day of World Bank-IMF annual conference at Washington DC.
Asked about the assistance being sought from the World Bank, Muhith said "We have not given any amount but have appealed for help and will get the maximum they can spare."
Of the amount, 50 percent will be grants and the rest is soft loan, the minister said. 
"I am very angry at this. Internationally, particularly international development and international organizations, United Nations, UNICEF, UNDP, in a way The World Bank, IMF, nowhere there is any element of support for these crooks of Burma, the rogue government of Burma," the finance minister further quoted UN Secretary General Antonio Guterres as saying.
The UN secretary general also thanked Bangladesh for their timely action, Muhith said.
"And it is also realised everywhere that Myanmar is involved in an ethnic cleansing, everybody understands it and knows it.  An ethnic cleansing is an absolute no-no in international circles. It is inconsistent with modern civilization and living," the minister further added Guteress as saying.
WB stands with Bangladesh
According to a press statement issued by the World Bank in Washington on October 11, WB stands with Bangladesh to support Rohingya refugees.
The value of the World Bank investment has yet to be decided but the programme of support could include expanding access to health, education, water, sanitation, and roads, the press release reads.
"The Government of Bangladesh can tap into a new and innovative World Bank financing instrument, the special window for refugees of the International Development Association (IDA), the World Bank's fund for the poorest," it added.