Road accident memorial finally opens for public
Road accident memorial finally opens for public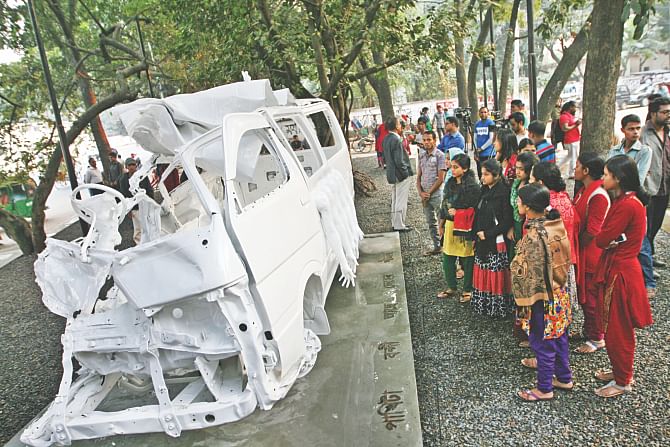 The installation comprising the wreckage of a microbus, which got into a road crash leading to the death of noted filmmaker Tareque Masud and media personality Mishuk Munier, will create awareness against negligence in driving, said Tareque's widow Catherine Masud yesterday.
It visualises the grief of all families and relatives of people who died in road accidents across the country, added the chairperson of Tareque Masud Memorial Trust right before the installation was opened to the public by the Dhaka University (DU) authority.
Road Accident Memorial Installation is situated at a traffic island near DU's Shamsunnahar Hall. The crash that killed the duo took place on the Dhaka-Aricha highway in Manikganj on August 13, 2011.
The landscape of the installation, funded by Brac and Brac Bank Ltd, was designed by architect Salauddin Ahmed.
Tareque Masud Memorial Trust coordinated the project.
Vice Chancellor Prof AAMS Arefin Siddique said, "We need to launch a strong campaign to create public awareness against such road mishaps."
"We hope our effort will inspire people to stand beside the thousands of people who face the threat of such a road accident every year, every month," said cultural personality Nasir Uddin Yousuff.
Noted film actor Ilias Kanchan, also chairman of Nirapad Sarak Chai, demanded that government officials responsible for allowing unfit vehicles to ply the streets be punished.