Remembering our wordsmiths
Remembering our wordsmiths
As the month of Ekushey gets underway yet one more time, Syed Badrul Ahsan focuses on some writers whose contributions to Bangla literature have enriched the language ---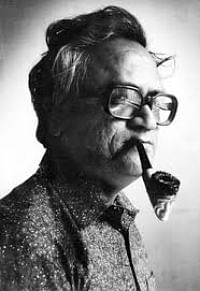 Akhtaruzzaman Elias (1943-1997) died rather early. That being the truth, there is another, which is that he did not write much. And yet for all that he is often regarded by critics and scholars of modern Bengali literature as one belonging in the pantheon of Bengali literary giants. In his entire career, Elias wrote a mere two works of fiction. In Chilekothar Sepai, he traces the psychological journey of an man in the period immediately before Bangladesh is plunged into its war of national liberation. And in Khoabnama, the story revolves around the socio-political conditions prevailing in an era before political fratricide overtook politics.
Apart from his two novels, Elias has left behind twenty two short stories, within which his artistic creativity repeatedly shines through. That makes you wonder. How much more could he have achieved had he lived?
Abu Rushd Matinuddin (1919-2010) was the quintessential scholar. His passion was English literature. He made it into a career. Moving over to East Pakistan following the partition of India, he taught English at a number of colleges in what was then Pakistan's eastern province. Subsequently, he travelled to Oxford for higher studies before returning home. His scholarly life lost none of its allure when, at particular moments, he was to serve in government. He was director of public instruction. In 1971, while engaged as educational counsellor at the Pakistan embassy in Washington, he switched his allegiance to Bangladesh. After Bangladesh's liberation, he found himself abroad once more, this time at the country's high commission in London, as educational counsellor . . . once more!
Abu Rushd's place in the annals of modern Bengali literature has been assured by the novels he produced over a pretty long stretch of time. Remember Elomelo, Shamne Notun Din, Onishchito Ragini and Sthagita Dwip?
Alauddin al Azad (1932-2009) was never one to proclaim his presence in the world of letters. A quiet, self-effacing intellectual, he was to leave behind some of the most powerful works of fiction for Bengalis. Of course, his Teish Nombor Toilochitro remains a point of reference, the work by which people easily identify him. But, again, there were others. Karnaphuli springs to mind, along with Onudito Ondhokar, Shopnoshila and Shagotom Bhalobasha. Ferari Diary, based on his experience of the War of Liberation, makes thoughtful reading.
Azad, who served a stint in government service as first secretary at the Bangladesh embassy in Moscow, was a popular teacher of Bengali literature.
Syed Waliullah (1922-1971) has earned his place in Bengali literary history with his defining work Lalshalu. The story is at once an image of evil latent in man and the gullibility which the general masses are as a rule prone to. In the character of Majid, Waliullah creates an apt metaphor for the darkness which all so often assails the human soul. Decades after Waliullah's death in Paris (and that was barely a couple pf months before his beloved Bangladesh emerged as a free nation), it was for Tanvir Mokammel to set Lalshalu to film. The movie was a season of revival for Syed Waliullah.
Brilliance had always been a part of the Waliullah persona. At the age of twenty three, while working as a sub-editor for the Calcutta newspaper The Statesman, he saw his first set of short stories. That was the beginning. His novels were on the way. Besides Lalshalu, there would be Chander Amaboshya and Kando Nodi Kando.
Shaukat Osman (1917-1998) was born as Sheikh Azizur Rahman in Hugli of West Bengal and migrated to East Pakistan (present-day Bangladesh) after Partition in 1947. Assuming the name by which he carved his niche in Bangladesh's literary world, Osman went into teaching in the initial stages of his career. Deeply secular and inclined towards literature, he soon veered into creativity with such works of fiction as Janani, which was to be translated in English. At a subsequent stage, his seminal work Kritodasher Hashi (Laughter of the Slave) was to be translated from Bengali to English by Kabir Chowdhury. In a career of prolific activity, Shaukat Osman would leave behind some poignant works noted not only for their intrinsic literary value but also for the subtle attention they drew to socio-political realities in Bangladesh.
Apart from novels, Shaukat Osman wrote verses and limericks which effectively lampooned the powers that be, especially religious bigots out to disrupt the secular social and political order he so deeply believed in. Fearless and principled, Osman died, as it were, waging battles for the ideas he believed in.
Araj Ali Matubbor (1900-1985) can truly be regarded as Bangladesh's rustic or pastoral writer devoted to an exploration of the mysteries that assail life. He did not go to school owing to dire poverty. His father died when he was a child. And then, being a minor, he could not save his home from passing into the hands of others. That perhaps was a defining moment for him. Questions of life and death began to arouse his increasingly deepening interest, with the result that in time he developed a rationalist and humanist point of view. Matubbor endlessly came forth with questions. Not satisfied with conventional religious explanations of life and the hereafter, he proceeded to record his thoughts in such works as Shotter Shondhane. After that other books came along. Mention may be made of Srishtir Rohoshyo and Mukto Mon.
Being the sceptic that he was, Araj Ali Matubbor donated his body to medical science as his way of contributing to humanistic progress.
Syed Mujtaba Ali (1904-1974) spent much of his life outside Bangladesh for reasons of employment. It was not before 1972, a mere two years before his death, that he moved back to Bangladesh from India, where he had worked for such organisations as All-India Radio.
But Ali's career in writing took off in his youth. In 1919 he began corresponding with Rabindranath Tagore. Ten years later saw him in employment in Kabul, which phase lasted a couple of years. Enthusiastic about India's freedom struggle, he devouty believed in a united country once the British colonial power made its exit from the subcontinent. A peripatetic writer, Ali travelled to such global centres of civilisation as Berlin, London, Paris and Bonn, an opportunity he took advantage of to further his education. Once Pakistan was established, he moved to Dhaka. The very next year he demonstrated great courage when he published his article, 'The State Language of East Pakistan', wherein he argued that the language could not be other than Bengali. The article aroused the ire of the Pakistan government, which asked him for an explanation. Rather than compromise himself, Ali went over to India.
Syed Mujtaba Ali remains an iconic figure for the insight, with dashes of intellectual humour, he brought into his many works. His Deshe Bideshe, Chacha Kahini, Shabnam, Tuni Mem and Porosh Pathor, among so many others, have given him an unassailable reputation.
Quazi Motahar Hossain (1897-1981) remains, three decades after his death, an iconic figure in Bangladesh's intellectual world. Every inch a modern man, with his remarkable grasp on such subjects as mathematics, physics, journalism and essay writing, Hossain was always miles ahead of many others of his time and later. Educated at Calcutta' Presidency College, he joined the newly established Dhaka University when it was set up in 1921. Humility was his forte; and simplicity was what he felt comfortable with. He was a skilled chess player, so much so that he gave the game a new dimension among the young in Bangladesh.
Hossain's career was a multi-dimensional one. He was at once a writer, scientist, statistician and journalist. His written works, all based on profound scholarship, include Shancharan, Nazrul Kabyo Porichiti, Gonit Shastrer Itihash, Alok Bigyan and Nirbachito Probondho.