Red alert issued at Teesta Barrage as flood situation in Lalmonirhat, Kurigram worsens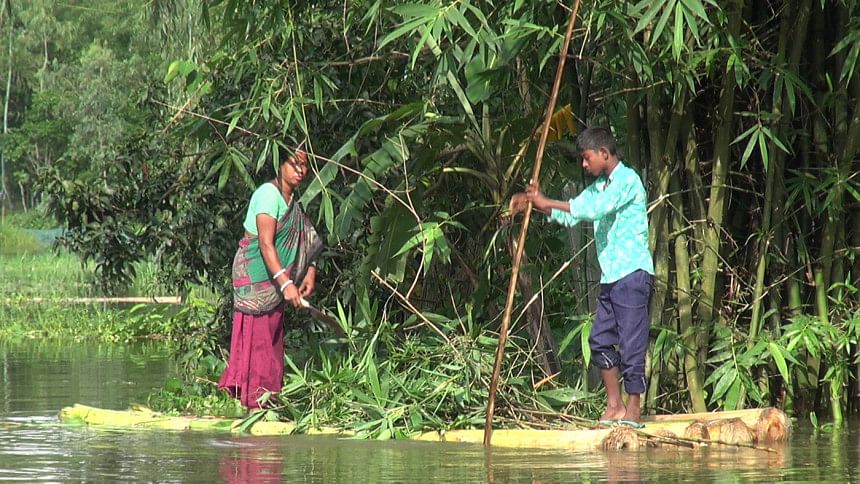 The flood situation has taken a serious turn as the water level of 10 rivers including Teesta and Dharla in Lalmonirhat and 18 rivers including Brahmaputra in Kurigram has increased exceptionally today.
The Water Development Board issued a red alert around the Teesta Barrage in Dowani area at Hatibandha upazila of Lalmonirhat last night, reports our Lalmonirhat correspondent quoting Hafizul Islam, sub-divisional engineer of Dalia Water Development Board at Teesta Barrage.
The red alert was issued in the barrage area at 9:30pm as the Teesta waters continued to rise beyond the danger level.
Families living in the vicinity of the barrage, upstream and downstream have been evacuated overnight.
The flood bypass road of the Teesta Barrage could be cut if deemed necessary to protect the Teesta Barrage from water pressure of upstream water from India, the WDB official said.
The water of Teesta river was flowing 52 cm above danger level at Teesta Barrage point in Hatibandha upazila, while it was 64 cm above danger level in Dharla River at Shimulbari point of Lalmonirhat Sadar upazila this morning.
The water level of Brahmaputra River was flowing 45 cm above the danger level at Chilmari point and 46 cm above the danger level at Nunkhawa Ghat point, our correspondent reports quoting WDB officials.
The Dharla River has been flowing above 82 cm above the danger level at Kridigram Bridge point in Kurigram since this morning, the WDB officials added.
Due to incessant rains and onrush from upstream India, the water level of all the rivers continue to rise in the two districts, the officials said.