'Graft case filed for hampering Khaleda's political career'
Khaleda's lawyer tells court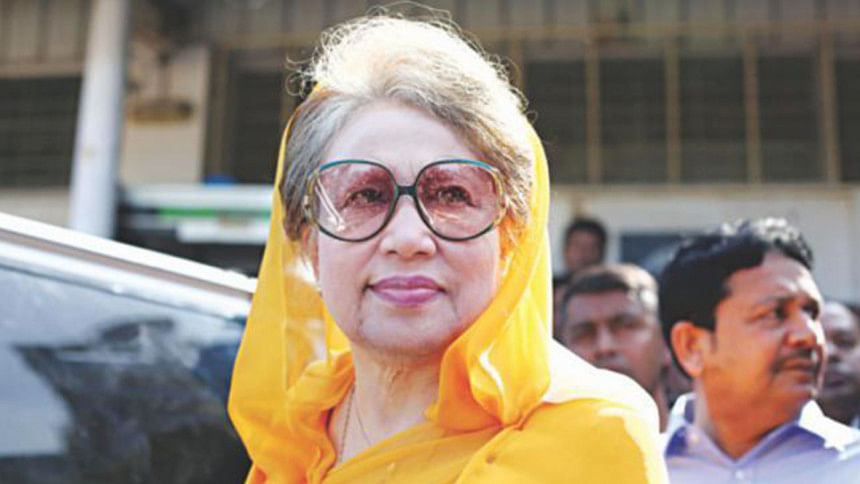 The defense lawyer today told a Dhaka court that the

Zia Orphanage Trust graft case

was filed against BNP Chairperson Khaleda Zia to hamper her political career. 
Advocate Abdur Rezak Khan, one of Khaleda's lawyers, said this while placing his second day closing argument in the case.
"The case is completely false," he said adding that dignity and honour of Khaleda and her family members is related to the case.
He appealed to the court to dispose of the case according to the Penal Code.
The lawyer read out some vital points from statements of 32 prosecution witnesses including complainant and investigation officer of the case. He also cited "defective" points from the statements of different witnesses.   
After the second day's argument, Judge Md Akhtaruzzaman of the Special Judge Court-5 in Dhaka set up at Bakshibazar adjourned the hearing till December 26.
The court will hear argument in the Zia Charitable graft case on the same day.   
Earlier in the day, Khaleda appeared before the court around 11:00am and submitted her self-defence statement in the Zia Charitable Trust corruption case.
The court made a break for an hour at 1:00pm. Later, it started its proceedings again around 2:00pm and continued till 4:00pm. 
The court also extended Khaleda's ad-interim bail till December 26 after her lawyers submitted two separate petitions.
Earlier on Tuesday, the prosecution concluded their argument and sought highest punishment for Khaleda in Zia Orphange Trust graft case.        
In July 2008, the ACC filed the Zia Orphanage Trust graft case with Ramna Police Station accusing Khaleda, her son Tarique and four others of misappropriating over Tk 2.10 crore that had come as grants for orphans from a foreign bank.
Three years later, the anti-graft body lodged the Zia Charitable Trust graft case with Tejgaon Police Station, accusing four people, including Khaleda, of abusing power to raise funds for the trust from unknown sources.