Tabith pledges smooth traffic, safe footpaths in Dhaka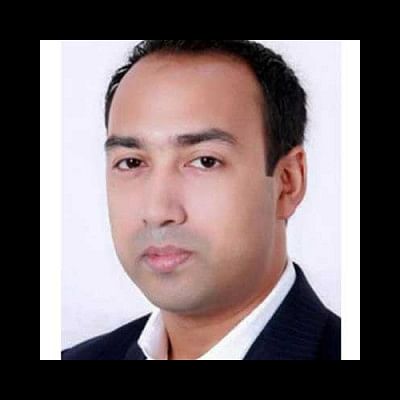 Tabith Awal, BNP-backed mayoral candidate for Dhaka North City Corporation polls, today announced a set of pledges including traffic jam free, clean and safe footpath Dhaka city.
Tabith announced his manifesto at a press conference at his electoral office at Tejgaon link road in Dhaka.
He also gave priority to ensure regular drain cleaning to resolve the water logging issue and removing the city's wastages in dawn.
If elected as DNCC mayor, he will resolve corruption, harassment and other complexities centering holding tax from the city dwellers.
Tabith will ensure logical solution of power, water and gas crisis for the DNCC citizens, he told reporters.
          - Ensure logical solution to the power, gas and water
          - To build a society free of drug free and terrorism
          - To establish religious holy places, graveyards and community centres in every wards of the city
          - Set up public toilets for women
          - Arrange free treatment for low income peoples
          - Establish playing ground, park and standard schools in every wards of the city
          - Organise sports tournaments regularly
          - Public university for the Dhaka North City Corporation
          - Internet facilities for students establishing cyber centres in each wards
          - Enhance social dignity for RMG workers, hotel workers and transport workers
          - To make the capital city free of corruption
          - Ensure security to the city citizens
          - To organize meetings to identify different difficulties and take steps
          - To ensure security setting up closed circuit cameras in  different key points of the city