Rahul Gandhi takes charge as Congress chief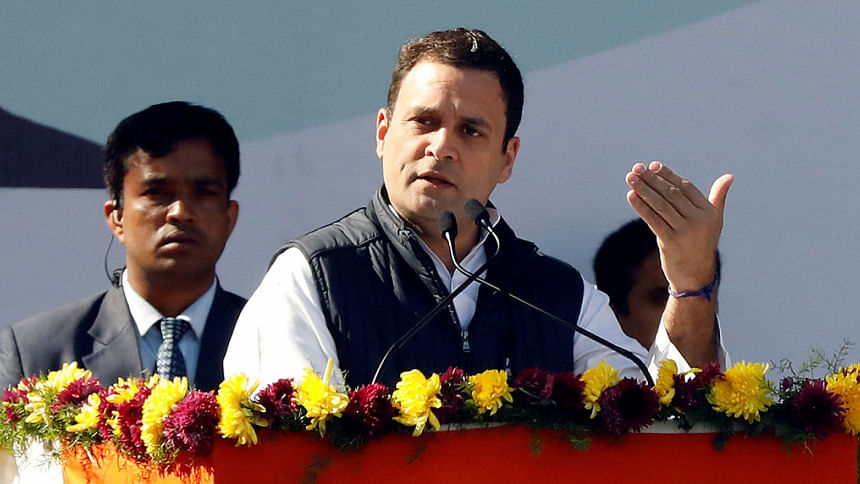 Ushering a new era and a generational change in the top leadership of India's oldest party, Rahul Gandhi today took charge as the President of Congress replacing his mother Sonia Gandhi.
The coronation of 47-year-old Rahul as the party chief, taking the baton from his 71-year-old mother, came as the party's central election authority handed over to him a certificate announcing his election unopposed to the top organisational post at a function at the Congress national headquarters at Akbar Road in New Delhi, reports our New Delhi correspondent.
Rahul, who had once appeared a reluctant politician, was named the party President last Monday after nobody else challenged his nomination to the post in the internal election.
Celebrations erupted outside the 24, Akbar Road Congress office after Rahul formally took charge as its chief amid party workers dancing and distributing sweets, reports our New Delhi correspondent.

Rahul is the fifth scion of the Nehru-Gandhi dynasty to head Congress party after his great-grandfather and India's first Prime Minister Jawaharlal Nehru, Grandmother Indira Gandhi who was the country's first woman PM, father Rajiv Gandhi and mother Sonia Gandhi.
The Nehru-Gandhi clan was at the helm of affairs of Congress for 38 years after India's independence: Nehru for three years, Indira and Rajiv for eight years each and Sonia for 19 years till date.
Rahul's taking over the mantle came just two days before the vote count and results are announced of legislative assembly elections in Prime Minister Narendra Modi's home state of Gujarat and Himachal Pradesh state. The results of these polls are being seen as a litmus test for Rahul's leadership as he prepares Congress for the much bigger contest—general elections in India in 2019.