PM slams Khaleda for calling election officials, people 'dogs'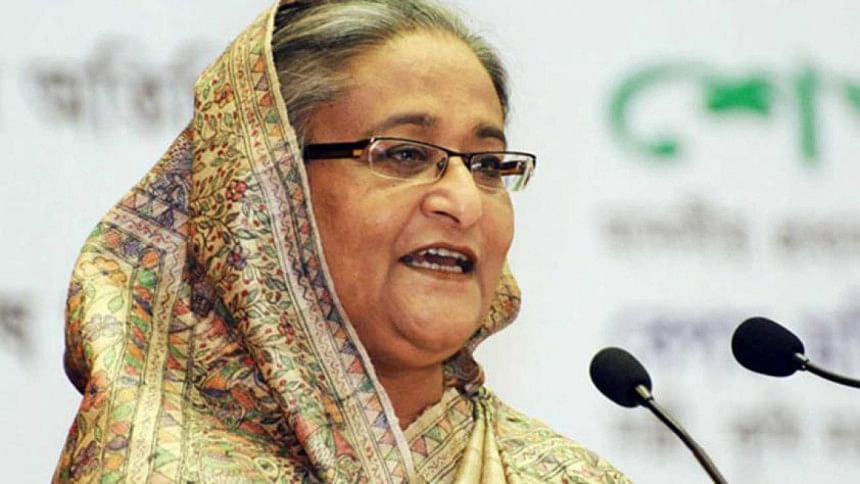 Prime Minister Sheikh Hasina today came down heavily on BNP chairperson Khaleda Zia for terming voters, election officials and others who were present at polling stations during the January-5 national election 'dogs'.
"I saw some statements in the newspapers…she [Khaleda] said no voter was there in polling centres…there were only police and dogs," she said.
The prime minister said this in her introductory speech at a meeting of Awami League Central Working Committee at her official residence Ganabhaban.
She said there were election officials, media personnel and general people in the polling centres and people had been there to cast their votes.
"She [Khaleda] saw all as dogs, she saw human beings as dogs, everyone is dog in her eyes, rabies patient only see dogs in his/her eyes, which dog bites her…she has no right to say this," she said.
Hasina, also the chief of the ruling Awami League, castigated Khaleda Zia for calling human beings as dogs. "What type of behaviour is this, 40 percent people of the country went to cast their votes; all are dogs, what an audacity! She called human beings as dogs."
She also mentioned that such bad words only fit Khaleda as she killed hundreds of people through arson attacks in early 2015. "She [Khaleda] has to seek apology to the nation for burning people and calling the country's people dogs."
The Awami League president said the reason behind such attitude of Khaleda Zia is just to save war criminals. "The people of the country won't accept it…I will tell her to express regret to the nation and seek apology."
She said there should be trial of Khaleda Zia for burning people. "This has to be done just to ensure that in the future no one will dare to do such kind of evil activity and play with the fate of people."
The prime minister said Khaleda cannot accept the massive development of the country and that is why she called people dogs. "This is very much regretful that a political leader could utter such bad words...I never heard of it before."
"The people of the country will not accept what she [Khaleda] said in favour of Al Badr, Razakar and Pakistanis," she added.