President, PM pay homage to Bangabandhu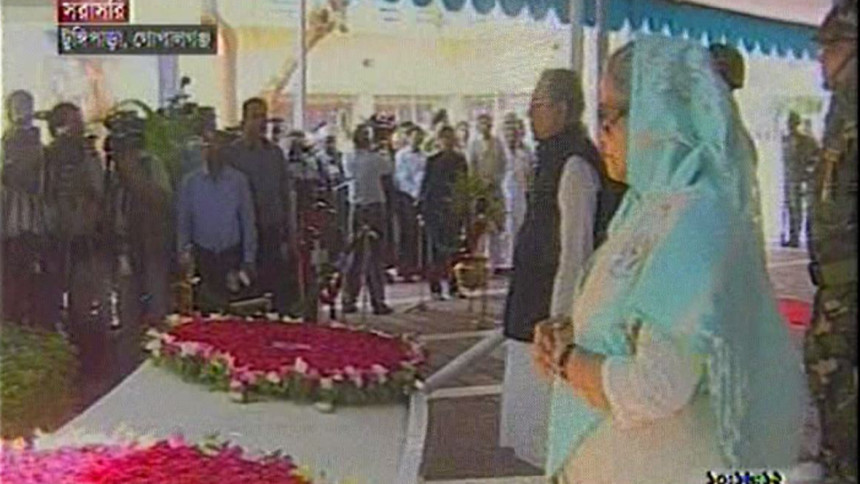 President M Abdul Hamid and Prime Minister Sheikh Hasina today paid homage to Father of the Nation Bangabandhu Sheikh Mujibur Rahman, placing wreaths at his Mazar in Tungipara upazila of Gopalganj on his 95th birth anniversary.
First the president and then the prime minister placed wreaths on the grave at Bangabandhu Mausoleum Complex around 10:12 am.
Both stood in solemn silence for some time as the last post was played on the bugle.
A contingent of Bangladesh Armed Forces presented the guard of honour on the occasion. The cabinet secretary and the chiefs of the three services were present there.
Abdul Hamid and Sheikh Hasina offered fateha and munajat seeking salvation of the departed soul of Bangabandhu.
The president also signed the visitors' book at Bangabandhu Mausoleum Complex.
Later, the prime minister, who is also the president of Awami League, placed wreaths on the grave of Bangabandhu on behalf of the party.
Cabinet members, Awami League central leaders, leaders of different associate bodies of the party followed the prime minister to pay their tributes to the Father of the Nation.
Earlier around 7:00am, the prime minister laid a wreath at the portrait of the great leader in front of the Bangabandhu Memorial Museum in Dhanmondi of Dhaka.

The birthday of Bangabandhu is being celebrated across the country as the National Day for Children.
The day is a public holiday.
On March 17 in 1920, the architect of the nation was born at Tungipara in Gopalganj district.
Through his dynamic leadership, Bangabandhu organised the Bengali nation to fight against exploitation and repression by Pakistani rulers, which culminated in independent Bangladesh after a nine-month Liberation War in 1971.
On August 15, 1975, the great leader of the land was assassinated, along with most members of his family by a cabal of army men.
Meanwhile, the Prime Minister will attend a children gathering, discussion and cultural programme at Bangabandhu Mausoleum Complex.
She will also inaugurate a book fair there on the occasion.