No plan to arrest Khaleda: Obaidul Quader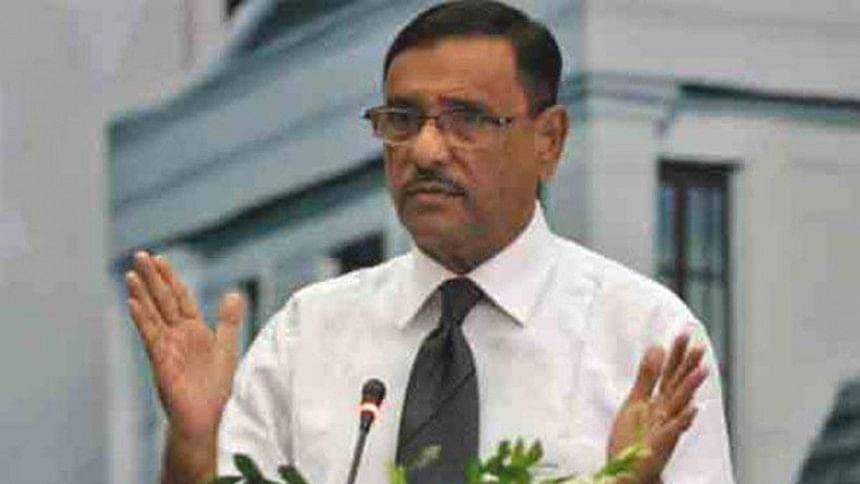 Defying the allegations raised by BNP leaders, Road Transport and Bridges Minister Obaidul Quader today said the government has not taken any decision to arrest Khaleda Zia.
"BNP leaders are saying in their comments that the government is hatching conspiracy against Khaleda to arrest her but the government did not take any decision in this connection," he told reporters replying to a question during a sudden visit to BRTC Bus Depot in Nagpara area of the city this morning.
During his visit, the minister found some illegal human hauler workshops near Dhaka-Mymensingh highway in Salna area and ordered to evict all the workshops.
He also expressed his dissatisfaction as he did not find the manger of the depot at his desk during the visit.
Later, the minister ordered the higher authority of BRTC to issue show cause notice against manager as he found several irregularities at the depot.
"There are many chaos and disorders in our transport and road sector.
It is not possible to change the situation overnight. We need to change our attitude," he said.
BSS adds: Awami League presidium member and Health and Family Welfare Minister Mohammad Nasim today said his party doesn't pursue the politics of vengeance and that's why there is no desire from the party to arrest anybody.
"Why should we arrest Begum Khaleda Zia? Had Awami League believed in vengeance then the trial of the Bangabandhu Killing Case would have been held in a tribunal. But, we didn't. We have no desire to arrest anybody," he said pointing at BNP leadership.
Nasim said this while speaking as the chief guest at the inaugural session of the national convention of Bangladesh Homeopathic Council at the auditorium of the Institution of Engineers at Ramna in the city.
Convener of the national convention Dr AKM Shahidullah chaired the inaugural session, also addressed, among others, by acting secretary of the Health and Family Welfare Ministry Biman Kumar Saha and acting president of Bangladesh Homeopathic Council Dr AKM Alauddin. Chairman of Bangladesh Homeopathy Board Dr Dilip Kumar Roy inaugurated the convention.
Nasim said, "The judiciary is independent in Bangladesh and the courts are also. If a court orders arrest of anybody what we can do."
Pointing at BNP chairperson Begum Khaleda Zia, the senior AL leader said, "Stop your politics of torching people, public and private properties. You can't kill people in the name of politics. People of Bangladesh can never pardon you for what you have done."