Don't use own photo in party posters, banners: AL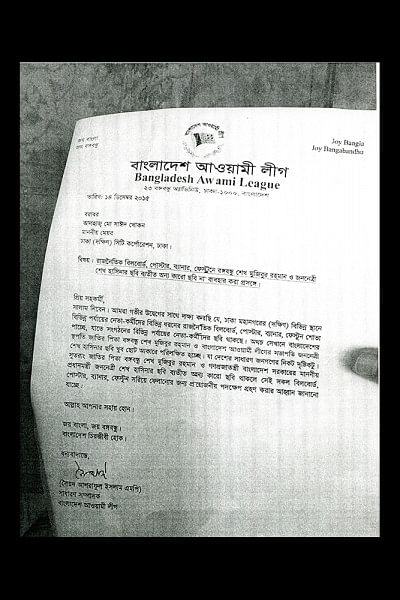 Ruling Awami League has directed its activists to avoid using photographs except those of Sheikh Hasina and Bangabandhu during political publicity.
The party also moved separate letters asking the Dhaka city corporations authorities to remove any publicity material in violation of the code.
The call to party activists and letters to Dhaka city corporations were issued yesterday, signed by Syed Ashraful Islam, Awami League's general secretary.
Letters in this regards are already being distributed to all leaders and activists of the party, the call said. Actions will be taken against code violators, it read.
Banners, festoons or posters of the ruling Awami League are seen everywhere in the country. Towns and cities are particularly flooded with such publicity materials.
Such materials have large pictures of the campaigners and "very small" photos of Bangabandhu Sheikh Mujibur Rahman and Sheikh Hasina, the letters read.
"It is very disturbing for the general public," it said.
In the order to activists, Awami League told to withdraw such publicity materials, and to Dhaka city authorities, the party wrote to bring down such banners, festoons and posters.
From now on, only the photographs of Bangabandhu and Sheikh Hasina will be allowed in party-sponsored banners, festoons, billboards or posters, it read.