Mamata wants to give grand reception to Hasina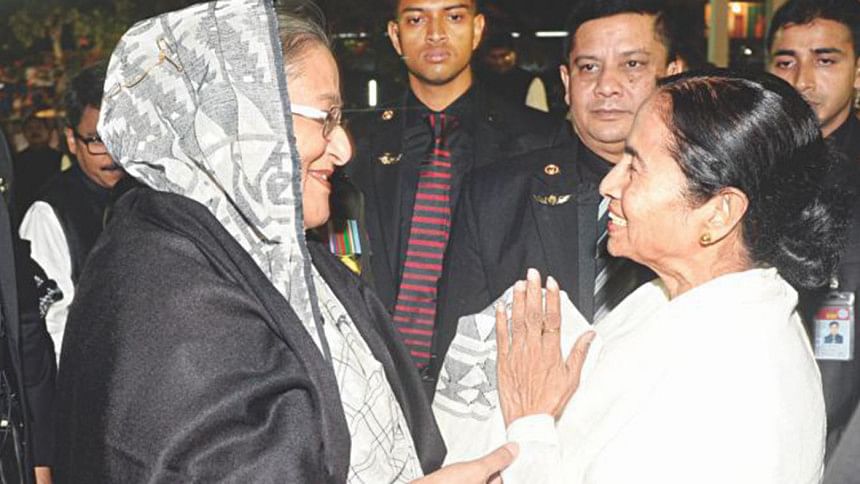 West Bengal Chief Minister Mamata Banerjee, who has been newly elected for a successive period, wants to accord a grand reception for Bangladesh Prime Minister Sheikh Hasina.
The invitation was forwarded today in a post-ceremonial brief meeting with Industries Minister Amir Hossain Amu, who represented Hasina at Mamata's swearing-in ceremony.
Mamata's invitation to attend her oath-taking was directly placed at Hasina's table, but the premier had to skip the invitation because the date coincided with a pre-scheduled visit to Japan.
Industries Minister Amir Hossain Amu was chosen instead.
After the swearing-in ceremony this morning, Mamata had a five-minute courtesy meeting with Minister Amu, our Kolkata correspondent reports quoting First Secretary (Press) Mofakkharul Iqbal of Bangladesh's Deputy High Commission in Kolkata.
There, she placed her government's desire to Minister Amu saying that the reception date can be arranged at "a time at the convenience of Prime Minister Sheikh Hasina."
Unlike previous term, this time PM Hasina did not send a congratulation message to Mamata after being re-elected to the office of West Bengal's government.
But ahead of swearing-in ceremony, Hasina sent 20 kilogrammes of the delicious and popular Hilsha fish, caught from Padma river, for Mamata through Minister Amu.