Electricity will go to every house: PM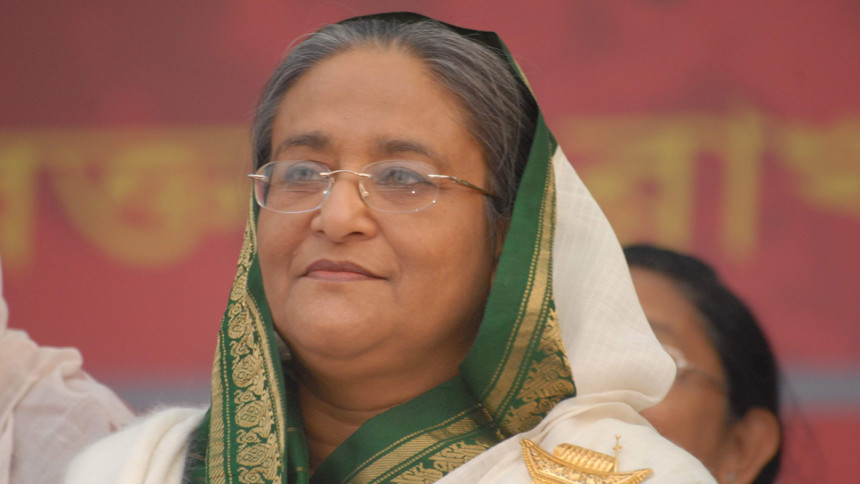 Prime Minister Sheikh Hasina today reiterated her government's commitment to reach electricity to every house saying seventy percent people now have access to electricity and much time would not be needed to reach electricity to every house.
She extended her sincere thanks to the officials and employees of the power and energy ministry for their tireless efforts for increased electricity generation and give the country relief from nagging power outage within a short span of time.
"Many people can say many things. But it was very difficult to take quick decision and execute those when the countrymen, even the people of the capital city, were suffering from acute power crisis," she said while visiting the power and energy ministry at Bangladesh Secretariat here today.
Pointing out the situation when country's power generation capacity declined to 3000 MW in 2009 against the demand of around 5000 MW, she said, "We have taken pragmatic decisions very quickly to increase power generation, make the distribution lines fit and resolve gas problem.
"Seventy percent now have excess to electricity. We would not need much time to reach electricity to every house," she said.
It's the second round visit of Prime Minister Sheikh Hasina to the ministry, as she planned to go every ministry to exchange views with the senior officials to expedite their activities.
PM's Advisor on Power and Energy Towfiq-e-Elahi chowdhury Bir Bikram, state minister Nasrul Hamid, secretaries and senior officials concerned of the ministry and Prime Minister Office were present. During the visit, she enquired about the progress of the decisions taken earlier in the power sector side by side with future plans.
The Prime Minister said Bangladesh has set an example in power sector as many countries were surprised with the quick pace of work of the power sector people. "We have proved that we can do everything as we have earned freedom through war," she said adding "We have the ability to go ahead amidst all adversities."
Sheikh Hasina said now country's power generation capacity stands around 13,265 MW which was more than 3,000MW in 2009. In 1996, she said country's power generation capacity was only 1600 MW. Awami League during its five year tenure propelled the capacity to 4300 MW.
But during the regime of BNP and caretaker government, generation capacity came down to 3000 MW sending the country to a horrible situation. Seven years elapsed from the life of the people and demand had been multiplied. But production did not increase. In such a situation, many people thought it difficult, she said.
Sheikh Hasina said now twelve more power plants are waiting for commissioning and works are progressing to install large scale coal-based power plants at Rampal and LNG-based plant at Matarbari of Mokeshkhali.
Sheikh Hasina said power and energy is the main component of development and every activity of the citizens is dependent on energy. Now wants of the people has changed as they want electricity while once they eked only for food and house.
Sheikh Hasina said, the main objective of her government is to expedite the development as even after 45 years of the independence the country could not achieve its desired development goals for socio-economic development of the people.
The prime minister said her government first had taken decision for power production in private sector and captive power generation after coming to power in 1996. "We had framed law for installation of small, medium power plants, conduct seismic survey to discover gas reserves, construction of gas pipe line and engage private sector through international bidding process," she said.
Haripur 360 MW and Meghgnaghat 450 MW power plants were the first private plants constructed during the period of Awami League, she said adding her government also allowed the owners of industries to set up power plant to meet their own demand and sell out the surplus power to others through the national gridline.
Prime Minister Sheikh Hasina urged for giving emphasis on solar energy and said chars, hilly areas and islands should be light up with solar energy as those areas are very potential for tapping the renewable energy.
"Solar energy is a great asset for us and it's available for every time. Primary cost of solar energy is little bit high but in the long run it is very useful for consumers," she said.
Sheikh Hasian said all 21 economic zones to be established in the country would have their own power plants and lands would be given to private investors to construct those plants.
"Each zone would also have a water body and be connected with gridline to facilitate power transmission. Gas would be given to those power plants from nearest gas field," she said.
"Agriculture land and industrial land should not be used for installing power plants. Solar panels can be set up on school buildings and offices which are mostly function in the day time," she added.
Pointing out the progress on construction of the nuclear power plant, she said steps were taken for purchasing 500MW power from India, setting an example of regional cooperation in power sector.
From Indian State of West Bengal, she said, more 500MW power will be purchased and 100 MW power from Agartala. Besides, steps are being taken to import electricity from Nepal, Bhutan as import is much cheaper than installation, operation and maintenance of a plant.
The Prime Minister asked for proper operation of the existing power plants and gradually replacing the old and dilapidated ones to reduce consumption of gas and fuel. "It will enhance the efficiency of the power sector," she said.
Sheikh Hasina asked the officials to take measures for carrying out survey on gas reserve and digging out more gas wells saying sea is the vast area for us to explore gas resources. "We will certainly get oil from those wells and steps should be taken to explore the natural resources," she said.
She also laid emphasis on demarcation of the gas blocks in the sea newly and taking measures for exploration of the gas.
The prime minister urged the officials to make people aware about economic use of electricity saying it will reduce consumption and burden of excess payment of bill on consumers. "The lesson of economic use of electricity should be given to every child in the family and schools," she said.
In this regard, she laid emphasis on construction of buildings with necessary ventilation to allow lights and airs saying "We have to live with nature."
Sheikh Hasina asked the officials to divert maximum electricity to the rural areas saying electricity in rural areas is crucial for development of small and medium scale industries.
"More electricity in rural area means more development of the country," she said calling for strengthening Palli Biddut Samity in this regard.
The Prime Minister said the foremost objective of her government is to make Bangladesh as a middle income country by 2021. "To do this, the socio-economic development of the country should be expedited," she said.
She said the visible side of the development of her government is improvement of the living condition of the rural people, middle and low income group and reducing the income discrepancies. "It's our satisfaction that we could bring change in the socio economic life of the people," she said adding "but we have to go a far."
Industrialization is necessary across the country particularly rural areas to alleviate poverty, she said.
Expressing her grief with recent political venture of some political parties, Sheikh Hasina said, "those political parties even gutted the power plants and burned plant engineer alive to realize their ill political motive."
The prime minister said, "We are striving hard for power generation while they are burning the power plants. This type of destructive activities is painful. The country is ours, we have liberated the country. Any political leader who has a little bit love and affection for the country and who do politics for country's interest, cannot do such destructive politics."
The Prime Minister hoped that the country would be able to overcome the situation and able to continue its progress to achieve its cherished goal.