BNP turns down allegation of 'plot to topple govt'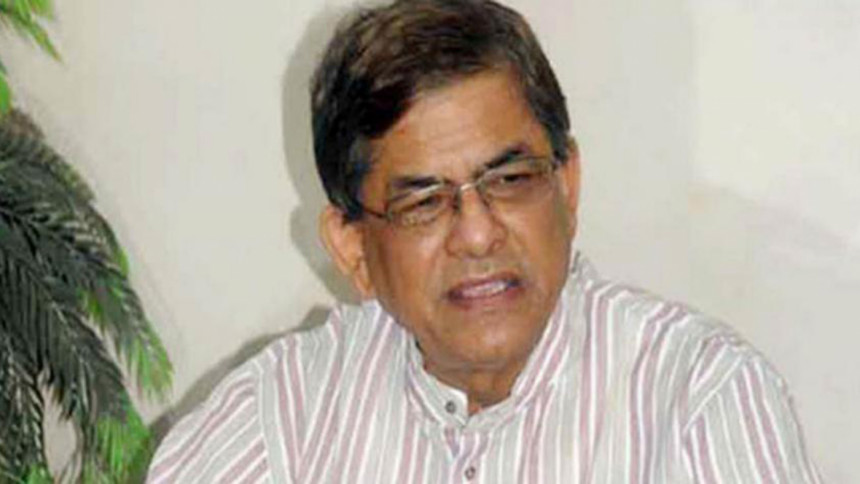 The top leaders of BNP today turned down the government's allegation that the party is conspiring with Israeli intelligence agency Mossad to topple the government.
Addressing at a protest meeting at Dhaka's Institution of Engineers, Bangladesh, the BNP leaders said they want to "restore democracy" in the country through intensifying their movement together with people, and not through any plot.
"We have to get united to intensify our movement. We don't believe in any plot, and don't want to join hands with conspirators. We'll restore democracy and people's rights together with them," BNP Secretary General Mirza Fakhrul Islam Alamgir said.
Dhaka City Unit BNP organised the programme protesting the submission of charge sheets against the party chief Khaleda Zia in two arson cases filed with the Darussalam Police Station.
On Sunday, police arrested BNP joint Secretary General Aslam Chowdhury for his recent meeting with Israeli influential leader Mendi N Safadi in India, where he was allegedly plotting to topple the Bangladesh government.
Fakhrul alleged that the government is implicating Khaleda Zia in fake and motivated cases as it fears at her huge popularity.
"We believe that all the cases are false and conspiratorial. The government wants to keep her away from politics. But, she is not afraid of facing cases or going to jail."
The BNP leader urged the government to withdraw all the cases filed against Khaleda and other BNP men immediately and take an initiative to resolve the political problems through discussions.
Speaking at the programme, BNP standing committee member Moudud Ahmed alleged that the government filed 'false and politically motivated' cases against Khaleda only to harass her.
"Politicians can be suppressed by filing cases against them, it rather increases their popularity. Khaleda Zia will be elected as Prime Minister in the coming days even after the government files 70 more cases against her," he claimed.
Mentioning that the fall of the current government is a matter of time, he said BNP will brining about a change in the current situation through a fair and credible election.