Settle polls-time 'supportive govt' through talks: Fakhrul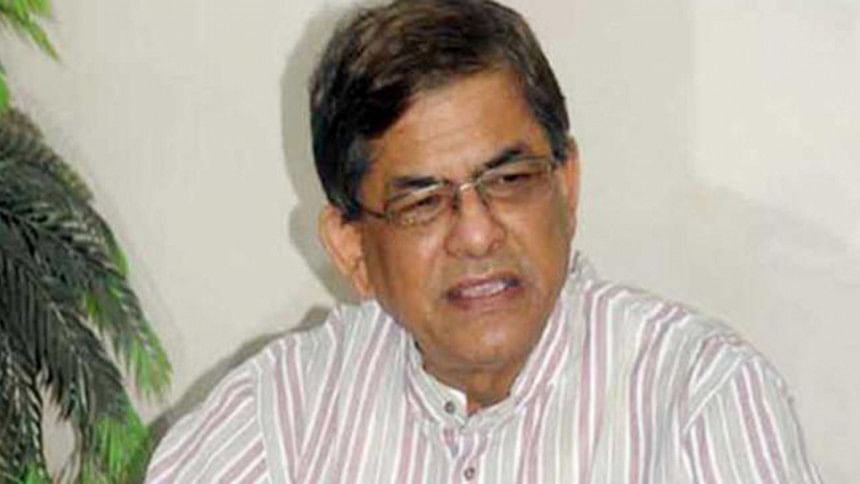 BNP Secretary General Mirza Fakhrul Islam Alamgir today again called upon the government to settle the issue of election-time "supportive government" through talks for the sake of holding the next general election in an inclusive manner.
"We must participate in the upcoming general election. But the issue of polls-time supportive government has to be solved first through talks," Fakhrul said while talking to reporters at Bangabandhu Sheikh Mujib Medical University this afternoon.
He went there to visit Bangladesh Krishak Sramik Janata League President Abdul Kader Siddique who was undergoing treatment at the hospital.
Fakhrul also rejected Awami League General Secretary Obaidul Quader's recent explanation that there is a constitutional provision over the supportive government system.
"According to the provision, Prime Minister Sheikh Hasina will play a role as chief of the polls-time supportive government while the Election Commission will arrange the election," Quader said at a function in Companyganj upazila of Noakhali on Sunday.
"I think Qbaidul Quader is not correct. Supportive government means non-political polls-time interim government," Fakhrul said adding that Awami League's thorough process is totally "irrelevant" with the process of the supportive government.
Awami League does not want holding of the next general election under the supportive government as it wants to establish a one-party rule in the country through a one-sided election, the BNP leader alleged.
BNP wants UN initiatives to solve Rohingyas crisis
Fakhrul said criminal offenses against humanity are being carried out on Rohingyas in Myanmar.
"We are calling upon the United Nations to take an immediate step for the sake of peace, lives and properties of the Rohingyas," he said.
Alongside, the BNP leader also urged the government to provide shelter to the Rohingyas and take a quick step to send back them through talks with Myanmar.