Ashraf removed from LGRD ministry
Khandkar Mosharraf Hossain new LGRD minister, Ashraf made minister without portfolio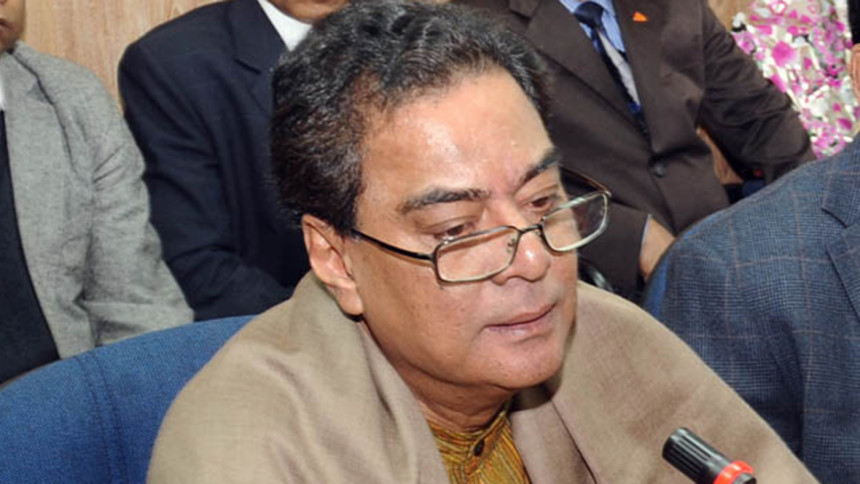 Syed Ashraful Islam has been removed from LGRD minister's post, cabinet secretary has confirmed.
Expatriates' Welfare and Overseas Employment Minister Khandkar Mosharraf Hossain has replaced Ashraf as the LGRD minister. Mosharraf will also continue his earlier portfolio.
Ashraful, also the general secretary of ruling Awami League, has been made minister without portfolio.
His downfall came on the heel of rumours over the past few years that he might be relieved of his portfolio for remaining absent at his office for long.
On Tuesday, Prime Minister Sheikh Hasina was displeased as Ashraful skipped the meeting of Executive Committee of National Economic Council (Ecnec), according to sources.
Rumours ran high the whole day that Ashraful was removed from the post of LGRD minister following the PM's expression of displeasure.
Ashraf, however, brushed off the reports.
Talking to reporters in his home district of Kishoreganj that evening, he advised journalists not to pay attention to rumours. "I know nothing about it. You'd better not listen to rumours."
Ashraful, who was first given the portfolio in 2009, was serving as LGRD minister in his second stint. He also served as the state minister for civil aviation and tourism ministry during 1996-2001 AL regime.
Tuesday Ecnec meeting
According to AL sources, Ashraf was at his official residence on Bailey Road when the Ecnec meeting was going on at the council auditorium Tuesday morning.
After the meeting, the premier summoned Ashraf to parliament. He went to the Jatiya Sangsad Bhaban around 1:00pm and had a one-to-one meeting with her, party sources said.
Later, Ashraf left for Kishoreganj to attend an iftar party organised by the district AL.
At the Ecnec meeting, officials placed project proposals involving Tk 6,076 crore under which every lawmaker would get Tk 20 crore for five years for development work in their constituencies.
As neither the LGRD minister nor State Minister Moshiur Rahman Ranga was there to explain the projects, Finance Minister AMA Muhith proposed postponing discussion on the topic, said meeting sources.
Muhith also expressed annoyance at the absence of both the ministers.
The PM, who chaired the meeting, appeared annoyed at that moment. She asked why Ashraf wasn't there, and said she would remove him from the post of the LGRD minister yesterday, said the sources.
Hasina then asked Commerce Minister Tofail Ahmed to take charge of the LGRD ministry in addition to his current portfolio.
But Tofail said he was already burdened with workload and was unable to take on additional responsibility. He suggested giving the charge to Expatriates' Welfare Minister Khandker Mosharraf Hossain.
The PM asked Mosharraf to prepare for taking additional charge, added the sources.