Fakhrul sent to jail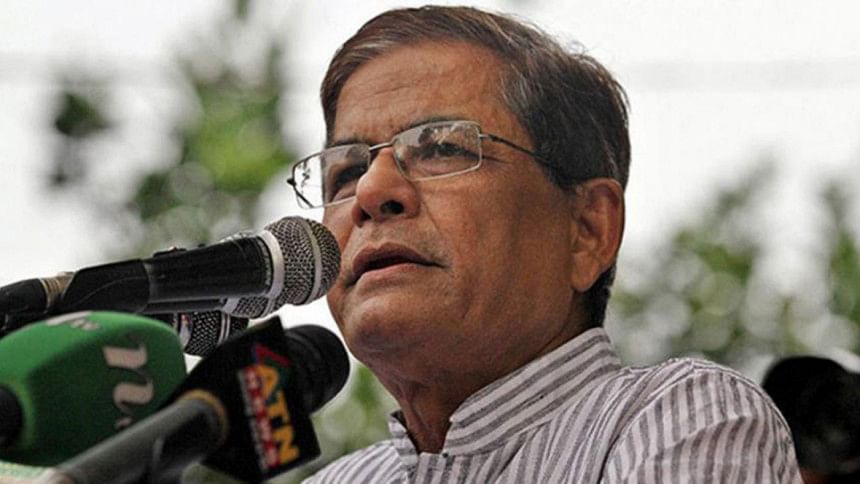 A Dhaka court sent BNP acting Secretary General Mirza Fakhrul Islam Alamgir to jail after he surrendered before it today over three violence cases.
Metropolitan Magistrate Md Maruf Hossain denied three bail pleas moved by the BNP leader saying he has "no jurisdiction" as Fakhrul was denied bail by the Supreme Court.
The court however directed the prison authorities to consider his physical condition and provide him with proper treatment.
Yesterday, the Supreme Court ordered Fakhrul to surrender before a lower court concerned by today after hearing three separate petitions lodged by Fakhrul seeking an extension of its order that granted him bail in the cases.
Complying, Fakhrul appeared before the court around 3:00pm today and moved three separate petitions over three arson and vandalism cases filed with Paltan Police Station.
Upset with the court's order, pro-BNP lawyers took out a procession at court premises.
Following three bail petitions filed by Fakhrul, the HC on June 21 granted ad interim bail to the BNP leader in the cases and also issued three separate rules upon the government to explain as to why he should not be granted regular bail in the cases filed with Paltan Police Station in the capital on January 4 and 6.
On July 13, the SC granted a six-week bail to the BNP leader on medical grounds, clearing the way for his release from jail. The apex court also directed him to surrender before a lower court concerned after the six weeks.
On August 31, the SC extended the bail order for six weeks more. On October 6, it further extended till yesterday its bail order for Fakhrul on medical grounds in the cases.
Fakhrul, who stands accused in 89 cases, got bail from the HC and lower courts in other similar cases.
Meanwhile, BNP warned that country's people will hold the government responsible if Fakhrul's health is put in risk due to his imprisonment.
"He [Fakhrul] has been sufferings from different ailments. He was supposed to go to Singapore for follow-up treatment on November 24," BNP Spokesperson Asaduzzaman Ripon said in an emergency briefing at the party's Naya Paltan central office this evening.
Ripon said Fakhrul had lost his sense several times and also lost 16kg weight during his six months in prison since January 6.