Arrest order for Tarique, ETV journalist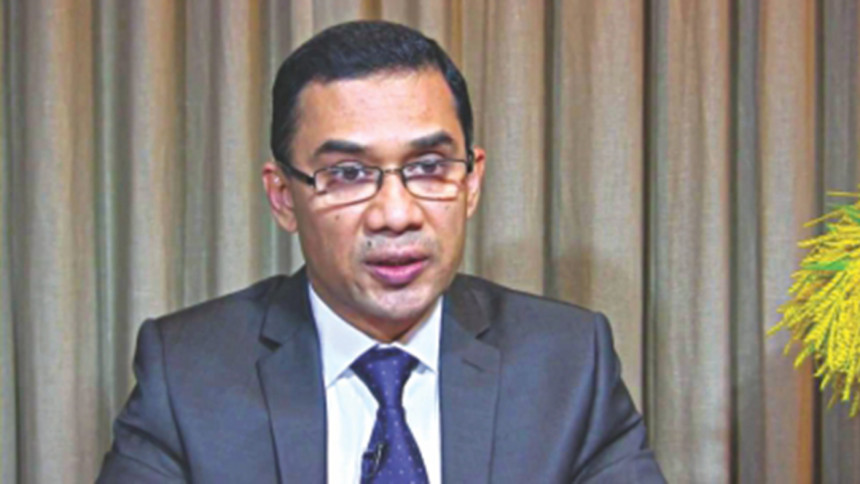 A Dhaka court today issued arrest warrant against BNP Senior Vice-chairman Tarique Rahman and a former journalist of ETV, a private television channel, in a sedition case.
Metropolitan Magistrate Sarafuzzaman Ansari passed the order after accepting charges against Tarique and three others.
The court directed officer-in-charge of Tejgaon Police Station to submit a report on the execution of arrest warrant by November 1.
Of the accused, Tarique and former ETV journalist Mahathir Farooki Khan remain absconding while former ETV chairman Abdus Salam in jail and Kanak Sarwar, another former journalist of the television, is on bail.
On September 7, Detective Branch of police pressed charges against the four accused in connection with the sedition case filed in January last year.
The case was filed with Tejgaon Police Station against Tarique, Salam and several other unknown persons on charges of broadcasting a "false, fabricated, and provocative" speech given by BNP leader Tarique on January 5, 2015.
Tarique, also elder son of BNP Chairperson Khaleda Zia, is accused of 19 other cases.
He was for the first time sentenced to seven years' imprisonment and fined Tk 20 crore by the High Court on July 21 in a money laundering case.
Four arrest warrants were earlier issued against Tarique in four cases including the August 21 grenade attack cases.
Abdus Salam, former chairman of ETV, is also accused in four other cases including a corruption case.