Graft: Acquittal scrapped, 7yr jail for Tarique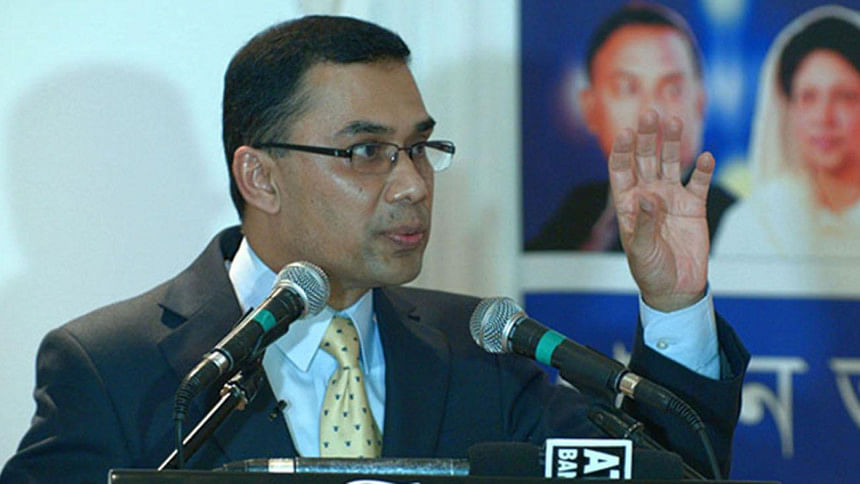 BNP Senior Vice Chairman Tarique Rahman has been handed seven-year imprisonment and fine as High Court scrapped his acquittal in a Tk 20.41 crore money laundering case.
For his friend and business partner, Giasuddin Al Mamun, the previous lower court verdict of seven years of jail term has remained upheld for the same offence.
- 7yr jail, Tk 20cr fine for Tarique, Mamun
- Lower court ordered to issue conviction warrant
- Laundered money to be withheld until fine paid
However, Mamun's previous fine amount of Tk 40 crore has been commuted and levelled with Tarique at Tk 20 crore. Now, both Tarique and Mamun's punishment are identical.
High Court bench of Justice M Enayetur Rahim and Justice Amir Hossain passed the order today. Yesterday, this bench set today to deliver the verdict in this case.
Anti-graft body Anti-Corruption Commission (ACC) filed the case against Tarique and Mamun in October, 2009 for siphoning off the money to Singapore between 2003 and 2007.
Previously, a lower court had acquitted Tarique of charges and sentenced his friend Mamun to seven years of imprisonment with Tk 40 crore fine. ACC appealed against the verdicts.
Today, the High Court passed a new order levelling the punishment of the BNP leader and his friend.
Tarique's lawyer Zainul Abedin told reporters that his client was not involved in money laundering. He said the defence will scrutinise whether there is any chance of an appeal.
However, a pro-BNP lawyer, requesting anonymity, told The Daily Star that Tarique cannot move appeal as he is a fugitive in the eye of law living in London on parole for eight years.
CONVICTION WARRANT TO BE ISSUED
The High Court directed the lower court concerned to issue conviction warrant against Tarique Rahman.
Since "convict Md Tarique Rahman has been absconding" the sentence of imprisonment as awarded shall be executed after his arrest or when he surrenders before the trial court, it said.
It said the laundered money Tk 20 crore will be kept within Bangladesh Bank until realization of fine.
The High Court also ordered the ACC to take necessary steps in accordance with law to prosecute Md Moyazzam Hosen, chairman of Hosaf Group, Khadiza Islam, chairman of NIrman Construction, Mayer Sairee, and Marina Zaman who were the parties in the process of laundering money and aided the convicted persons in gaining the laundered money.