A case of laudable progress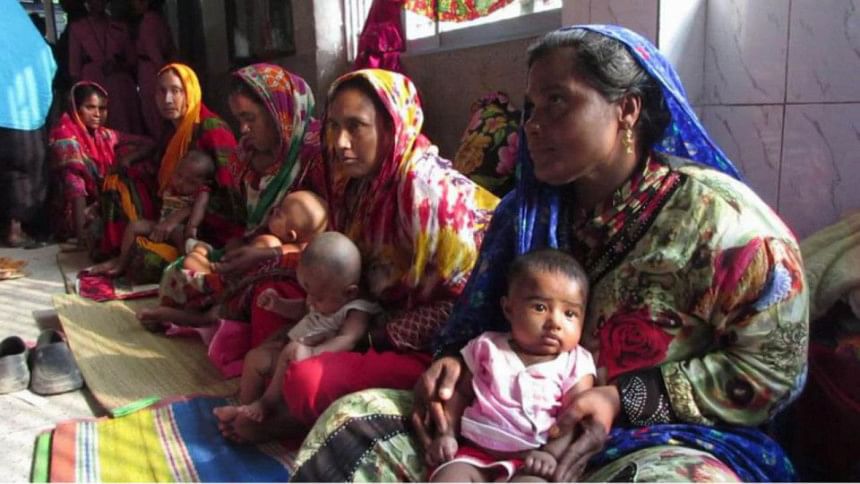 The 2018 update on the global human development indices and indicators was released on September 14. Covering 189 countries of the world, the update has revealed for these countries the levels of human development in different dimensions, their progress, the inequalities in human development achievements and the extent and nature of deprivations. All these will trigger discussions and debates in many countries, resulting in dialogues, views and positions—which the policymakers may find useful.
In this larger perspective, it may be worthwhile to explore as to how Bangladesh has been doing. What are the aspects where our achievements make us proud? What are the areas which require more attention from us?
Why don't we start with the widely discussed Human Development Index (HDI)? Taking three fundamental dimensions of human well-being—health, education and a decent standard of living—this composite index gives a basic idea of human development in a country. The HDI also ranks the countries in terms of human development achievements.
Among the 189 countries covered in HDI, Bangladesh now ranks 136th. But that does not tell you the whole story—one has to dig deeper. During the last one year, Bangladesh moved up by two ranks—from 138 to 136. In fact, excluding Marshall Islands, included in the HDI league for the first time, the movement of Bangladesh along the HDI ladder would have been three ranks up. Let us take a longer time period. During the last five years, Bangladesh's HDI ranking has moved up by seven ranks.  
Why don't we concentrate for a moment on the value of HDI, and not on the HDI rank? Between 1990 and 2017, the HDI value of Bangladesh has gone up by 57 percent—from 0.387 in 1990 to 0.606 percent in 2017. This is more than 2.5 times the global HDI progress, as during the same period, the average global HDI has improved by 22 percent. And the HDI for the developing world has gone up by 32 percent. So, Bangladesh is ahead of the race.
Should we turn to other composite indices of human development? If we account for inequalities in the three dimensions of human development, then the overall HDI of Bangladesh drops by 24 percent, as against 27 percent for India and 31 percent for Pakistan. In Bangladesh, the female HDI is 88 percent of the male HDI; in South Asia, it is 83 percent.
Let us now move to the specifics of various human development indicators from the composite indices. A child born today in Bangladesh can expect to live up to 73 years, compared to 66 years both in South Asia and India. The infant and child mortality rates in Bangladesh are 24 and 34 per 1,000 live births respectively. In the developing world, the corresponding figures are 33 and 43 per 1,000 live births. The literacy rate among young Bangladeshi women is 94 percent—higher than the literacy rate of 91 percent among the country's young men. Bangladesh today enjoys a per-capita income growth rate of 6.2 percent, while for India, the relevant figure is 5.4 percent. About 97 percent of the people of Bangladesh have access to improved drinking water, while 86 percent of the people in the developing world have such access.
In different dimensions of human development, Bangladesh has progressed well in areas of gender equality and women's empowerment. Girls surpass boys in school enrolment, not only at the primary level, but also at the secondary level. The maternal mortality ratio in Bangladesh is 176 per 100,000 live births, while in the developing world, such ratio is 232 per 100,000 live births. About 62 percent of Bangladeshi women in the child-bearing age use some form of contraception, as against 53 percent in the developing world.
Bangladesh has achieved all these things with a much lower per-capita income. While the average per-capita income in the developing world is USD 10,000 (in PPP$), the average per-capita income in India is USD 6,000 (PPP$), and that of Bangladesh is only USD 3,500 (PPP$). It implies that Bangladesh has been more successful in using its income more effectively for social development. All these are definitely praiseworthy.
But what are the human development areas where Bangladesh should pay more attention? Let us start with birth registration. Birth registration is not only a human right but also a socio-economic necessity. In Bangladesh, only 20 percent of births are registered, as opposed to 68 percent in the developing world and 80 percent in India.
There should be higher social investment in Bangladesh. Not only do physical investments create assets, but human investment also produces critical assets. In Bangladesh, the total expenditure on health is less than three percent of GDP. But in the developing world, the average is more than five percent. Now we all know that to increase health expenditure, one has to mobilise resources. How can we mobilise resources if the tax/GDP ratio in Bangladesh is less than nine percent, while in the developing world the ratio is more than 11 percent?
One of the driving forces of the growth process of Bangladesh is remittances sent by Bangladeshi labourers working abroad. Such remittances account for more than five percent of the country's GDP. But the problem is that such a significant dependence also creates vulnerabilities in the system. If for some reason, the Middle Eastern economy faces a recession, it would have an adverse impact on Bangladesh's human development.
Bangladesh must do more with regard to gender equality and women's empowerment. The female non-agricultural employment in Bangladesh is only 18 percent, half of that of the developing world which is 36 percent. More than 58 percent of women in the developing world have access to services from financial institutions that provide internet-based financial services. The corresponding figure for Bangladesh is only 36 percent. About 59 percent of women in the age group of 20 to 24 years get married before reaching 18-plus, while the relevant number in the developing world is much less.
If we want to ensure sustainable human development, it is not enough to look only at quantitative achievements of human development, but it is also necessary to assess such achievements from a qualitative perspective. In the developing world, there are 14 physicians and 20 hospital beds per 10,000 people. In Bangladesh, there are only five doctors and six hospital beds per 10,000 people. At the primary level, there are 34 pupils per teacher in Bangladesh, as against 29 in the developing world.
In the ultimate analysis, there are areas of human development where Bangladesh has the scope and opportunity to accelerate the rate of progress. But that should not make us overlook what we have achieved. The achievements that we have made are our pride, building on which we shall move forward with confident steps to achieve even higher goals in the coming days.
---
Dr Selim Jahan is Director and Lead Author, Human Development Report, UNDP, New York.
---
Follow

The Daily Star Opinion

on Facebook for the latest opinions, commentaries and analyses by experts and professionals.
To contribute your article or letter to The Daily Star Opinion, see our

guidelines for submission

.
---