History in Ruins
The slow destruction of Dhaka's heritage sites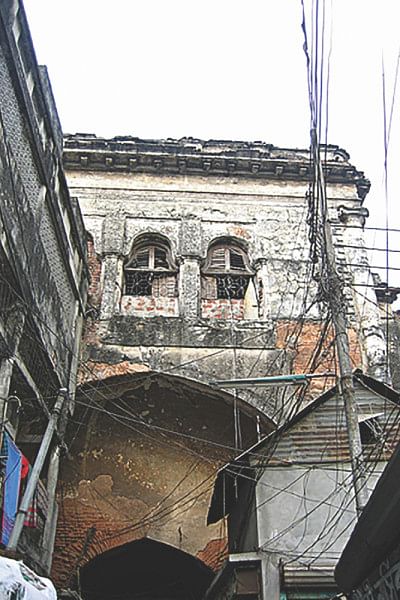 Cultural heritage refers to the traditions, values, beliefs, and sense of belonging in a community. It's the shared bond that helps shape our identity. It's the tangible and intangible both.
But cultural heritage as we know it today is not simply everything that we've inherited from the past. It is the result of a selection process—"a process of memory and oblivion that characterises every human society constantly engaged in choosing, for both cultural and political reasons, what is worthy of being preserved for future generations and what is not."
The definition of "cultural heritage" is broad, and defining who it belongs to is equally tough given the fluidity of "cultural boundaries". Think of the Mona Lisa—is it part of Italian or French national heritage or both?
What is certain however is that preservation of cultural heritage is integral to retaining the diversity and cultural identity of a people in an era of globalisation where ideas and objects travel across borders more freely than ever. This includes the preservation of heritage sites—it's a hallmark of the importance and respect that a nation lends to its history.
Dhaka, which celebrated its quadricentennial anniversary not too long ago, is home to a vast array of archaeological monuments and sites. But if one looks at the state of some of these heritage sites that have witnessed the rich, colourful history of this part of Bengal, one would notice that these structures bear the markings of utter neglect. The list of such architectural gems that we have failed to preserve is too long to recount but if there's at least one common denominator for the slow destruction of these sites, it's unplanned urbanisation.
Chaotic urbanisation and the after effects
It's hard to name even one aspect of life that has escaped the wrath of Dhaka's rapid uncontrolled urbanisation—everything from the air we breathe, the roads we travel, our waterways, to the quality of life in general has become hostage to it. In a country where the basic needs of the citizenry are still not being met by a sizeable portion of the population, it is understandable to an extent why the preservation of heritage sites ranks so low in the list of priorities of the government.
But even this doesn't explain why, for example, the heritage list amended by the government on November 29, 2017 dropped 18 formerly listed Mughal and British era structures. Conservationists have called this list "incomplete and faulty." The structures dropped from the amended list include Fazlul Huq Muslim Hall, Salimullah Muslim Hall and Jagannath Hall of Dhaka University along with a number of heritage sites located in Old Dhaka.
Much of the damage done to heritage sites in the historic city of Old Dhaka today is by and large a result of the casualties of chaotic urbanisation. Take the Mughal-era structures of Bara Katra and Chhota Katra in Old Dhaka—the former built between 1644 and 1646 AD to be the official residence of Mughal prince Shah Shuja who later gifted it to his diwan Abul Kasim, and the latter in 1664 AD by Shaista Khan. Today, Bara Katra houses a madrasa while Chhota Katra is occupied by a police station. Much like the two Katras, many such age-old structures today have fallen victim to residential and commercial purposes as constraints of land space in a city that is urbanising faster than it can fathom put further pressure on whatever is left of Dhaka's heritage sites. Bara Katra and Chhota Katra in the present day depict a bleak, depressing picture of the heritage sites standing tall amidst an ugly concrete jungle, as if trying to hold on to the grandeur and prestige they embodied once upon a time. To the watchful viewer, it is a sad reminder of what is at stake: erasure of history going back centuries.
It is not for nothing that preservationists decried the abovementioned amended heritage list. Along with the outright removal of protection of many heritage sites, the amended list sends the signal that preservation of these sites is subject to change and is open to debate. Fears of preservationists proved to be justified as the amendment of the list was quickly followed by the demolition of ancient structures—having lost their protection status—built during the British period on Hrishikesh Das Road in Old Dhaka. At least four areas—Farashganj, Shakhari Bazar, Sutrapur and Ramna—have reportedly been taken off the new list. In the last decade alone, more than 600 ancient structures have been demolished, according to urban planners, archaeologists and architects.
Development and preservation at odds?
The struggle to preserve Dhaka's heritage sites has laid bare the conflict between development and preservation. The 2009 heritage list published by the government—and the result of the fruits of labour of organisations such as Urban Study Group—was reportedly narrowed down by Rajuk and the Archaeological Department, among others, due to pressure from Housing and Public Works Ministry and private property owners in Old Dhaka who refused to go through the hassle of seeking government permission to modify or repair parts of the building included in the 2009 heritage list. As if the race for acquiring land occupied by historic sites to put up high-rise blocks wasn't enough, conflict of interest between governmental bodies has made things much worse.
It is easy to understand why preservation of historic buildings and the city's "development" is at loggerheads and why building owners and developers see preservationists as their sworn enemy. As cost of living continues to soar and amount of land decreases day by day in Dhaka, encroachment upon historic sites was perhaps inevitable.
It doesn't have to be this way. Activists have proposed that the government follow the Transfer of Development Rights (TDR) which is "development rights issued to a land owner as compensation for space ceded to the government" and which is thought to be a good mechanism to make private property owners adhere to conservation guidelines. But TDR sounds too good to be true in the context of Dhaka and perhaps will never come into force in the near future.
The faintest hope of protecting and preserving Dhaka's heritage sites lies in political will—but we know all too well how far that will take us.
---
Nahela Nowshin is a member of the editorial team at The Daily Star.
---
Follow

The Daily Star Opinion

on Facebook for the latest opinions, commentaries and analyses by experts and professionals.
To contribute your article or letter to The Daily Star Opinion, see our

guidelines for submission

.
---