World Bengali Literature Conference 2020
Virtual US meet celebrates yearning for Bangla literature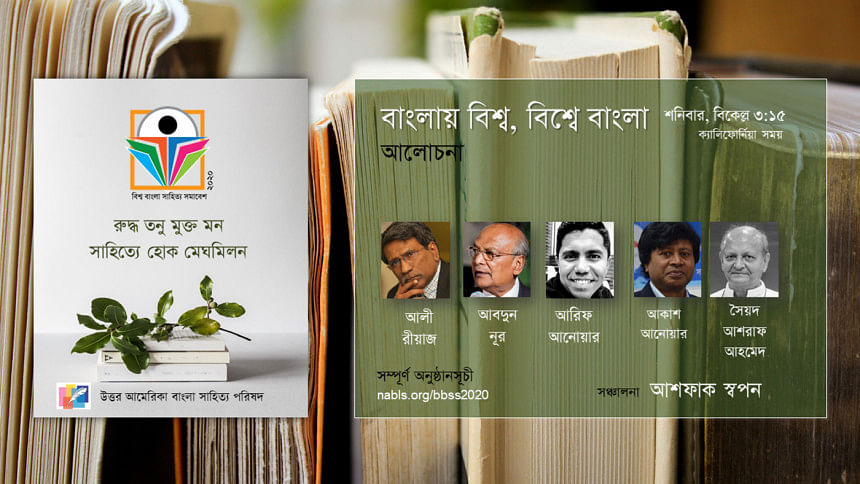 Last year, when about 150 people—a substantial chunk from out-of-state—gathered in Atlanta for a convention, the event had an intriguing twist: The first ever World Bengali Literature Conference, as the event billed itself, focused exclusively on Bangla literature. 
While expat Bangladeshis love cultural soirees, the accent is pretty much exclusively on the performing arts.
North America-wide annual ethnic Bengali jamborees are a big deal. The North American Bengali Conference (NABC), popularly known as Banga Sammelan, is run by West Bengal expats. Each year, it draws over 5,000 attendees. Virtually the entire cultural glitterati of Kolkata is airlifted to the event. Its Bangladeshi cousin, the FOBANA (The Federation of Bangladeshi Associations in North America) annual convention, is smaller in scale and a bit more chaotic in nature.
But here's the funny thing. Literature gets short shrift in these mega events. NABC flies in top Bangla authors from Kolkata and dumps them unceremoniously at minor sidebar events in seminar rooms while all the action takes place in the humongous auditoria.
The North America Bengali Literary Society, which hosted the event for the second time (on October 10-11), can make a legitimate claim that its event is something of a trailblazer with its exclusive focus on Bangla literature. Its conventions are beginning to settle into a pattern of panel discussions sandwiched between sessions of writers reading out their own work. A massive commemorative volume of poetry and prose, Hridbangla, was published in a 500-plus ebook format.
NABLS is a group of North America-based Bangla writers and literature aficionados. Ekushey Award-winning Bangla fiction writer Jyotiprakash Dutta and his spouse, Bangla Academy award-winning author Purabi Basu, are the key leaders, assisted by members like science writer and former NASA scientist Dipen Bhattacharya and author-lyricist Sezan Mahmud.
The pandemic forced organisers to move online this year. While it deprived the online convention of the bonhomie and camaraderie of a physical convention, it had its upside, nonetheless.
Heavyweight participants from London including Bangla scholar Golam Murshid, fiction writer Shahaduzzaman, poet Shamim Azad and former UNDP economist Selim Jahan added a lustre that organisers would be hard pressed to muster at a physical convention.
One of the more affecting sessions drew participants who had joined in from outside the United States. One participant joined in from a remote town in the west of Brazil, another and his wife joined in from Tehran. A filmmaker-poet joined in from Paris. All are amateur writers, and their luminous joy at being part of this event lit up the session. It was a stirring reminder that the Bengali word for literature, shahitya, after all, comes from the word shahit (being together).
As discussion panels dealt with literary topics, reading sessions, with an eclectic mix of amateur and established writers for authors, had an open mic feel about it.
I moderated a panel with an expansive topic: "The world in Bengal, Bengal in the World" (Banglai bishwa, bishwe Bangla). My panellists had formidable intellectual heft. Ali Riaz, a distinguished professor of political science at Illinois State University, is a popular, prolific commentator on Bangladesh politics. For over four decades, World Bank veteran Abdun Noor helped develop manpower and education policies in 45 developing countries. Noor is also a novelist. Syed Ashraf Ahmed, a scientist, sits on the editorial board of five international scientific journals. He writes extensively in Bangla. Melbourne, Australia-based Akash Anwar is indefatigable in his mission to promote Bangla education throughout the world through the two organisations he has founded, Bangla Academy Australia and Bangla Academy International.
The star attraction of the panel, however, was 40-something author Arif Anwar. The New York Times called his 2018 novel "The Storm" "a fascinating, ambitious work." Bengali writers writing in English are not new—authors like Bharati Mukherjee, Amitav Ghosh and Amit Chaudhuri are widely recognised in the West. What's exciting about Anwar is that he represents a breakthrough for Bangladeshi authors.
Anwar also presented a fascinating counterpoint in the panel discussion. Riaz, the political scientist, laid out the premise that the cultural passage for the Bangla diaspora is particularly fraught, and expats need to avoid the false binary of being either Bangladeshi or American/British/Canadian. What they need to do, Riaz said, is to develop nuanced, multiple identities that embrace both. While Noor gave a fascinating overview of how diaspora Bangla speakers have preserved their culture in far-flung parts of the world, he added a cautionary note that we were losing our younger generation. Ahmed, the scientist, emphatically agreed.
Anwar, on the other hand, presented an inspiring epitome of Riaz's vision. Here's a New York Times acclaimed author, whose fluent Bangla, rich in Bangladeshi cadence, could fool you into believing he lives in Dhaka, not Toronto. Yet it's hard to run away from the fact that Anwar is the exception that proves the rule: the loss of Bengali cultural identity in the second generation of the diaspora is a harsh reality. Anwar, meanwhile, made a plaintive appeal in Bangla: It isn't enough for Bangladeshis to be proud of authors like him. They need to go out and buy his books so authors like him can eat—and continue to write books that tell the story of the Bangladeshi diaspora.
After the event was over, the gush of self-congratulatory celebration of the organisers, a staple of pretty much every expat event here, was a bit overwrought if understandable. After all, whatever its limitations, organisers pulled off a complex, two-day online event with substantive sessions virtually without a hitch.
However, the broader conceit of the organisers of a sustained future for Bangla literature outside its land of origin is a poignant fallacy. The passionate love for Bangla, on the other hand, that powered the extraordinary hard work that went into putting together the event, is quite real, and deserves affectionate admiration.
Ashfaque Swapan is a contributing editor for Siliconeer, a digital daily for South Asians in the United States.