International Mother Earth Day
'We have the laws and institutions – it's time for the country to comply'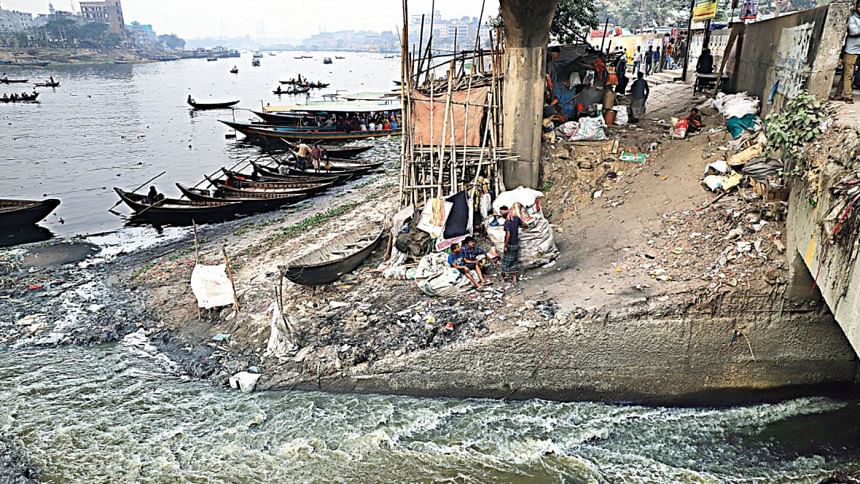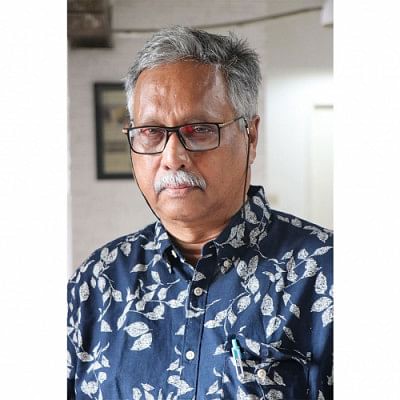 Water resources and climate change specialist Dr Ainun Nishat, Professor Emeritus at the Centre for Climate Change and Environmental Research at BRAC University, talks to Shuprova Tasneem of The Daily Star about the far-reaching impacts of climate change and environmental destruction in Bangladesh and what steps need to be taken to deal with the climate emergency.
On this Earth Day, what should we be focusing on in Bangladesh?
The theme of this year's Earth Day is "Together, We Can Restore Our Earth", and at today's global climate summit, there is a definite focus on climate change and environmental destruction. This year, the Earth Day is being marked with a three-day programme, where day one—April 20—started off with a youth summit. I believe this was an apt way to start the events, since we have to engage the youth directly because it is their future that is at stake and they have to be involved, not just in Bangladesh but all over the world. There are already plenty of young environmental activists who are leading the charge, such as the Swedish teenager Greta Thunberg and other climate crusaders. 
The second day involved a global education summit, with the aim of focusing on climate education. I believe this is crucial for us in Bangladesh. Climate change and environmental literacy is key, and this is unfortunately still very poor in our country, especially in the case of our decision-makers—the parliamentarians, bureaucrats and industrialists who are important actors in the fight against climate change. And the third and final day, which is today, will have the special Earth Day events and workshops with the theme "Restore the Earth", focusing on green technology and restoring natural processes, which is also of great importance in the Bangladeshi context.
I do not think it is an exaggeration to say that time is running out, and we need to pay attention to all the domains of the earth—the atmosphere, lithosphere, hydrosphere, etc.—because each one of these areas is getting degraded.
How do we get the decision-makers, and ordinary Bangladeshis, to understand how important the issue of climate change is, and what can we do to stop it?
We have to understand that if we want the conditions of the common people in this country to be improved, then we must improve our environmental standards as well. Climate change is not an isolated event—it has far-reaching impacts on every facet of our life. When I was a student in the 50s and 60s, the Buriganga was a clean river. I remember seeing hundreds of fishing boats at the time, the Gangetic dolphins enjoying the waters, and the River was considered holy for religious purposes. Today, the water is so polluted that we cannot even think of dipping our toe into it. We cannot think of drinking it even after processing—the Buriganga water is so bad that it cannot even be treated for water supply. Dhaka WASA has stopped treatment of the water. The bottom of the river is filled with polythene. We cannot fail to see how this affects the lives of the people living around it.
Another example is the Halda river, which has recently been declared a protected river. It is the breeding ground for the main carp varieties that are genetically strong, and we are fighting to protect it and all the livelihoods that are dependent on it. But the sad reality is that one of the main sources of pollution of the Halda river is the waste being dumped into it, which also includes waste dumped by the City Corporation. It is this disconnect between policy and action that we need to tackle. We want to protect our rivers, but at the same time, we do not see any move towards having effective waste management systems that segregate plastic, glass, organic waste and paper for recycling purposes. We want to save the aquatic environment, but we are not seeing a shift away from plastics even though they are so harmful to it. Although many ready-made garment (RMG) factories have become environmentally compliant and are adapting green technology, most other private companies are still dumping industrial waste into our rivers.
The time has come to restore natural processes and to understand that this is integrally related to the welfare of the citizens of this country. Climate change and environmental literacy is a crucial part of this understanding.
Why has it been so difficult in Bangladesh to stop environmental destruction, despite having laws that protect rivers, wetlands and other ecosystems?
You are correct that in Bangladesh, we do have sufficient laws for the protection of the environment and wildlife and they have been in existence from the beginning of our history. In fact, Bangabandhu Sheikh Mujibur Rahman created the Water Pollution Control Ordinance in 1973, and the Bangladesh Wild Life (Preservation) Order was promulgated as early as 1973. The Environment Conservation Act 1995 and its supporting rules and policies show that we have the sufficient legal instruments to manage nature in a sustainable manner. But what we do not have is a proper follow-up system. Our monitoring system is extremely poor and the capacity of the Department of Environment needs to be upgraded. As a result, we are not able to tackle the issue of environmental destruction in a comprehensive manner.
However, at the end of the day, if the policymakers are serious, we can make progress. Bangladesh has been diligent in attaching importance to the Sustainable Development Goals (SDGs) and the senior-most civil servant of the country has been appointed as its manager. The Planning Commission has also been mandated to pay attention to the SDGs. If we can follow these, we should be able to restore our natural environment. The people who run the country have a constitutional mandate, under Article 18A of the Constitution, to protect and improve the environment and to preserve natural resources, biodiversity, wetlands, forests and wildlife for the present and future citizens. And it is ultimately up to them to ensure that we can protect the environment of Bangladesh.
One area that I should focus on is the capacity to monitor. Are we monitoring the water quality of rivers and wetlands, and the encroachment of wetlands? What about the encroachment of river systems? Are we monitoring the river erosion patterns that are causing many local communities to lose their homesteads? Are we monitoring groundwater quality and the very serious issue of arsenic? In Bangladesh, we have had Protected Areas (PA) from very early on and these commitments that we have made are commendable. But we must be able to monitor how well we are managing these commitments and restoring degraded nature. One of the mechanisms could be to publish data at regular intervals.
Besides environmental destruction, especially that of rivers and wetlands, what other aspects of the environment and climate do you think need urgent protection in Bangladesh?
We need to control air pollution and the widespread use of plastics. We need to manage the urbanisation process and develop green cities. Air pollution is a huge problem in Dhaka, which consistently features in the list of the most polluted cities in the world.
For the younger people, I would also refer to the less-discussed issue of "food-print". We all have, by now, heard of the carbon footprint, but the food-print is the amount you consume and the mark it leaves on the agricultural sector of a country. In the modern world, we consume too much food—from our childhood, we waste food and eat amounts that are not needed by the human body. I'm not saying that we need to stop eating fish, meat or eggs, but we need to have a balanced diet that gives us the full nutritional value our bodies need without wasting resources. We need to look at our consumption patterns as well as the adulteration of foods.
My concern is about the future generations—the earth is already highly crowded. There is too much pressure on the natural resources, the wilderness is being converted to crop fields, and throwing climate change into the equation is only making everything more complex, such as how the increased intensity and frequency of natural disasters is affecting food security. Bangladesh is a prime example of these negative impacts. In 2017, in the month of spring (Chaitra), it rained like it was monsoon, and we lost the Boro crops. In 2020, we had floods in North Bangladesh that also destroyed the crops. And in both these years, we changed from becoming a food-exporting country to a food-importing country.
There is no denying that climate change has led to natural disasters becoming worse, with more storm surges and cyclones. In Bangladesh, the coastal belt has been greatly affected by the phenomenon of sea-level rise and many parts of the country are struggling with water salinity, and all of these impacts have created problems with livelihood security, leading to climate migration. Food, water and livelihood securities are at risk. This is being reflected in the number of people who are becoming climate migrants. During the US climate envoy John Kerry's recent visit to Bangladesh, I was very happy to hear him say in the first meeting that the displacement and migration of people due to climate change should be considered a serious issue. It must be addressed urgently, both at national and global levels.
On an international level, do you think there is the political will to adhere to the Paris Agreement? And what role can Bangladesh play here?
US President Joe Biden has promised to lead the world on various issues in the domain of climate change. Bangladesh is now the chair of the Climate Vulnerable Forum (CVF) that has been formed by the countries that are most vulnerable to climate change. On the occasion of the Earth Day, Biden has called a summit with 40 heads of countries, and from this region, India, Bangladesh and Bhutan have been invited. We are glad that Prime Minister Sheikh Hasina will be there to join these discussions and uphold the views of the nations that are especially vulnerable to climate change. If we are not able to adhere to the Paris Agreement and global temperatures do rise beyond two degrees Celsius, I honestly don't know what will happen to the earth. The climatic pattern will totally change, food production could be hugely reduced, and low-lying island nations and countries with low-lying areas will suffer on an unprecedented level.
There is a lot that needs to be done, but I think the global political leadership is committed. China has made commitments towards the biggest reduction in greenhouse gases, saying that by 2060 it will become a zero carbon-emitting nation. The US has promised to do this by 2035, and the UK by 2050, but we are still waiting for India to make a similar commitment. For Bangladesh, alongside food, livelihood, water and health securities, we also need to focus on energy security, because this is directly related to the functioning of the economy and job creation. Employment is a big challenge for us because more people are entering the job market, and we need to have a balanced economic development approach that is aligned with the Sustainable Development Goals.
Could there be a contradiction between our economic development aspirations and the policies for protecting our environment and climate—especially since so much of the carbon footprint and environmental destruction is a result of economic activity?
That really depends on planning and effective monitoring. A lot of it is to do with proper planning and policy-making. The power generation capacity of Bangladesh is a good example here. Our total electricity demand is about 6,000 to 8,000 MW, but the country produces 10,000 to 12,000 MW, and at full capacity, we could be producing 18,000 to 20,000 MW. And still, we experience power outages in certain parts of the country. This is nothing but mismanagement, and with the right planning, such situations can be avoided.
I think I mentioned earlier that many garment factories are focusing on using green technology, but this compliance is not seen on the same level in most of the private industries. A lot of it has to do with policymakers being closely tied to business interests, who do not care to be compliant with the country's rules and regulations. The paradox is that in view of these industrialists, pollution control leads to greater costs; and those who are in compliance with greener standards argue that the country does not provide a level playing field, making their products face unfair competition. So, proper enforcement of rules and regulations related to management of the environment is essential.
There really is no alternative to compliance, as well as setting standards and enforcing them, and our policymakers have to ensure that existing policies are implemented in a transparent manner. The government has all the necessary laws and institutions; it is now time for the country to comply.