Trump's enablers – a grave threat to a nation in crisis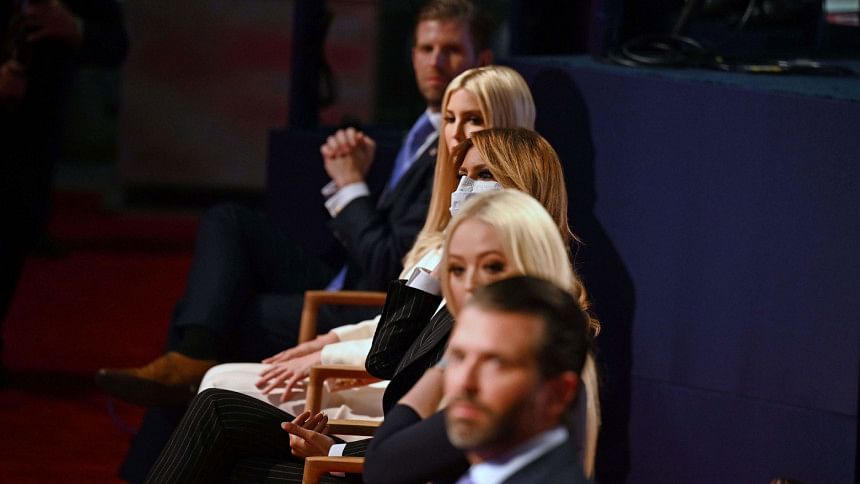 "I could spend a full-time job just responding to the ridiculously illogical, inconsistent, and blatantly stupid arguments supporting Trump… But here's the thing: his supporters DON'T CARE about facts or logic. They aren't seeking truth… And this is the cumulative reason why this nation is in such terrible shape: We don't have truth seekers; we have narcissists." — Former Colorado law professor Jenna Ellis in a Facebook post in March 2016.
"My mind was changed based on fact and personal knowledge. President Trump is a sincere Christian, the best president in modern history, and made and kept his promises to the American people. I am proud to stand with him and his goals for the future of this country and all of its citizens."  — Ellis, in a statement on November 18, 2020 in response to CNN's report of her previous Facebook statement. Ellis, one of Trump's most ardent defenders since joining his campaign as a legal adviser a year ago, has joined former New York Mayor Rudolf Giuliani in a futile, almost farcical legal effort to reverse the projected victory of Democratic presidential nominee Joe Biden.
President Donald Trump will leave the White House in January, thank goodness. Unfortunately, his malign influence on American politics will remain.
Pundits are wondering about what Trump will do next. Will he start a media company? Will he continue to be a Republican kingmaker? Will his influence simply peter out? They miss the broader, existential threat to American democracy.
It is Trumpism that is the real threat. This is a profound sickness in the American body politic, driven by a gut Republican hatred of Democrats so deep that policy or facts are irrelevant. Just one quick example: Republicans hated Obamacare so much that when they ruled the House, they repealed it 50 times. What's their alternative? Now that's the best kept secret in the world.
To be sure, the Democratic Party also has its share of firebrand partisans, but over the past few decades, it is the Republican Party that's gone off the deep end. Way back in 2012, Thomas Mann and Norman Ornstein, two scrupulously nonpartisan scholars of politics, wrote in their book "It's Even Worse Than It Looks": "One of the two major parties, the Republican Party, has become an insurgent outlier—ideologically extreme; contemptuous of the inherited social and economic policy regime; scornful of compromise; unpersuaded by conventional understanding of facts, evidence and science; and dismissive of the legitimacy of its political opposition."
In the Trump era, I wish to single out a particular set of enablers of the greatest opprobrium: People who ought to know better, but have nevertheless made a Faustian bargain for political expediency.
Jenna Ellis, the fierce Trump defender quoted at the beginning, cannot be dismissed as some clueless rural rube. She is a knowing accomplice to Trump's destructive, mendacious, post-election belligerence. Don't take my word for it. She spelled out how toxic Trump supporters are in the quoted Facebook post. Her claim to CNN about her change of heart about Trump rings hollow. If President Trump is a sincere Christian and the best president in modern history, then I'm Cleopatra.
Many influential Republican leaders like former Energy Secretary Rick Perry, US senators Ted Cruz and Lindsay Graham, are similarly complicit. When Trump was fighting to win the Republican primary, Perry, Cruz and Graham made incisive, scathing observations of Trump just as Ellis did. Yet, what are we seeing today?
Pretty much the entire Republican Party establishment is playing dead as Trump continues to break all norms. Their silence is acquiescence to monstrous, unprecedented behaviour in the US—or for that matter, any developed Western country.
The media unanimously projected Joe Biden as the president-elect on November 7. It is unprecedented for a losing US presidential candidate to refuse to concede a full 10 days after his loss. Meanwhile, courts have thrown out a slew of frivolous lawsuits. There is no possible way to change the results, but Trump continues to tweet unsubstantiated claims of fraud.
This feels like a banana republic, and could well degenerate into one, no small thanks to Republican enablers who ought to know better. President Trump on November 18 fired Chris Krebs, the director of the Cybersecurity and Infrastructure Security Agency, and directly tied it to Krebs' statement that said there "is no evidence that any voting system deleted or lost votes, changed votes, or was in any way compromised."
As the conservative media echo chamber fans the flames of Trump's false claims of fraud, the damage to the American polity is profound.
A loser's concession is critical to the healing process following an election campaign. Yet Trump's belligerence and his enablers' silence have resulted in a disquieting refusal of his supporters to accept the people's verdict. According to a new survey from Vox and Data for Progress, 73 percent of likely Republican voters say that the allegations of voter fraud have made them question Joe Biden's victory. Similarly, 75 percent of likely Republican voters said they believed voter fraud took place during the election that benefitted Biden. These findings are similar to a Reuters/Ipsos poll that found that 68 percent of Republican voters think that the election was "rigged" and about half believe that Trump "rightfully won" it.
No wonder Ellis, the attorney from Colorado, remarked on her 2016 Facebook post: "His supporters DON'T CARE about facts or logic. They aren't seeking truth."
So here we are, with America reeling from the double whammy of a pandemic getting scarier by the day and an economic crisis where millions are staring at possible ruin. This is a time when tough choices need to be made, and compromises need to be thrashed out. There's about a snowball's chance in hell of that happening when you have an opposition party hamstrung by a rabid base untethered from fact, policy and logic, run by politicians too pusillanimous, or unprincipled, or both, to take on a former president who is happiest when he can rile up his base and throw a spanner in the works.
It will be the unenviable task of President-elect Joe Biden to rescue America from the greatest crisis in a century in the most hostile political circumstances imaginable. I sure hope you have the luck of the Irish, Mr President-Elect, because you sure as hell are going to need it.
Ashfaque Swapan is a contributing editor for Siliconeer, a digital daily for South Asians in the United States.