The life and legacy of Dr Ashraf Siddiqui: Reflections of a grandson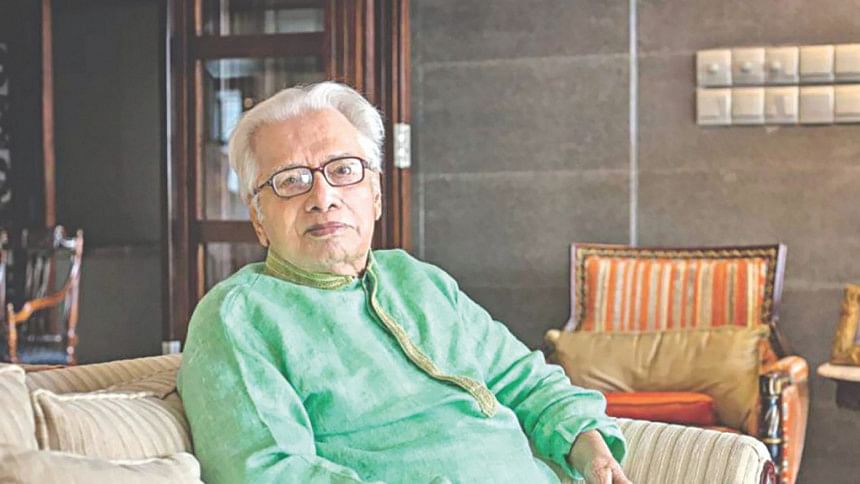 An incredible man just passed away. Growing up, I always knew my grandfather, Dr Ashraf Siddiqui, was something of a big deal. He was always being called away to address hundreds of people in events across the country. And whenever he was home, visitors would flock to him with an air of deference and respect. But it wasn't until my class at school studied a poem written by him that I truly began to grasp exactly how big a deal he was. For a fifth grader, it was an amazing feeling: my entire class was memorising a poem that my grandfather had penned! And it wasn't just my school or my year either—throughout much of living memory his work has been a core part of the national curriculum, in our nation of more than 160 million people. Many years later, I learned that his work had been translated into 11 languages, and that it had even been on the primary school curriculum in parts of the US. How that came to be is also quite a story.
My Nanbhai, as I called him, went to the University of Indiana at Bloomington in the US in the 1950s to do his Ph.D. Imagine that. Imagine what it took for a boy from an agricultural household in rural Tangail to get so very far in the 1950s. His work, as I understand it, committed the oral folk culture of Bengal to the written record. Our tales, our fables, our stories: these are the things that make us who we are. And much of what our people—the people of Bengal—know of these aspects of themselves is due to his lifelong dedication to the scholarly journey that he embarked on during his doctorate. While he was still a student in the US, on top of his scholarly work, my grandfather also landed a book deal. The leading international publishing house, Macmillan, published the children's story, "Bhombal Dass: The Uncle of Lion", which went on to become a best seller that landed him on the curriculum in parts of the US. President John F Kennedy thanked him for it.
Upon his return to what is now Bangladesh, he earned too many honours to mention here, though among them, the "Ekushey Padak" for Bengali literature is notable. Of the numerous festivals and associations which he initiated and patronised, the accomplishment that I as his grandson am most proud of is that as the Director General of Bangla Academy, he was the intellectual and administrative force behind establishing the Ekhushey Boi Mela, the annual literary festival which draws tens of thousands, or perhaps even hundreds of thousands of people a year.
If I had to pick one principle, one overarching force that governed my Nanbhai's life, it would be a sustained and assiduous dedication to his vocation. Growing up, my cousins and I would often converge at his house for an afternoon, to spend some time with our grandparents. But often during these jubilant family gatherings the writer at the heart of the family was nowhere to be seen. At some point in the afternoon, my cousins and I would peer through the door to his study to find him hunched over his table, with his back turned to us, and all his energies focused on the manuscript taking shape before him. In my mind's eye, that image is the definition of dedication to one's calling.
It is a small part of the dedication that I learned from Nanbhai that enabled the completion of my own Ph.D. When I found myself running out of funding and time, my wife and I made the agonising decision that she and our children would return to Bangladesh while I remained in the UK. During my year as a long-distance father I gained a painful insight to the sacrifices that Nanbhai must have endured to earn his doctorate, over half a century prior. His five children had remained in Bangladesh for the many years of his stay in the US. Even I cannot imagine the emotional toll this must have taken on him, as my own experience of remote fathering was far shorter and eased by the many amenities of our modern, digital age. Despite the many advantages that I enjoyed as a Ph.D. candidate relative to Nanbhai, I must confess that I am yet to pen a bestseller, land a book deal, or come to the attention of a US president.
In addition to these many academic and professional achievements, Nanbhai raised and was supported by a wonderful family. His wife, Mrs Sayeeda Siddiqui, was the keystone on which he built his world, and they loved and admired each other dearly. She was a writer in her own right, publishing several books and rising to the rank of head teacher at Azimpur Girls High School. She counted among her students many people who have gone on to illustrious success, including Bangladesh Prime Minister Sheikh Hasina. While excelling in her own profession, Nanbibi (as she was to me) managed the day to day administration of their household but perhaps even more importantly, she provided an anchor to the life of the fervent poet and academic in social and familial bonds. Yet, when she passed away, through his immense fortitude, Nanbhai adapted to the reality of an existence without her and went on to enrich all lives for over two more decades. In the end he was doted over by five children, 12 grandchildren, and eight great-grandchildren (with more on the way).
As I reflect on his passing, all I can think is that it was a life well lived. May we all be so sincere, so diligent and so fortunate.
Dr C Rashaad Shabab is a senior member of faculty at the University of Sussex Business School.