Niloufer Manzur – An Unparalleled Nation Builder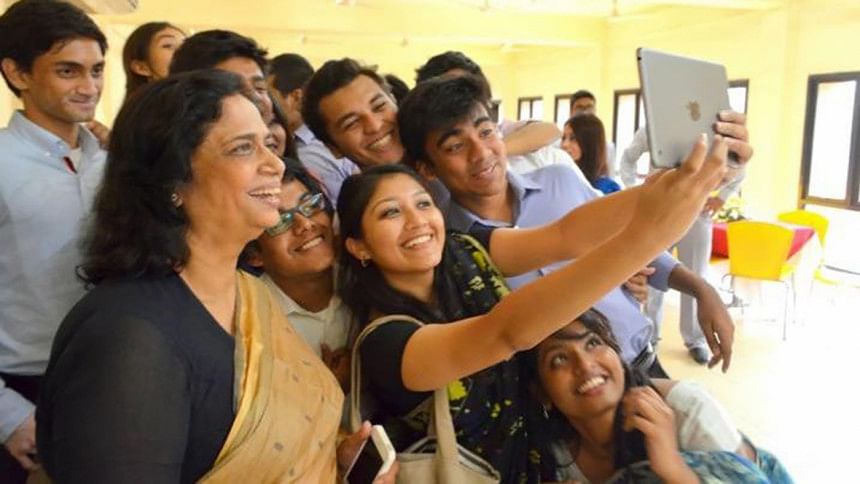 As I write this amidst a deep sense of shock, sadness and disorientation, I remain at a total loss for words. Words are my strongest suit -- I love writing, and I always have. Nevertheless, what do you write about, when the person who helped you pick up your first pencil, or the one who captained a magical journey called childhood, departs from your world? In fairness, there is nothing barring emptiness in your heart. This is what thousands of teachers, students, staff members, alumni and well-wishers of Sunbeams school are feeling today. The beloved founder and principal of this noteworthy institution Niloufer Manzur breathed her last in Dhaka at the Combined Military Hospital in the early hours of 26 May 2020. She had tested positive for Covid-19 recently. 
Mrs Manzur was a nation-builder in the truest sense of the word -- and this too while being surrounded by a plethora of notable personalities in her own family. Her father, husband and children have made their own contributions to Bangladesh, for which they are admired. However, to her students, Mrs Manzur held a unique place in their lives, independent of the prominent status her family has across Bangladeshi society -- not because she craved fame or desired attention, but because her story of perseverance, tenacity and collective growth is both humbling and yet unreservedly inspiring. Her tale is one of women empowerment and of the timeless testament of investing in people and it is a story worth sharing.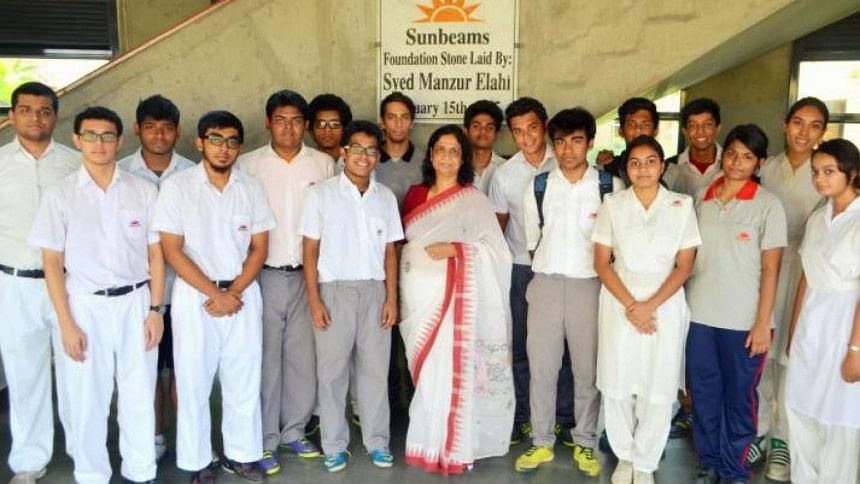 In 1973, in a nation devastated by a nine-month struggle for independence, Niloufer Manzur, like most in her generation, was concerned about the future of her two children Nasim and Munize. As a teacher, she wanted to build a future for her toddlers -- and so, with the blessings of her friends and the support of her husband, Mrs Manzur, put her feet in the world of academia. In fact, it was more of a hopeful jump rather than a dip in uncertain waters -- her initial capital coming from a loan of BDT 10,000 from Janata Bank. She invested the money to purchase 10 desks and some benches, which she painted red -- red standing for prosperity. On 15 January, 1974 she wrote Sunbeams on a blackboard outside her residence at Indira Road and rang the bell -- and thus began the journey of Sunbeams School.
From moving around home furniture each day to accommodate classes at her home to building what is perhaps one of the most progressive institution's in Bangladesh, Niloufer Manzur stood as a beacon of education and hope as the principal of Sunbeams for 46 years. Come to think of it, she started the school with 8 students, two of them being her own children -- today, as we mourn her passing, she leaves countless children and admirers who only wish they could thank her in person one last time, before she departed this world.
Sunbeams is a school with a small student body -- this perhaps, was Mrs Manzur's niche brand of education. She focused on quality, rather than quantity. She put thought to family and community -- some criticised this admissions' process. Yet as an alumnus, I recognise what her overriding philosophy truly resonated towards -- it was never about how many students were graduating from Sunbeams, but rather, it has always been about the ability of the school to mould individuals to be responsible community members. Members who share an unyielding set of principles and values. It is important to reflect on what she believed in, and perhaps these words from her message on the Sunbeams website can shed some light: I believe each student has a role for tomorrow. Each student has so much to offer. In terms of ability. In terms of talent. In terms of opportunity. They are the new face of Bangladesh. With feet that transcend borders, we hope to prepare them to be equally at home with the east and the west.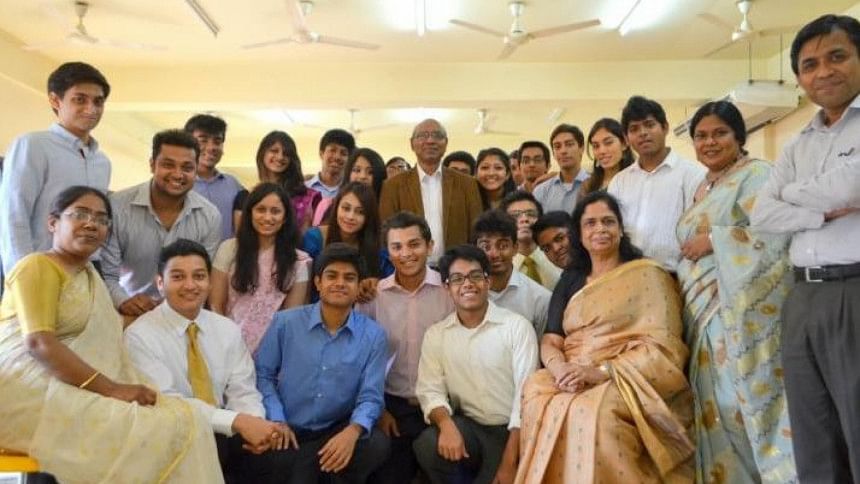 There were three remarkable aspects about Mrs Manzur which I believe is crucial to share. The first, being her unwavering dedication to Bangladesh -- her beloved country. The study of Bengali as a language and a literary form is a topic of much debate across private English-medium schools -- nevertheless, Mrs Manzur made it a point to mandate the study of our language, our history and by definition, instilled a sense of duty to the nation. Secondly, she never shied away from stating an obvious truth -- members of the Sunbeams family were and continue to be from the elite and privileged sections of society. And in repeatedly driving us to acknowledge this privilege, whilst simultaneously institutionalising a sense of patriotism, she navigated her students towards remaining humble. Yet being so, by remaining committed to be the future of Bangladesh. And this is a sense of duty which I take to heart deeply. And lastly, she remembered the names of every single student, teacher, staff member and alumni by heart, across my time at Sunbeams -- call it caring or call it a photographic memory, this aspect of Mrs Manzur continues to amaze me.
Tributes have been pouring in for Mrs Manzur as I finish writing this. One of her students deemed her a class above the rest while another compared her gravity, poise and dignity to the fictional Headmaster of the Harry Potter series Albus Dumbledore. Another reflected on a video where she made a comment to a batch of recent recruits to the Sunbeams family -- a statement which signifies the love she had for her students and the joy she felt in expanding her family. With a characteristic smile and her soft yet captivating voice, she said: I am still floating on clouds – Please, give me time to come down.
But one aspect of how she fashioned Sunbeams, is being repeated across social media by her well-wishers: the school motto defined by the 7 beams of sun in the logo itself. If one were to reference certain principles to describe Niloufer Manzur, the mention of these values, her values, would be enough – knowledge, leadership, patriotism, integrity, humility, confidence and commitment. The biggest tribute we can pay to this iconic educator, is to continue enshrining these simple yet fundamental principles across our communities.
On a personal note, I have lost a mentor, a well-wisher, a teacher and a defining guardian. Bangladesh has lost a leading light in the field of modern education -- she was the kind of leader who never craved glory, but rather dedicated her entire life for children. She gave meaning to the notion of knowledge being power -- and she thrived while educating. She was a change-maker of the highest order. To make Sunbeams a premier institution in Bangladesh, that too independently and within the framework of a paternalistic society, took guts, courage, vision and a willingness to serve -- and she ticked all the boxes. She leaves behind her husband, children and grandchildren in a state of mourning and shock -- we keep them in our thoughts. But while it may sound selfish of me, Mrs Manzur belonged to us all -- and we collectively feel the pain of losing our very own. No words, no OP-ED and no statuses across social media can appropriately pay tribute to Niloufer Manzur, because her impact on moulding human beings across generations cannot be defined by numbers or words.
There is so much more to write about the life of Niloufer Manzur – and there will come a time when her students themselves will share these stories. But I end by saying this: I walked into Sunbeams in 1998 and an angel called Mrs Manzur stepped into my life – that Mrs Manzur will forever live on in my heart. Your students and this nation owes you an immense debt of gratitude. The beam of light and hope that you were, will carry on, even as the sun sets on your life and we will make you proud. Rest in eternal peace Mrs Manzur.
Mir Aftabuddin Ahmed is a student of economics and international relations (Honors Bachelor of Arts) at the University of Toronto. He can be reached at [email protected]